Jiayuguan Travel Guide
Jiayuguan, a city nestled in the Gansu Province of China, is the westernmost outpost of the Great Wall and a key point on the ancient Silk Road.
Known as the "Gateway to the West," its strategic location and breathtaking landscapes have made it a must-visit destination for travelers exploring China's rich cultural heritage.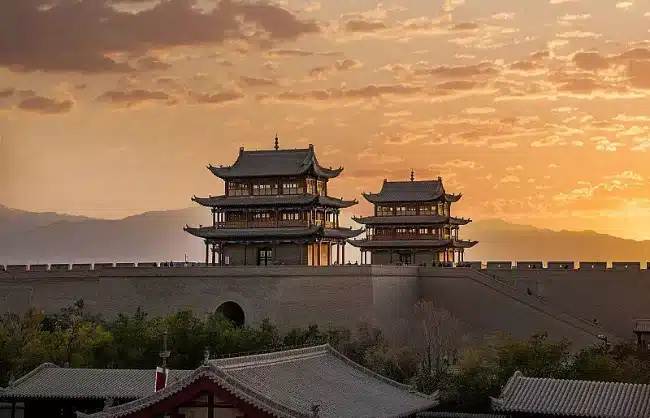 Chinese: 嘉峪关 jiā yù guān
Location: Northwest Gansu
Population (urban area): 316,000
Why Visit Jiayuguan
Immerse yourself in ancient history at the Jiayuguan Fort
Marvel at the stunning landscapes of the Qilian Mountains
Discover the intricate artistry of the Great Wall Museum
Uncover the mysteries of the Wei-Jin Tombs
Experience the rich local culture and traditions
Top Jiayuguan Attractions
Top Things to Do in Jiayuguan
Take a guided tour of the Jiayuguan Fort to learn about its historical significance.
Hike the Overhanging Great Wall for panoramic views of the desert and mountains.
Explore the Great Wall Museum's exhibits to gain a deeper understanding of this iconic structure.
Visit the Wei-Jin Tombs to marvel at ancient artistry and craftsmanship.
Immerse yourself in local culture by attending traditional performances and trying regional cuisine.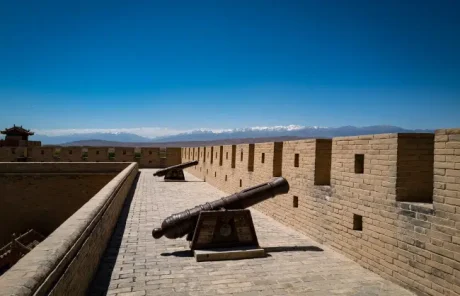 Jiayuguan Weather
Jiayuguan experiences a dry, continental climate with hot summers and cold winters. The best time to visit is during spring (April-May) and autumn (September-October), when temperatures are more moderate and the scenery is at its most vibrant. Winter can be quite cold, while summer can be scorching, so plan accordingly if visiting during these seasons.
Jiayuguan Transportation
Jiayuguan is accessible by air, train, and bus. The Jiayuguan Airport has regular flights to major Chinese cities, while the train station connects to Beijing, Xi'an, and other regional destinations. Buses also link Jiayuguan to nearby cities. Once in Jiayuguan, taxis and public transportation options are available to navigate the city and its attractions.
Tips for Traveling in Jiayuguan
Book accommodations and transportation in advance, especially during peak travel seasons.
Dress in layers and bring appropriate clothing for the season.
Carry cash for entrance fees and small purchases, as not all vendors accept credit cards.
Respect local customs and traditions when visiting cultural sites.