Taiyuan Travel Guide
Taiyuan, situated in the heart of Shanxi Province, China, is the province's largest city and capital. The city is positioned in the center of Shanxi, where the Fen River flows out of the mountains and into a vast plain.
Taiyuan boasts a long and illustrious history, having served as the capital or provisional capital of several dynasties in China, including the Tang, Dong Wei, and Bei Qi. It is also a significant industrial hub, with a focus on energy and heavy chemicals. Taiyuan is renowned as the Dragon City for its cultural and political importance.
The city has a warm temperate continental monsoon climate, with distinct seasons. Additionally, Taiyuan is a center for scientific research and education, housing numerous universities and research institutions.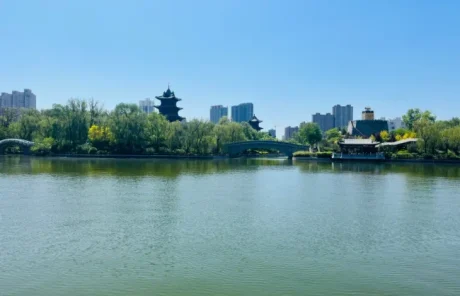 Chinese: 太原 tài yuán
Location: North Central Shanxi, Capital City of Shanxi Province
Population (urban area): 5,435,000
Why Visit Taiyuan
Rich history and culture:Taiyuan offers visitors a chance to delve into its rich history and culture, with a plethora of historical and cultural attractions such as the Twin Pagoda Temple, the Jinci Temple, the Tianlong Mountain Cave Temples, and the Shanxi Museum.
Distinctive cuisine: Foodies will delight in Taiyuan's distinctive cuisine, featuring delicious noodles, vinegar, and preserved vegetables, with local specialties like knife-cut noodles, cat's ear noodles, vinegar-pepper fish, fried tofu balls, and Shanxi mature vinegar.
A major gateway in Shanxi:As the gateway to other destinations in Shanxi, Taiyuan is well-connected by international and domestic flights, as well as high-speed rail, making it an excellent starting point for exploring other tourist destinations in Shanxi, such as Datong, Pingyao, Xinzhou (Mount Wutai), and Linfen (Hukou Waterfall).
With various museums:Visitors can also learn about Taiyuan's history and culture through the city's various museums, including the Shanxi Museum, the Coal Museum of China, Dong Shouping Art Museum, Taiyuan Liberation Museum, and the Museum of Geology and Mineral Resources, with the Shanxi Museum and Coal Museum of China being the top choices for a better understanding of Taiyuan and Shanxi's history and development.
Top Attractions in Taiyuan
Top Things to Do in Taiyuan
Jinci Temple, China's earliest royal ancestral temple garden building complex dating back to the Zhou Dynasty (1046-256 BC), features ancient halls, pavilions, towers, springs, and trees, as well as exquisite sculptures and paintings, making it a must-visit attraction.
The largest museum in Shanxi Province, the Shanxi Museum, displays over 200,000 cultural relics that showcase the history and culture of Shanxi from prehistoric times to modern times, with 11 exhibition halls covering various topics such as ancient civilizations, Buddhism, folk customs, and calligraphy.
Located in the city center, Yingze Park is the largest park in Taiyuan and offers a lake, zoo, playground, skating rink, rock garden, and bonsai garden, making it a popular place for locals and tourists to unwind and have fun.
The Twin Pagoda Temple, a Taiyuan landmark featuring two octagonal pagodas that are 53 meters high, was built in the Ming Dynasty (1368-1644) and decorated with glazed tiles and carvings, offering a panoramic view of the city from the top.
Chongshan Monastery, a Tang Dynasty (618-907) Buddhist temple that was rebuilt in the Ming Dynasty (1368-1644), boasts a grand hall, bell tower, drum tower, and scripture library, with a renowned collection of Buddhist scriptures and paintings, making it a must-visit attraction for spiritual seekers.
Taiyuan Weather & Best Time to Visit
Taiyuan experiences a warm temperate continental monsoon climate, with four distinct seasons and an average annual temperature of 9.3°C (48.7°F), characterized by dry and windy springs, hot and rainy summers, cool and pleasant autumns, and cold and snowy winters, with an annual precipitation of about 431.1mm, mainly concentrated in July and August.
The ideal time to visit Taiyuan is from April to October, when the weather is comfortable, and the scenery is beautiful, with spring flowers, lush greenery in summer, autumn fruits, and September festivals. However, visitors should also be prepared for some rain and thunderstorms in summer, especially in July and August.
Winter in Taiyuan offers snow-covered landscapes and hot springs, but visitors should wear warm clothing and avoid smoggy days, with January being the coldest month with an average low temperature of -12°C (11°F).
Taiyuan Transportation
How to Get to Taiyuan
By air, Taiyuan Wusu International Airport (TYN) is located approximately 16 km (30 minutes' drive) from the downtown area, offering over 130 airlines connecting with more than 70 domestic and foreign cities, with options such as taxis, shuttle buses, or metro line 2 available to travel to the city center.
By train, visitors can take high-speed trains or normal trains to Taiyuan Railway Station or Taiyuan South Railway Station, both located in the city center, with high-speed trains reaching Taiyuan from cities such as Beijing (2.5-3 hours), Xi'an (3-4 hours), Datong (2-3 hours), and Pingyao (40 minutes), and normal trains from more cities such as Shanghai, Guangzhou, Shenzhen, and Chengdu. Taxis, buses, or metro line 2 can be used to travel around the city from the railway stations.
By long-distance bus, visitors can take a long-distance bus to Taiyuan Long-distance Bus Station or Taiyuan Jiannan Bus Station, both located in the city center, with buses reaching Taiyuan from nearby cities and provinces such as Datong, Pingyao, Shijiazhuang, and Zhengzhou. Taxis, buses, or metro line 2 can be used to travel around the city from the bus stations.
The city has two metro lines in operation, line 1 and line 2, covering most of the city center and some suburban areas. The metro is fast, clean, and convenient, with single tickets available at the station or using a Taiyuan Tong card, which can also be used for buses and bikes. The fare is distance-based, ranging from 2 to 6 yuan.
Taiyuan also has a vast network of buses, offering cheap, frequent, and environmentally friendly transportation to almost anywhere in the city. Most buses are electric or hybrid vehicles, and payment can be made by cash or using a Taiyuan Tong card. The fare is usually 1 or 2 yuan.
Taxis are another option in Taiyuan, with plenty of cabs available to hail on the street or book by phone or app. Taxis are metered and relatively affordable, with a starting fare of 8 yuan for the first 3 km, then 1.4 yuan per km for the next 7 km, and 2.1 yuan per km thereafter. There is a surcharge of 2 yuan for trips longer than 15 km.
For a more active way to explore the city, visitors can use Taiyuan's public bicycle system, allowing users to rent a bike from one of the many stations around the city. Registration and a deposit of 200 yuan are required to use the service. A Taiyuan Tong card or mobile app can be used to unlock a bike, with the first hour free and a cost of 0.5 yuan per hour afterward. Bikes can be returned to any station within 24 hours.