Wangfujing snack street, gathering abundant famous and excellent local snacks, is one of the most famous snack street in Beijing. It is located in the east side of the Forbidden City. There are more than hundreds of stores and stalls selling special snack, souvenirs, folk arts in Haoyou Shijie market.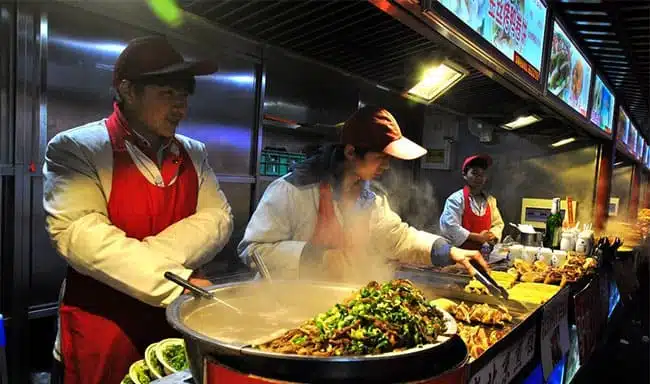 Basic Facts about the Wangfujing snack street:
The street is designed to combine the traditional architectural features and the citizen culture of ancient Beijing. The entrance of the street has a more than 10 meters high exquisite archway as the portal, and the street is divided into four areas that use the architectural style of the Ming and Qing dynasties as the keynote but also have distinctive architectural features. There are buildings with carved beams and painted raftersforthe rich, buildings made by gray bricks and tiles for the ordinary people and small, which form the unique street of Beijing. Nowadays, this street seems to be a space to preserved history while retains the original culture and appearance of ancient Beijing. So visitors can not only taste a variety of food but also enjoy the long history and rich culture.
On the first floor, there are more than 500 kinds of excellent snacks from all over the country. On the second floor, the famous Muslim chefs of renowned time-honoured brand Feng's Boiled Tripe, Yangtouma, Yueshengzhai would provide visitorsa great experience of Halal food.On the third floor, the most popular "the nine specialties of old Beingjing", such as the unique tea of Prince Gong Mansion, the wine of Prince Qing Mansion and a meal set of Qing Palace could be found. Enjoying Peking Opera performances is possible here, and visitors can go on stage and have a shot of Peking Opera performances.
The popular food isold Beijing sugarcoated haws, roast duck, old Tianqiao tea, Hong Kong beef balls, fried tripe, old Beijing yogurt, mutton kebabs, etc.
Tips: As Wangfujing Snack Street mainly offers the services for tourism in recent years, so the price of goods here is higher than other places.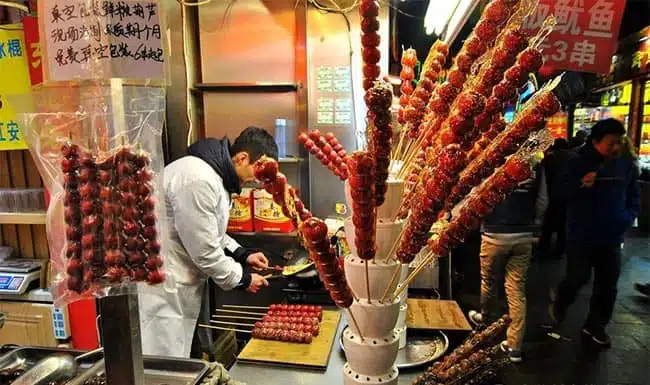 How to get tothe Wangfujing Snack Street?
Tourists can take Bus No.10, No.41, No.59, No.90, No.99, Express 104, No.120, No.126, No.203, No.205 and No.420 and get off at the Wangfujing Station.
It is convenient for tourists to take Subway Line 1 and get off at Wangfujing Station (Exit A).