Nanluoguxiang is a famous hutong, which is on the east side of the central axis of Beijing. It starts from Drum tower East Street (Gulou Dong Dajie) in the north and extent to Ping'an Street in the south. It is one of the oldest blocks in Beijing, which was built up when the capital of Yuan Dynasty was found. Now, it combines the petty bourgeoisie with traditional culture and characteristics of Beijing, and becomes one of fashionable landmark of Beijing.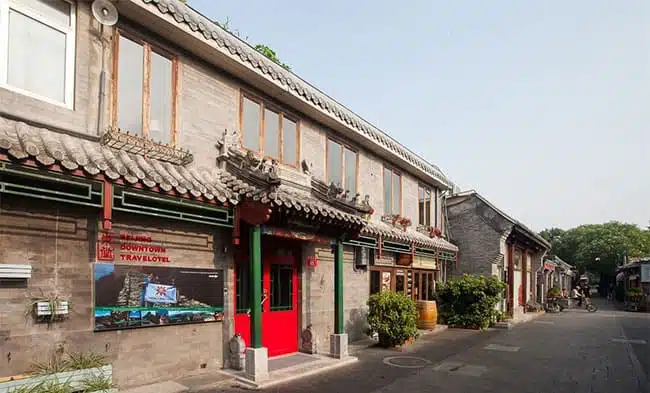 Basic Facts about the Nanluoguxiang:
Nanluoguxiang runs from north to south continues the "checkerboard" pattern since ancient times, and there are 8 hutongs orderly arranged from east to west, which looks like the shape of "fishbone". This kind of architectural style is typical in Yuan dynasty.The whole block is like a large centipede, so it is also called Centipede Street. It is said that there were two ancient wells in the northernmost part of the Nanluoguxiang, which happened to be the two eyes of this centipede.
There are lots of famous and delicious snacksthat are worth tasting, such as double-skin milk and syrup of plum are the most popular dishes ofWenyu cheese shop (No. 49, Nanluoguxiang). The restaurant named Guke (No.108, Nanluoguxiang) and Zamo(No.106, Nanluoguxiang) both have palatable pizza, the pizza of mutton shashliksuch in Guke and the pizza of Kung Pao Chicken and Peking Duck are special dishes. The corn juice is famous at the shop named "there is no juice corn" (No.145, Nanluoguxiang).
There are many novel and small stores selling different kinds of souvenirs, such as a store named Band-aid 8 (No. 61, Nanluoguxiang) owned by a British sellingprinted enamel red washbasin, old tin toys and other T-shirt with the civil culture of old Beijing.
There are many former residences of celebrities and ancient buildings in hutong. For instance, the former residence of the last empress Wanrong, Keyuan garden, Qi baishi's old residence memorial hall (Yuer hutong), Mao dun's former residence (No.13, houyuanensi hutong), etc.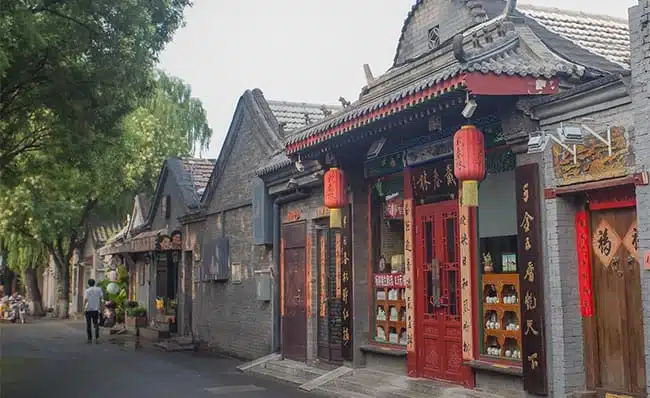 How to get tothe Nanluoguxiang?
Tourists can take Bus No.5, No.60 and No.82 and get off at the Drum tower (Gulou) Station, and then walk about 300 meters to the Nanluoguxiang.
Tourists can take Bus No.3, No.13, No.60, No.118 and No.612 and get off at the Luoguxiang Statio.
Tourists can take Bus No.42 and No.701 and get off Dianmen dong Station, then walk about 300 meters to east along Ping An Dajie.
Tourists can also take Bus No.107, No.124 and No.635 and get off at Baochao hutong, then walk about 200 meters from west to east.
Visitors can take Subway Line 6 or Line 8 and get off at Nanluoguxiang Station.