Why Choose Joy Travel for Tibet Tour?
After Tibet's reopening to expats living in China, many travel agencies have tried hard to promote their Tibet tours. You may face the challenge to judge whether a travel agency is trustworthy, and which itinerary is more likely to guarantee your lifetime experience.
Following are some points that make JoyTravel's Tibet trip stand out from most others, hope this is helpful to inspire you.
1. Years of experience
We have years of experience in operating Tibet tours and handling the application of Tibet Travel Permit.
2. We design our Tibet itineraries slightly different from most others.
For travelers who visit Tibet for the first time, 7 – 8 days duration is recommended so you can tour main attractions in Lhasa at a leisure pace which can help you adapt to the high altitude, then head to Shigatse and Everest Base Camp with higher altitude. Different from the most 8-day Tibet tours, we JoyTravel designed an 8 days Tibet itinerary that covers not only Lhasa, Shigatse, and Everest Base Camp, but also Damxung – another destination in Tibet deserve your visit.
1> On the way to Damxung, we will escort you to the spectacular Nimu Grassland, Yampachen, and Grassland in northern Tibet.
Nimu Grassland: Tourists are bound to get mesmerized once they encounter the charming Nimu. Along the No. 318 National Highway in Nimu County, you can see locals grazing their cattle on the lush lawn, and the winding Nimu River breathes life into the monotonous fields.
Yampachen: Situated 90 km northwest of Lhasa, Yampachen is the location of a thermoelectric power plant which is not only the first project of geothermal power in China but also the highest geothermal power station in the world.
Grassland in northern Tibet: Located among the Kunlun Mountains, Tanggula Mountains and Gangdise Mountains, grassland in northern Tibet is a paradise for wildlife and boasts a cultural place with rich sedimentary layers.
2> We will accompany you to visit Namtso Lake and Tsurphu Monastery when in Damxung.
Namtso Lake: Embraced by imposing Mt. Nyenchen Thangla Ranges, Namtso Lake draws global travelers for its surreal beauty. Sitting about 4,718 meters above sea level, Namtso Lake is the highest lake in the world. You will stroll along the boundless shore of Namtso, gazing at the snowy rolling mountains in the distance.
Tsurphu Monastery: Around 65 km west of Lhasa, Tsurphu Monastery serves as the seat of Karmapa, the leader of Karma Kagyu, the black hat school of Tibetan Buddhism.
3> Besides visiting Everest Base Camp, you can also get a far view of Mt. Everest and more Himalayan peaks from Gaura Pass.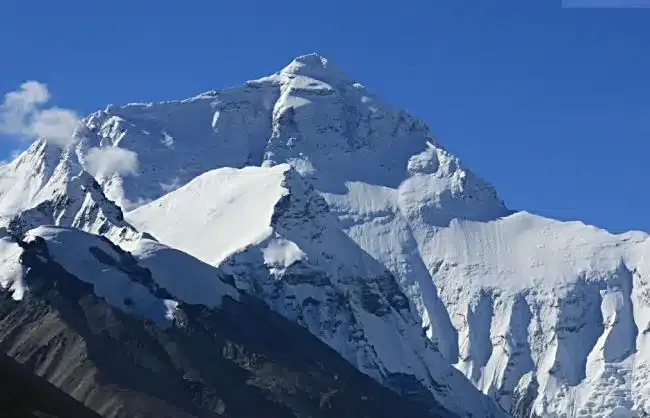 With an altitude of over 5200m, Gaura Pass is the only pass in the world to view 5 peaks of over 8000 meters above sea level at the same time.
4> We also arrange sightseeing from the Gyatso-la Pass, since the Mt. Everest shows different contours from different angles and distances.
Sitting 5252 meters above sea level, Gyatso-la Pass is the highest spot on China-Nepal Highway. If the weather is good, you can enjoy the stunning view of Mt. Everest and Cho Oyu Mountain, Lhotse Mountain and Makalu Mountain from afar.
3. JoyTravel offer 1-on-1 travel consultant support throughout your entire trip.
Our 1-on-1 expert travel consultant will help you to plan the perfect Tibet experience every step of the way, and help you timely find the best solution on any issue during the trip.
4. Insider's Tibet travel tips from our professional and sincere guides.
1) .How to avoid altitude sickness
The altitude sickness symptoms include headache, fatigue, nausea, etc.
The best way to avoid altitude sickness is to ascend slowly. Acclimating for a few days in Lhasa is recommended before proceeding to a higher altitude.
Try to keep healthy before entering and while in Tibet, even a cold can make attitude sickness feel a lot worse. Take it easy and rest well, keep warm, drink a lot of water, and eat simply the first two days in Tibet to reduce any altitude sickness symptoms.
Consult a doctor while at home to see if you are a good candidate for a prescription of Diamox altitude sickness medication. If yes, begin taking Diamox 24 hours before you board the flight or train.
Psychological preparation: A good psychological quality is a panacea for overcoming altitude sickness. A large number of examples have proved that maintaining an optimistic mood and strong confidence can reduce the physical discomfort caused by altitude sickness.
2). What to wear?
In Tibet, it's chilly and cold in the morning and night, you are recommended to bring along a  windbreaker, jacket, or warm sweater together with shirts and short pants. A down jacket is a must if you visit Tibet in autumn and winter, especially when you want to visit Everest Base Camp. Gloves, woolen socks, and hats are also recommended to keep you warm.
You are recommended to prepare a pair of normal and comfortable sports shoes or boots while travelling in Tibet. Special mountain boots is not necessary if you don't plan to trek.
Take a hat and sunscreen to protect your skin. Due to the "thinner" atmosphere on the Tibetan Plateau, the sun in Tibet is fierce. Don't forget to take a broad-brimmed hat and sunscreen to prevent UV radiation.
3). You are recommended to take along snacks and fruits to supplement energy due to the long drives on most days of the trip.
4). Security inspection
Tibet has a relatively strict security inspection policy, visitors are recommended to take along your ID card, original passport, and Tibet travel permit to go through the routine security checks. Please cooperate with the security checks.
About eating
Tibetan food and Sichuan-style food are the most popular food in Tibet. Western food such as Nepal food, curry are also available.
Tibet has a 3-4 hours time difference from Shanghai, so the dinner time is relatively late.
Prepare some banknotes
Prepare some one yuan banknotes to pay for toilet use on the way, coins are usually not accepted.
Please pay attention to the environment protection and carry garbage bags with you.
Pick a good flight seat.
Visitors who take a flight to Tibet are recommended to pick a window seat on the left for a fine view of Himalayas; and a window seat on the right side is recommended for your departure flight.
Respect local customs
Please respect Tibetan people and their customs to avoid trouble; dress respectfully, don't in shorts, revealing clothes, or sunglasses; please don't take photos or videos without permission while in the temple or monastery, your professional guide will inform you about the local restrictions and customs, please listen carefully.