Xian Historical Day Tour
Terracotta Warriors and Horses, Great Mosque, Muslim Quarter, Big Wild Goose Pagoda

Private tour guide + Driver + Vehicle + Entrance tickets + Lunch

Yes

Start from

$65

per person
Tour Overview
As the oldest of China's four great ancient capitals, 13 dynasties once set their capitals in Xian in Chinese history, leaving many rare cultural heritages to us. On this Xian historical day tour, you will visit 4 amazing sites: Terracotta Warriors and Horses, Big Wild Goose Pagoda, Great Mosque, and Muslim Quarter. You will follow a knowledgeable and accommodating English-speaking tour guide to know more about this city's history, appreciate traditional Chinese architecture, marvel at ancient Chinese people's wisdom, try authentic Shaanxi dishes, and have a glimpse of local people's life. Pick this tour to experience a cultural feast in Xian!
Highlights:
. Visit the Terracotta Warriors and Horses – the eighth World wonder known for its 8000 life-size sculpture. Listen to interesting stories about it.
. Visit the Muslim Quarter to taste authentic Shaanxi and Muslim cuisine and experience the cultural feast of Xi'an!
. Marvel at the Big Wild Pagoda – a masterpiece of Buddhist architecture from the Tang Dynasty in China, which was built to house the sutra scrolls and statues brought back by Monk Xuanzang.
AM: Our tour guide and driver will pick you up from your downtown hotel in the morning. Then directly transfer you to the Terra-cotta Warriors and Horses. Known as "the Eighth Wonder of the World" and one of the most significant archaeological discoveries in the 20th century, the museum shows a surprisingly high level in sculpture. The splendid battle formation will leave you an impressive memory.
Noon: Lunch in a local restaurant.
PM: After lunch, we will go back to city center to visit the Big Wild Goose Pagoda which was originally built to hold the sutra and Buddha statues that Xuanzang brought back to China from India in the Tang Dynasty. Now there is a big garden around the pagoda where people can have a nice walk. Next stop will be Great Mosque, a major place for religious activities of the Muslims in Xi'an. This mosque, different from the mosques we usually see, is more like a traditional Chinese garden. For example, you will see Chinese pavilions with painted beams and engraved ridgepoles. At last, take a stroll down the Muslim Quarter, the best known and colorful food street in Xian. If you like, our guide will escort you to some more alleys in Muslim Quarter to see real life of Muslim people here.
At the end of the tour, the guide and driver will transfer you back to your hotel.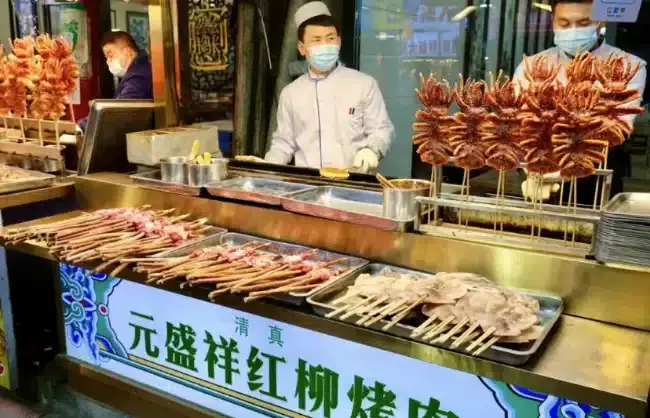 Tour Price ($=USD)
From $129 P.P, which is based on a private tour for 2 people. The price varies depending on the activity, number of people, travel date, and selected hotel.
Book Now