Real Color of Terracotta Warriors and Horses
46 years ago, Chinese archaeologists carefully removed a thick layer of more than 2,200-year-old loess in Lintong District, Xian, by using shovels, brushes and cotton swabs and revealed a mysterious underground army which shocked the entire world. The terracotta warriors with different facial expressions seemed to be still protecting the Great Qin Empire. However, one regret in this remarkable discovery is that the pigments on the clay warriors began to change in 15 seconds after they were unearthed, and what followed was serious dehydration, warping and peeling. Yes, those warriors once had colors, but the beautiful colors only lasted for a few minutes. According to the director of the Department of Cultural Relics Protection at the Terracotta Warriors and Horses Museum, "The only thing one could do was standing in awe, and you didn't even have time to take photos before the colors vanished into the air".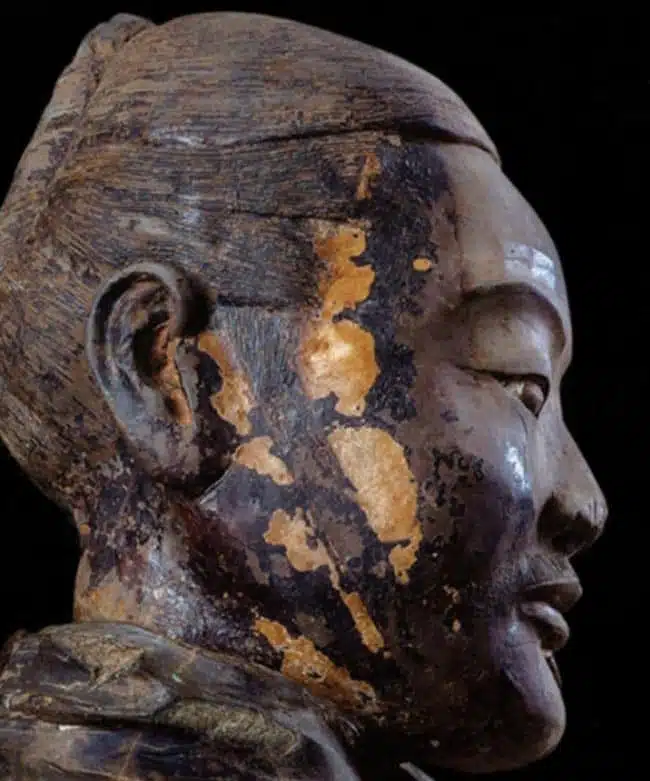 Now what we can see in the museum is rows and rows of gray life-size terracotta warriors standing in the giant pits. Although the warriors themselves are of significant value and definitely worth a visit, they look a bit too monotonous in color. If we could turn back the hands of time, we would see terracotta warriors in different colors, such as red, green, blue, white, purple, etc.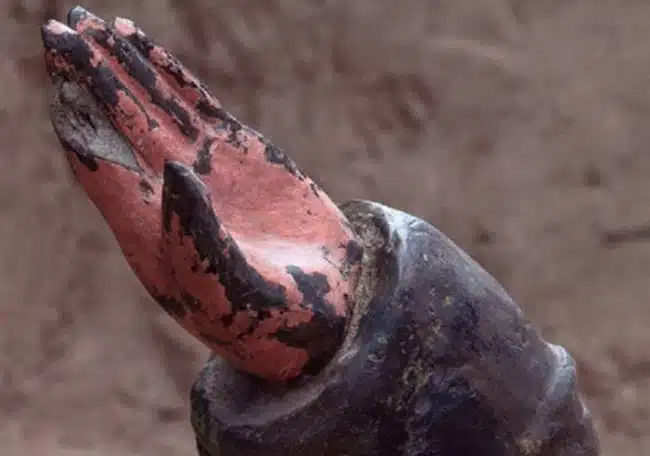 Then you must be curious about what caused the color fading. Environmental change is the main reason, and subsequent protection work also faces challenges from microorganisms and soluble salts. Under an electron microscope, researchers can observe clusters of white "flowers" bloom on the surface of cultural relics. That is mold spore. It widely exists in the air and soil, and it will grow rapidly at certain temperature and humidity. Some molds will secrete pigments and produce harmful substances like acid and alkali which get deposited on the surface of cultural relics, affecting the appearance of cultural relics and causing damages. In addition, there is a layer of frost-like soluble salt on the surface of painted ceramic relics which can do irreversible damage to cultural relics. A slight change in temperature and humidity will make soluble salt repeatedly crystallize and dissolve, resulting in larger spaces between carcass and paint as well as lower strength. Even a gentle touch can cause the surface of cultural relics to peel off like a crisp biscuit.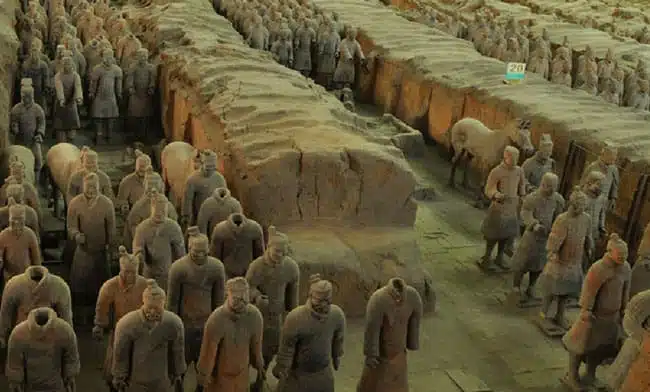 Because the colors tend to fade easily, colored terracotta figures are rarely put on public display. Therefore, normal tourists have little chance to admire those with colors. Now China Xian Tour will introduce you two colored terracotta warriors in details to make up for this pity.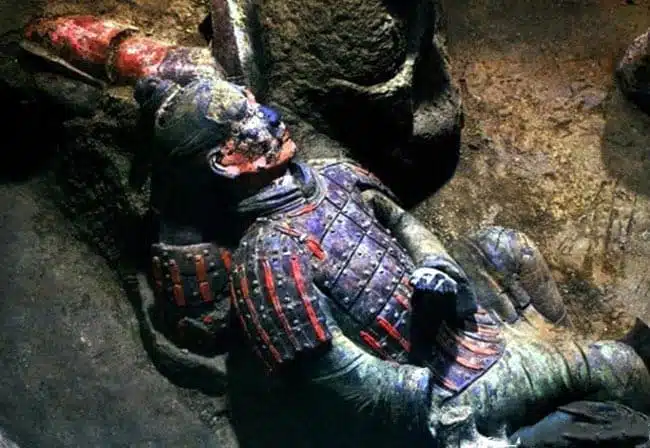 In the picture below is Green-faced Kneeling Warrior. According to his posture, he once had a crossbow in right hand. With his right knee on the ground, he seems well prepared to join in a battle. He is the only one with green face among all the unearthed over 2,000 terracotta warriors, which won him great fame, and he is not allowed to be exhibited overseas. Then why he has a green face? There are many guesses about this. Some experts think he is a necromancer in the troop, and some believe his green face is to frighten enemy. Some people even deem that the craftsman applied green because flesh color happened to be used up. And even after more than 2,200 years, those remaining colors can still help us recognize the eyeballs and white part of the eyes. The red hair band wrapped around the bun is very distinct. Besides his face, the colors on the rest of the body also haven't completely faded. You can see there is something blue around his neck. That is not a scarf but the collar of his jerkin.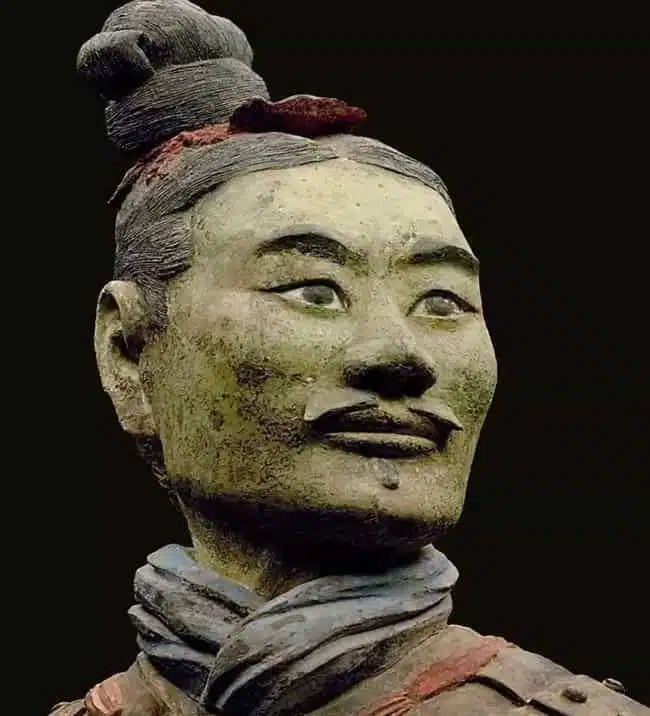 The other famous colored terracotta warrior is Smiling General. So far, only 9 high-ranking officers have been excavated from the pits, and each of them is top national treasure of China. The general's hands are put together and placed in front of his belly. It's said that there used to be a sword in his hand.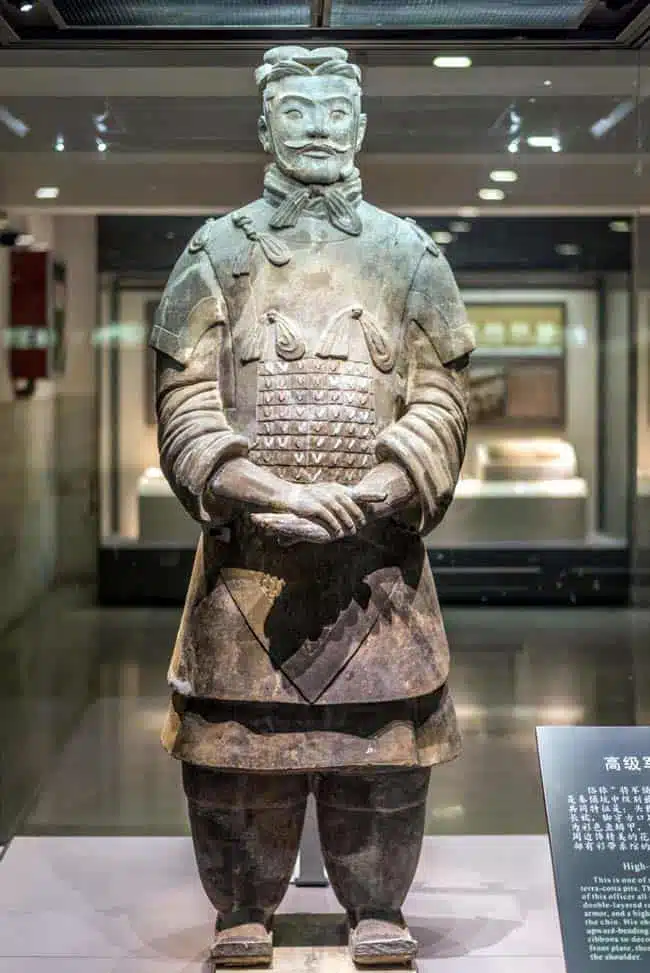 You may wonder where the color is. Here is a close-up look at his waist. You can notice that the armor's edge is still clearly visible, and there are brightly-colored rhombus patterns.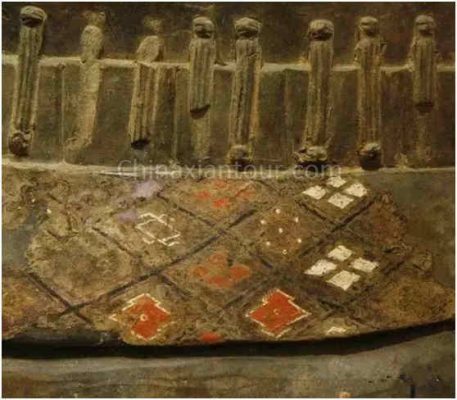 When the terracotta warriors were first excavated, there were no proper solutions to keep the colors. What is done cannot be undone. To help us better understand the original colors of the terracotta warriors, experts have reproduced some colorful pictures. We can feel how magnificent they were. Of course, the terracotta warriors we see today are also stunning. You have to know that the Qin Dynasty (221 — 207 BC) only existed for less than 20 years. It is beyond imagination to think that China's First Emperor, Qin Shi Huang, can rally enough labor and resources to build this massive underground empire in such a short period of time. It is simply unlike anything seen before or since.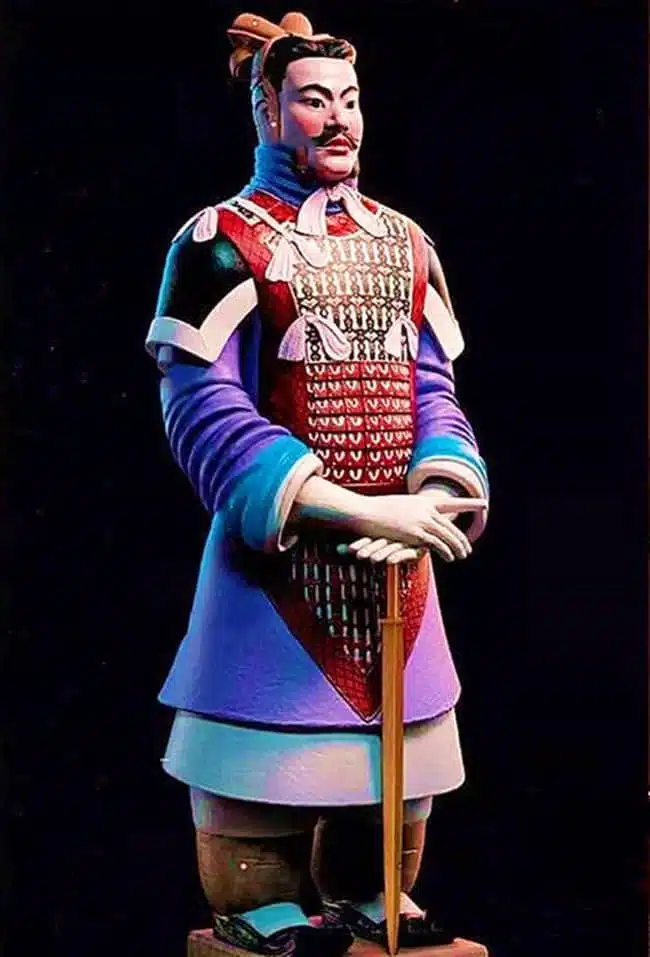 Are you excited to learn more about Terracotta Warriors and Horses? The fascinating history behind it and the enormous scale will definitely blow your mind. Do not hesitate any more! Do not leave more regrets in your life! If you need any help planning your Terracotta Warriors tours, please feel free to contact us. Our professional team will bring you a Xian traveling experience cherished forever.