Things to Know When Planning the Xian Tour
A glance of Xian
Xian was called Chang'an in Chinese History which means forever peace. The ancient capital city witnessed rise and fall of the feudal dynasties and experienced rules of both liberal and fatuous rulers. Thousands of years later, the ancient capital's prosperity drowning in the history, the powerful and fatuous rulers sleep eternally here, only the sites of grand imperial mausoleum is still reminding the proud past of the rulers and the city.
If regarding China as a lofty tree, Beijing would be the shining crown, Shanghai would be juice that transfer nutrition from root to crown, and Xian would be the roots which deeply roots into the soil and obtain nutrition to support its life. In Xian the thousands of year's traditional culture are still passed from generation to generation. People joke that in Xian one could easily get historical relics by digging underground in any parts of the land. Though it is just kidding, the historical relics and ruins top all areas of China.
Nowadays Xian is known home and abroad for Terracotta Warriors and Horses, ancient City Wall, Big Wild Goose Pagoda, etc. The numerous local restaurants and snacks attracted food lovers from all over the world. The Chinese paintings and calligraphy in Shuyuanmen Cultural Street, the hostels, bars and coffees decorated in unique styles are most-loved by travelers. Qin Opera and cross talk clubs are hidden in small lanes and one can seek quite from noisy surroundings. All the ancient and modern facts create the amazing new looking of Xian.
Terracotta Warriros and Horses
Best time to travel to Xian
March to May/ September to November.
Reason: its spring and autumn season during these months, the temperature is neither too hot nor too cold. The beautiful natural scenery and pleasant weather will make your Xian tour ease and comfortable.
June to August /December to February
It's the summer and winter months in Xian. In summer it is hot and be expected thunderstorms occasionally. In winter it is cold and dry.
Reason: Save your Cost. Most of attractions in Xian offer low season entrance price from December to February. E.G. Tickets of Terracotta Warriors and Horses is RMB150 in high season and in low season it lowers to RMB120 per person. With the amount saved from entrance fees one could stay in a more comfortable hotel, visit some more place, or try some local snacks.
Suggested Xian Tour Duration
Essence or Highlight Xian Tour: 2-3 days
In-depth Xi'an tour: 4-7days.
For travelers who want to dig more facts in and surround Xian, we recommend he stays in Xian for 4-7 days. The historical sites Terracotta Warriors and Horses, Banpo Museum, and City Wall will spend one whole day. Downtown city attractions like Big Wild Goose Pagoda, Shaanxi History Museum, Small Wild Goose Pagoda, Great Mosque, Muslim Quarter, etc will spend other 2-3 days. One who like hiking may add Mt Huashan into their tour itinerary. Mt Huashan tour will takes 1-2 days.
Song of Everlasting Sorry Performance
Budget Your Xian Tour
Catering Budget /P.P
Breakfast: USD2-3 from roadside stall, USD4-7 from fast food restaurant, USD10-20 at hotel or a decent restaurant.
Lunch: USD10-20 in local restaurant, USD20-40 at a decent restaurant
Dinner: USD10-20 in local restaurant, USD20-40 at a decent restaurant
Accommodation Budget
Hostel: USD15-25 per bed
3 star hotel: USD25-60 per night per room with breakfast.
4 star hotel: USD70-90 per night per room with breakfast.
5 star hotel: USD90-250 per night per room with breakfast.
Cost for Public Vehicle
Metro: RMB2 within in 6 stations. Top up RMB2 if Exceeding 6 stations.
Bus: RMB 2 per person for most downtown city buses. Most of them are conductor lee buses so please prepare changes such as RMB1. Some buses have conductor who sales bus tickets and it cost RMB1-10 according to how may stops you take.
Taxi: RMB2-2.5 per KM. The legal taxi in Xian is fresh green or blue with a TAXI board fixed on roof.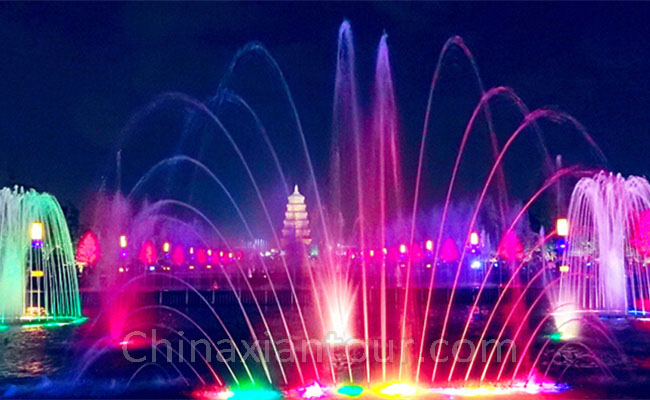 Music Fountain on North Square of Big Wild Goose Pagoda
Top 7 things to do/see in Xian
Top 1 Visit Terracotta Warriors and Horses.
Top 2 Walk along Muslim Quarter and try local snacks.
Top 3 Cycle on the City Wall.
Top 4 Hikes on Mt Huashan
Top 5 Visit Bid Wild Goose Pagoda and see Music Fountain show on North Square of Big Wild Goose Pagoda.
Top 6 Eat Like locals
Try Ice Peak (Bingfeng), Chinese Hamburger (Roujiamo)and Cold Noodles(Liangpi). Ice Peak is a local beverage brand born in 1953. It can be easily found in almost each dinning place. The orange-taste beverage in glass bottle is the shared memory of most local people.
Top 7 Watch Shadow-Puppy Play
Shaanxi Province is the seedbed of shadow-figure Play. From the Qin Dynasty (221BC-207BC) to the Tang Dynasty (618-907), shadow-figure play was the most fashionable. Seeing the shadow-figure play in Gao Family Courtyard would increase some unique memory to one's Xian tour. The shadow-figure play is performed daily and the most interesting ones are created based on the Monkey in the novel Journey to the West.
Small Wild Goose Pagoda
Things to Prepare Before You Go
Exchange Money
RMB is the only currency in circulation in mainland China. Suggest exchange money before you arrive in China. Because in China, you will need wait for a long time for money exchange in Bank of China. Broken foreign currency is not acceptable in banks mainland China.
Visa Application
Usually international tourists need to apply a Chinese visa for Xian tour. Tourists who work or study in China or from the countries under 72 Hours Visa-Free Transit Program could visit Xian without tourist visa.
Dressing code
Dress long sleeves in the morning and night of spring and autumn as the temperature difference in morning and night is bigger than other months. June to August is summer in Xian and it's hot. You should prepare sun-proof items. Besides in spring Xian is dry and dust storm happens seldom. Skin cream and dust-proof scarf are necessary in spring.
Find your accommodation/flight by sending an email to [email protected]
Flight Tickets &Accommodation in Xian
Airfare will be effected quiet a lot by some Chinese public holidays so as accommodation. It is safe to book flights and hotels at least one month before for tourists planning to visit Xian during these holidays. The major holidays are Spring Festival(Late January to Mid February ), Labor Day Holiday (May 1st-3rd), National Day Holiday(October 1st-7th)