Chakpori Hill bears the meaning of "the hill on the mountain corner" in Tibetan language and "the hill of King Medicine" in Chinese. 3725m higher than the sea level, the Hill stands at Potala Palace's right, with a path winding its way up to the top of hill for people. The hill earns its name of "the hill of King Medicine" and "King Medicine Temple" because the sapphire Buddha of King Medicine on the hill top.
At the east side of Chakpori Hill, there is a small temple in the style of stone cave, styling peculiar, built in the period of Songtsan Gampo. Legend goes that a concubine of Songtsan Gampo engraved the image of Brahma and the gallery for the turning scripture which has been well preserved until today in spite of going through rises and falls for thousands of year. Another one legend is that Princess Wencheng had worshipped and paid her respect and homesick here to the east where her hometown Tang Emperor was. The stone cave occupies 27m2, and is in a shape of an irregular rectangle with a column as its center. There are 69 stone sculptures on the palisades about Songtsan Gampo, Princess Wencheng and some important officials, and also 66 Buddha images on the both side of the inner cave.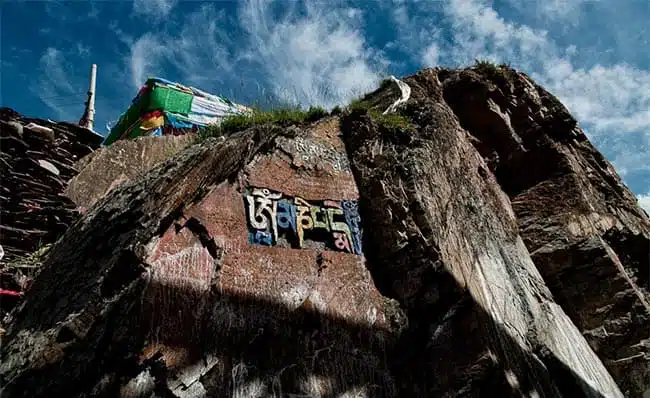 The relic on the Chakpori Hill was originally a Tibetan medical school which born the property of religion, hence the name "the hill of King Medicine". Legend said that the King Medicine was reincarnation of Sakyamuni who was almighty in treatment for any disease. The Tibetan medicine combined with the Chinese traditional medicine from Tang Emperor when Princess Wencheng brought the Han culture from her hometown. Later, there were more and more medicine masters came to Chakpori Hill gradually for the treatment and teaching for people. It was in the end of 17th century that the Desi Sangye Gyatso built Tibetan medical school on the Chakpori and picked the potential lamas from each monastery to learn medicine.
Today Chakpori wins its name mainly out of its good location to take pictures for the full view of Potala Palace. Especially the hillside of Chakpori is the best point for the travelers from the remote place who would like a perfect photo of Potala Palace. Chakpori in the morning usually witnesses the crowds collecting here for taking shots of the first golden sunlight casting on the Potala Palace. Behind the Chakpori Hill is the famous Buddha Wall, near where many families could engrave the Marnyi stones which is a Tibetan folk art for people to pray by carving some blessing words or pictures on the stone.
Open Time: 7:00-19:00
Entrance Charges: free
Travel Tips:
Chakpori Hill is the best place to take the full view of Potala Palace, so every day, especial the morning, there is crowded travelersqueuing here to take shot of sunrise of Potala Palace. People should go to queue earlier if they would take photosof the famous Palace.
The altitude of this Hill is quitehigh, so the travelers here are suggested to avoid any strenuousactions or activities.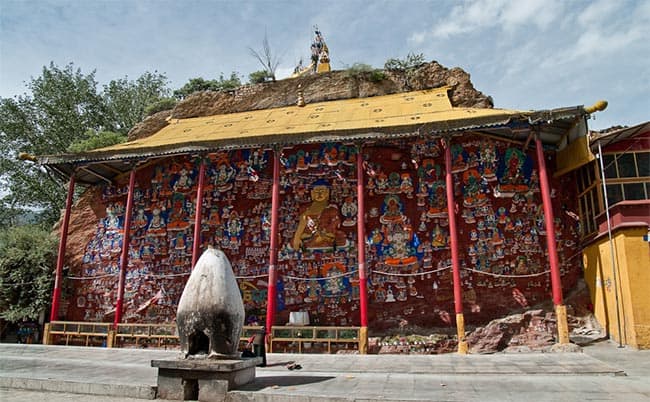 Booking Method
Step 1: You can directly book online or please feel free to share your tour plans or thoughts at

[email protected]

naxiantour.com , our travel consultant will contact you within 12 hours.
Step 2: A small amount deposit will be required to book a tour. After deposit received, a detailed service voucher will be sent to you to confirm the booking.
Step 3: Balance due will be required 7-15 days ahead of your travel date.
If you have any further question, please feel free to contact us!
Email: [email protected]
Cellphone number: +86 15129005119
WhatsApp / Wechat ID: 008615129005119
Facebook: @xianholidaystravelagency
Our Tour Guide
The core of our service is excellent travel guides. Over 20 years, we have built up a considerable professional guide team that is knowledgeable, attentive and flexible. The most experienced and reliable guides will be arranged for your unique China tour. Our passionate guide team is full of contagious enthusiasm and keen interest to share culture and history in a pleasant manner. We are always glad at your service to lead you to explore a real China and experience authentic local life in China.
Our Driver and Vehicle
The first mission of our service is to ensure you feel safe and comfortable during your travel. The vehicles we use are air-conditioned, clean and well-maintained. Our drivers are all licensed drivers with many years of driving experience. Moreover, we offer free baby seats for families with little kids.
Meals
Food is a very important part of Chinese culture. You won't want to miss the opportunity to taste the real local Chinese food!
Buffet breakfast will be included in the hotel if you would like accommodation to be arranged by us. Having lunch at local restaurants close and convenient to the attractions you will visit, you would enjoy the local dishes in each city. Chinese style, Vegetarian or Muslim meals are all available. If you have any other diet requirements or allergies, please feel free to let us know, we will try our best to organize it.
For daily dinner, you are suggested to have it on your own when you are exploring each city in your own time, this way would be more flexible for you to choose food as per your interest and preference.
Free Inquiry: