Dujiangyan Panda Base is a world-class conservation facility dedicated to the preservation and research of giant pandas. Situated amidst the breathtaking landscapes of Sichuan, this base serves as a haven for these endangered species. Here, visitors can witness the pandas in their natural habitat, learn about their behavior, and contribute to their conservation efforts.
Location: in Shiqiao Village of Qingchengshan Town, Dujiangyan City, about 68 km from Chengdu and 18 km from Dujiangyan downtown.
Opening time: from 8:30 am to 5:00 pm every day.
Ticket price: The entrance fee is 58 RMB per person.
Time needed: about 2 – 6 hours.
Best time to visit: March to November
Suited to: people who love pandas and want to have close interaction with them.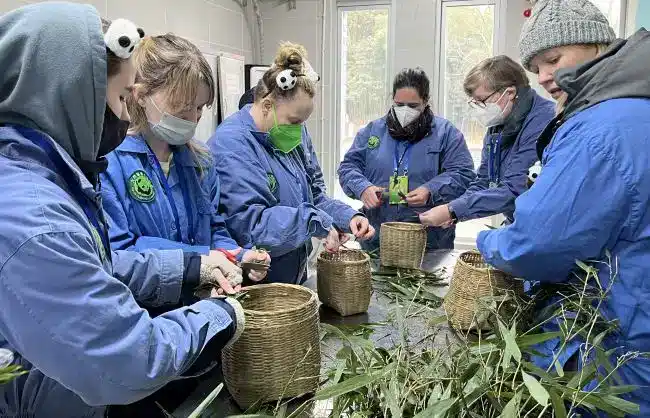 What to See and Do in Dujiangyan Panda Base
Dujiangyan Panda Base offers a wide array of activities and attractions to engage visitors of all ages. Here are some of the highlights:
1. Panda Enclosures
The base features spacious enclosures where you can witness the giant pandas roaming freely. Marvel at their playful antics, observe their feeding sessions and capture memorable photographs.
2. Volunteer Programs
For a truly immersive experience, Dujiangyan Panda Base provides volunteer programs that allow visitors to participate in the daily care of pandas. This hands-on opportunity enables you to assist the dedicated staff in activities such as preparing food, cleaning enclosures, and monitoring panda behavior.
3. Educational Exhibits
The base also boasts informative exhibits that educate visitors about the biology, habitat, and conservation efforts dedicated to giant pandas. Learn about the challenges they face and the steps being taken to protect these endangered species.
4. Panda Cub Nursery
Witness the adorable panda cubs in the nursery, where they receive specialized care. Observe their growth and development, and gain insights into the conservation strategies employed to ensure their survival.
Panda Volunteer Program at Dujiangyan Panda Base
Engaging in the panda volunteer program at Dujiangyan Panda Base is a unique and educational opportunity to get up close and personal with the magnificent giant pandas while actively contributing to their daily care. This program, spanning approximately 6 hours from 8:30 am to 3:00 pm, encompasses a range of activities designed to provide an immersive and enriching experience. Here are some highlights of the program:
Honorable Panda Keeper: As an esteemed Panda Keeper, you have the opportunity to immerse yourself in the care of these magnificent creatures. Embrace your role by engaging in a range of tasks, including maintaining the cleanliness of the panda enclosures, managing the bamboo supply by removing old bamboo and replacing it with fresh ones, and ensuring the pristine condition of the panda house.
Wonderful Panda Tour: Explore additional panda enclosures within the base and witness more giant pandas and adorable red pandas. Observe the dedicated panda keepers closely as they feed and interact with these gentle creatures.
Panda Cinema: Immerse yourself in a captivating documentary showcasing scientific facts about pandas, their conservation efforts, and ongoing research. Gain valuable insights into the challenges and measures taken to protect these endangered species.
Panda Nutritionist: Step into the role of a panda nutritionist as you prepare special food items such as panda cakes and carrots, tailored to the pandas' dietary requirements. Experience the joy of feeding these adorable creatures firsthand.
Panda Class: Expand your knowledge about panda biology, behavior, ecology, and conservation through engaging sessions conducted by panda experts. Deepen your understanding of these remarkable animals and the efforts undertaken to safeguard their future.
Panda Souvenir: As a memento of your volunteering experience, you will receive a panda volunteer certificate and a panda badge, symbolizing your invaluable contribution and commitment to panda conservation.
If you are interested, you can join our panda volunteer tours.
4 Days Chengdu Panda Volunteer Experience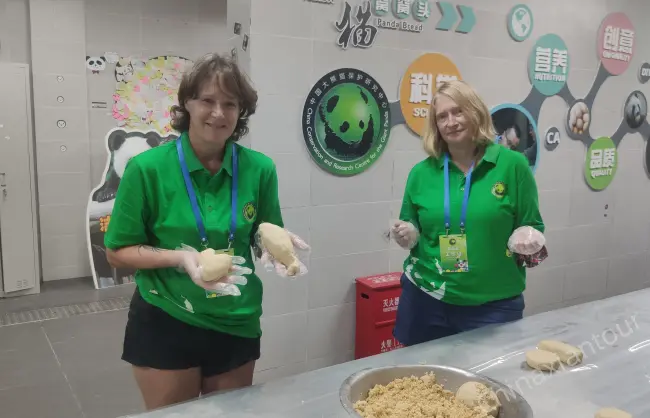 Best Time to Visit Dujiangyan Panda Base
When planning your visit to Dujiangyan Panda Base, it's important to consider the best time to make the most of your experience. Here are some tips to help you plan accordingly:
The optimal time to visit Dujiangyan Panda Base is during the months of March to November. This period offers mild weather conditions and increased panda activity, ensuring a more immersive encounter with these gentle creatures. By avoiding the peak season of July and August, you can also enjoy a less crowded environment and potentially avail of lower prices.
If you have a keen interest in joining the panda volunteer program, it is advisable to schedule your visit during spring, autumn, or winter. Spring, in particular, is the peak season for this program, offering ample opportunities to actively engage in panda conservation efforts.
For the best chance to observe the pandas being fed and engaging in playful activities, it is recommended to arrive at Dujiangyan Panda Base early in the morning. This is when the pandas are most active, providing you with an up-close and personal view of their natural behavior.
How to Get to Dujiangyan Panda Base
Private Car: If you value convenience and flexibility, opting for a private car is an excellent choice. The distance between Chengdu and Dujiangyan Panda Base is approximately 70 km, and the journey typically takes about 1.5 to 2 hours by car. This mode of transportation is particularly advantageous if you wish to explore other nearby attractions, such as the Dujiangyan Irrigation System and Mount Qingcheng.
High-Speed Train: For a quick and efficient travel experience, you can opt for the high-speed train service available from either Chengdu Railway Station or Xipu Railway Station to reach Qingchengshan Railway Station. The train journey typically lasts between 30 minutes to one hour, providing a fast transportation option. Once you arrive at Qingchengshan Railway Station, you can conveniently catch bus No. 101 or 102, which will directly transport you to Dujiangyan Panda Base. These trains operate frequently from the early morning until late evening, offering travelers convenient and flexible travel choices.
Bus: If you prefer an economical mode of transportation, taking a bus is a viable choice. Depart from either Xinnanmen Bus Station or Chadianzi Bus Station in Chengdu and make your way to Dujiangyan Bus Station. The bus journey typically takes around 2 hours. From Dujiangyan Bus Station, hop on bus No. 102, which will transport you directly to Dujiangyan Panda Base. Buses operate at regular intervals, departing every 20 minutes from 7:00 am to 7:00 pm.
Taxi: Opting for a taxi provides convenience and a more personalized experience. Traveling from Chengdu to Dujiangyan Panda Base by taxi usually takes about 1.5 hours and costs approximately 200 to 300 RMB. Sit back, relax, and enjoy the scenic journey as your driver takes you directly to your destination.
Attractions nearby Dujiangyan Panda Base
Dujiangyan Irrigation System: Witness the enduring marvel of this ancient water project, over 2,000 years old, which continues to function today, providing irrigation to the region while offering scenic views of the Minjiang River.
Mount Qingcheng: Unwind in the tranquility of this Taoist mountain, a designated UNESCO World Heritage Site, boasting ancient temples and breathtaking vistas, located approximately 11 km from the panda base and accessible by bus or car.
Jiezi Ancient Town: Step into history in this thousand-year-old town, featuring well-preserved buildings, streets, bridges, and temples, located around 10 km from the panda base and reachable by bus or car.