Harbin polarland, the first polar performing entertainment theme park in the world, which is one of the four major venues of Harbin international ice and snow festival. It is the first amusement park in China with polar animal entertainment performance as the core. There was the most complete variety of polar animals and polar animal performance shows, which is rated as "global outstanding scenic spot" by the world's largest tourism website "Trip Advisor". Famous polar animal stars from all over the world gathered in Harbin polar museum to make the seven theme performances for visitors. Manbo, the world's first Antarctic penguin born in an inland city, it not only is a cute and happy angel, but also the mascot of Harbin city tourism.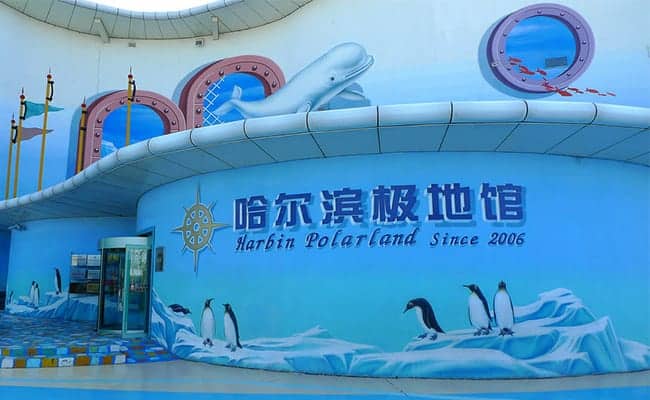 Basic Facts about the Harbin Polarland:
There are five mainscenicareas in the polarland. Daxing'an Mountain area, using high-tech sound, light and electricity display technology and skills, depicts a picture of the original features of the Daxing'an mountain: rotating windmills, old red fireplace, antique waterwheel as well as the hunter cabin hanging deer head, shotgun, bow and crossbow, showing the real-life of forest hunters. In the distance is the lofty snow mountain, and near is the flowing river. And there is a variety of rare freshwater fish, such as shi sturgeon, Russian sturgeon, mountain trout, golden trout, Snakehead fish, Pelteobagrus fulvidraco and so on.
Fisherman's wharf is modeled on the original fisherman's wharf in San Francisco, USA. The scenic area features a romantic scene of coconut trees, blue skyand Dozens of rare fish species also live here, and all ofthem are seawater fish, such as butterfly fish, angelfish, fox fish, trigger fish, clownfish and so on. There is also a special sightseeing area for children, where children can enter it and clearly see the stratified section of the sea water, and they can experience and understand the ocean in the close distance and establish the awareness and responsibility of protecting the ocean. In the scenic area, there is also a distinctive fisherman's hut, which displays more than 20 precious photos of fishermen's life, truly reproducing the primitive fishing and hunting life of coastal fishermen more than a century ago.
South Pole Penguin's Islandareais actually a man-made "little South Pole" where king penguins and mangabeys are fed. The penguins arrived in Harbin after passing from the Antarctic and through New Zealand, Japan and D It simulates the natural living environment of penguins on the Antarctic continent, and uses advanced lighting and artificial ice and snow to create unique scenes of day and night, sunrise and sunset, rare snowstorms, and even extreme day and night in the Antarctic. On the opposite side of the penguin island is a special "southern hemisphere" globe, through which we can further understand the distribution of penguins in the southern hemisphere. In addition, in this area, it is equipped with the simulation that shows the real scene of Antarctic research supply station including polar tent, Argo amphibious exploration vehicle, research materials storage site and so on.
Corresponding to Antarctic penguin island, it is North Pole Animal's Home, where there are a variety of arctic animals such as arctic fox, arctic wolf, polar bear and so on.
Since the introduction of the beluga whale "Mira" and "Nikola", Harbin polarland has tried its best toinnovatethe underwater performance drama of beluga whale. After the performances of "kiss of the sea", "angel halo" and "underwater waltz", "heart of the sea" was launched during the Spring Festival in 2009. The 2010 classic "kiss of an angel" also was launched and welcomed by visitors. With the leading position in the field of polar animal performance and training, Harbin polarland always makes innovation about the animals performance and enjoys the great reputation among people.
How to Buy Entrance Tickets:
Price of Entrance Tickets: CNY 160
Opening Time: 10:00-21:30(From early January to the early March every year)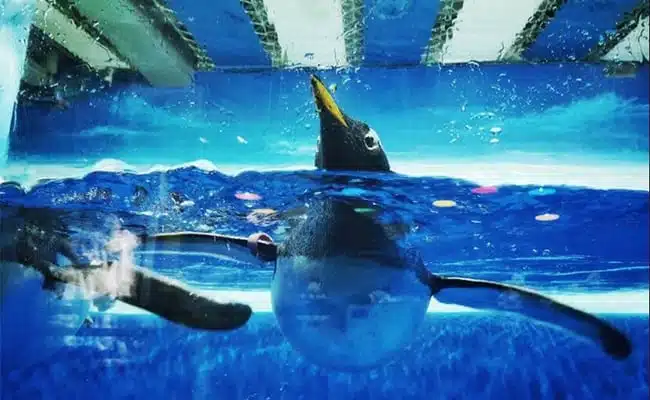 When is the best time to visit?
Harbin Polarland is a desirable tourist destination all year around, where people can enjoy the fun and experience the dreamy sea world.
Tips: Visitors had better avoid the official holiday in China, because many Chinese citizens choose to travel on official holidays to ease the pressure of their work. As a result, many Chinese tourist attractions are overcrowded and traffic jams are common. Therefore, visiting China at this time will bring tourists a less pleasant travel experience.
Official Holidays in China
| | |
| --- | --- |
| Chinese New Year | Around January or February |
| Winter vacation | January-February |
| Labor Day | May1st -3rd |
| Summer vacation(for students) | July-August31st |
| Mid-Autumn Festival | Around mid-September |
| National Day | October 1st-7th |
How to get to the Harbin Polarland?
Visitors can take Bus No.29, 47, 119, 125, 126, 127, 211 or 213 and get off at the Taiyangdao Daokou Station, then walk to the Harbin Polarland.
Visitors can also take sightseeing bus line 4 and get off at Harbin Porlarland Station. (Taiyangdao Gongyuan Jidi Guan)
More Information
Booking Method
Step 1: You can directly book online or please feel free to share your tour plans or thoughts at

[email protected]

, our travel consultant will contact you within 12 hours.
Step 2: A small amount deposit will be required to book a tour. After deposit received, a detailed service voucher will be sent to you to confirm the booking.
Step 3: Balance due will be required 7-15 days ahead of your travel date.
If you have any further question, please feel free to contact us!
Email: [email protected]
Cellphone number: +86 15129005119
WhatsApp / Wechat ID: 008615129005119
Facebook: @xianholidaystravelagency
Our Tour Guide
The core of our service is excellent travel guides. Over 20 years, we have built up a considerable professional guide team that is knowledgeable, attentive and flexible. The most experienced and reliable guides will be arranged for your unique China tour. Our passionate guide team is full of contagious enthusiasm and keen interest to share culture and history in a pleasant manner. We are always glad at your service to lead you to explore a real China and experience authentic local life in China.
Our Driver and Vehicle
The first mission of our service is to ensure you feel safe and comfortable during your travel. The vehicles we use are air-conditioned, clean and well-maintained. Our drivers are all licensed drivers with many years of driving experience. Moreover, we offer free baby seats for families with little kids.
Meals
Food is a very important part of Chinese culture. You won't want to miss the opportunity to taste the real local Chinese food!
Buffet breakfast will be included in the hotel if you would like accommodation to be arranged by us. Having lunch at local restaurants close and convenient to the attractions you will visit, you would enjoy the local dishes in each city. Chinese style, Vegetarian or Muslim meals are all available. If you have any other diet requirements or allergies, please feel free to let us know, we will try our best to organize it.
For daily dinner, you are suggested to have it on your own when you are exploring each city in your own time, this way would be more flexible for you to choose food as per your interest and preference.
Free Inquiry: