Jampaling Monastery locates at the intersection of Angqu River and Zaqu River (two branches of Lantsang River in Tibet), back the Hengduan Mountains and stands on the red earth layer which was cut by ancient glacier. That gifts the Jampaling Monastery with beautiful natural scernery.
Jampaling Monastery bears its fame as the biggest monastery in the east of Tibet and one of biggest monastery in the whole Tibet. There are 5 branch Dratsang governed by Jampling Monastery which bear similar use as school in Chinese for people to learn Buddhism.
About its name, there is a small tale: The primary great master of Gelugpa Tsongkhapa passed by here on his journey from Qinghai to Lhasa to learn Buddhism in his 16 years old, viewing the fair looks here, he foretold that it was bound to be the place to preach and spread Buddhism. Later, his student built the Monastery in 1444 and the abbot of it in that days was Jampaling, hence the name.
From its birth to today, there are so many monks living there. With the long-time's accumulation of the effort form these monks, hundreds of Buddha images and statues of famous monks as well as more than 1000 km2 frescos and Tangkas have being conserved well in this Monastery. All of these artworks collected the intelligence and wisdom of the skillful craftsman here and representing the high level of the arts in Chamdo.
The scenery here mostly deserves your visit is "Qing mu (god dance called Shen wu in Chinese)". This dance is an ancient and traditional ritual dance in Tibet, featured with neat and elegant dancing postures, famous for its grand and gorgeous scenes in snowy plateau, showing their sincere belief for the religion with its all dancers wearing special grisly masks. Travelers who plan to witness the holy scenes are suggested arranging their tour in Butter Sculpture Festival holding at New Year in Tibetan calendar (one month after the New Year in Gregorian calendar). There also is other grand Festival worthy a visit, for example, in 15th, February of Tibetan calendar (March to April in calendar year) Jampaling Monastery will celebrate the most important religious festival which has more than 500 years' history. In the Festival, a huge Buddha Image with 18m tall and 13 wide will be show to people. Meanwhile many people will pour into the square in front of the Monastery for pilgrimage.
Open time: all time
Entrance fee: free
Travel Tips:
If travelers would like to take beautiful pictures of the temples surrounded by the two rivers and the lined folk houses and monks'house here, they'd better to stop at the mountainside of Damara Mountain when passing there by cars, where allow travelers easily find a good angle for photographing.
Butter sculptures here earn quitebig fame, especiallyin the Butter Lantern Festival in the 15th of January in Tibet calendar, and travelers may not miss it.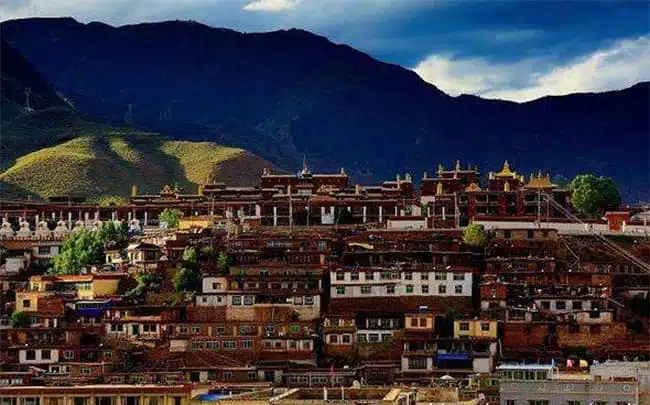 More Information
Booking Method
Step 1: You can directly book online or please feel free to share your tour plans or thoughts at

[email protected]

, our travel consultant will contact you within 12 hours.
Step 2: A small amount deposit will be required to book a tour. After deposit received, a detailed service voucher will be sent to you to confirm the booking.
Step 3: Balance due will be required 7-15 days ahead of your travel date.
If you have any further question, please feel free to contact us!
Email: [email protected]
Cellphone number: +86 15129005119
WhatsApp / Wechat ID: 008615129005119
Facebook: @xianholidaystravelagency
Our Tour Guide
The core of our service is excellent travel guides. Over 20 years, we have built up a considerable professional guide team that is knowledgeable, attentive and flexible. The most experienced and reliable guides will be arranged for your unique China tour. Our passionate guide team is full of contagious enthusiasm and keen interest to share culture and history in a pleasant manner. We are always glad at your service to lead you to explore a real China and experience authentic local life in China.
Our Driver and Vehicle
The first mission of our service is to ensure you feel safe and comfortable during your travel. The vehicles we use are air-conditioned, clean and well-maintained. Our drivers are all licensed drivers with many years of driving experience. Moreover, we offer free baby seats for families with little kids.
Meals
Food is a very important part of Chinese culture. You won't want to miss the opportunity to taste the real local Chinese food!
Buffet breakfast will be included in the hotel if you would like accommodation to be arranged by us. Having lunch at local restaurants close and convenient to the attractions you will visit, you would enjoy the local dishes in each city. Chinese style, Vegetarian or Muslim meals are all available. If you have any other diet requirements or allergies, please feel free to let us know, we will try our best to organize it.
For daily dinner, you are suggested to have it on your own when you are exploring each city in your own time, this way would be more flexible for you to choose food as per your interest and preference.
Free Inquiry: