Jokhang Temple, located in the center of the old Lhasa City, is considered as a holy place as Potala Palace not only from geographical location but also from the belief of the Tibet Buddhists. Both Potala Palace and Jokhang Temple was built by Songtsen Gampo, however Potala Palace has born more politic meaning while Jokhang Temple more religious menaing.
Whether from the architecture arts or the history and culture, Jokhang Temple earns its fame and position in the world. In 1961, it has been enrolled into the National Key Cultural Relics Protection Units; in 2000, Jokhang Temple has been listed into the World Heritage List by UNESCO as an extended item of Potala Palace.
Jokhang Temple is the best existing architecture built in the glory time of ancient Tibet, applying the traditional wood-and–earth construction, developing a unique style on the base of architectures from Tibet, Tang, Nepal and India. It is easy to see the Tang and Han architecture's elements from the something like gold proof, brackets and doorposts in the major hall of Jokhang Temple. This Temple, occupied about 25,000 m2, has scripture halls, Buddha halls, and governmental agencies of Kashag and so on in a good distribution. Taking an overlook from the Gold Proof of Jokhang Temple to the Square in front of it, people could see the Potala Palace, about 2,200 m far, on the mountain in right, and the "Princess Willow" within reach planted by Princess Wencheng.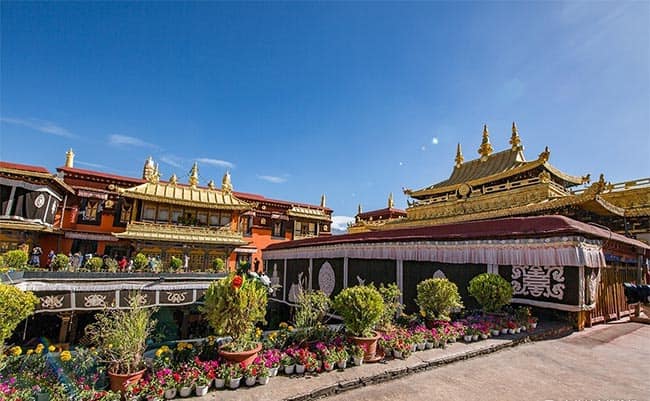 Songtsen Gampo had married with two Princesses, one from Nepal and another one from China (Tang). Due to the less distance between Nepal and Lhasa and more between Chang'an (Tang's Capital City), the Nepalese Princess Chizun arrived firstly and was granted as the big concubine and the later arrived Tang's Princess Wencheng as the small concubine. Princess Chizun took the statue of Shakymuni aged 8 and Wencheng took the statue of Shakymuni aged 12, with the 8-year-old-like statue consecrated in the Jokhang Temple and the 12-year-old-like in Ramoche Temple. The Jokhang Temple was planned to build in the Wotang Lake but encountered much difficulty and failed to be built. The sad Princess Chizun came to ask help from Princess Wencheng who is said a master in Chinese theory of the Five Elements (Yin and Yang) and astrology. Princess Wencheng thought the whole Tibet looked like a lying demon from its geographical condition and the Wotang Lake was just at heart of the demon. Then the temple needed to be built in the center of Lake, so the demon could be suppressed. If some white goats transferred the earth to the lake center, then it would be better for the Temple. In fact, the name of Lhasa was from this story regarding Jokhang Temple: Lhasa (eading La Sa in Chinese) was called Ra Sa in the earlier ancient time. Ra meant to the goats and Sa meant to earth. Because it built a holy temple to consecrate Buddhist statues and Buddhist texts and other thing like these, people thought there a holy place for Buddhism, then called it Lhasa (La Sa) —La means Buddhism in Tibetan language and Sa meant earth and place.
The biggest wealth Jakhong Temple bears is not only its significant historical and religious position but also vast rare and valuable collections and relics. Some famous relics there travelers would never miss mainly are deliberate sculptures, grand statues of Buddhists, the life-sized image of Shakymuni, wall paintings and also "Nangkuo"—the ritual walk paths.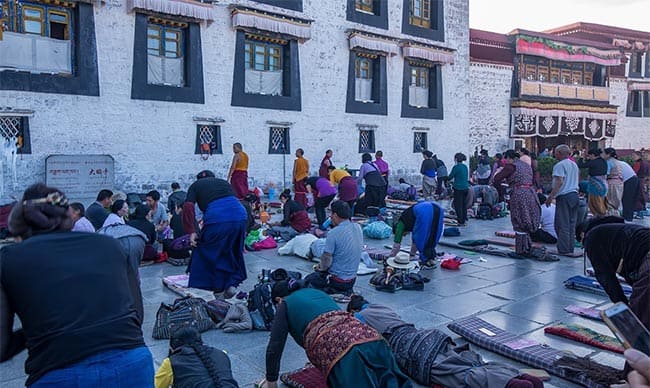 In the history, Jokhang Temple had been suffered from two disasters: the first time was a movement against Buddhism launched by the royal governors who were original Bon Religion's followers; the second time in the middle of 9th century, a movement prohibiting Buddhism led by King Langdarma, brought the Jokhang Temple into a slaughter place and the Shakymuni Statues had been buried underground for twice.
Open time: 09:00-18:00
Entrance fee: CNY85 p.p
Travel Tips:
Visiting the Jakhong Temple need to go clockwise according to the Tibetan custom
It is prohibited to take pictures in Tibetan temples. If you are bound to take photoshere, you need spend CNY90 to pay for the special approval at the management office of temple.
If people would donate some money in Tibetan temples but have no change, give somebig bills and take your change back is surely no problem here.
There aredebates among Lamas in each afternoon on the second floor of the Jakhong Temple. If you visit here right in an afternoon, the voice for speaking Buddhisttexts will lead you for your destination.
The terrace of the second floor is a greatplaceto take pictures of Potala Palace.
Each 15thday of January in Tibetan calendar is the Butter Lantern Festival in Tibet and 15thday of October in Tibet calendar is the Palden Lhamo Festival when is most busy time in Lhasa.
More Information
Booking Method
Step 1: You can directly book online or please feel free to share your tour plans or thoughts at

[email protected]

, our travel consultant will contact you within 12 hours.
Step 2: A small amount deposit will be required to book a tour. After deposit received, a detailed service voucher will be sent to you to confirm the booking.
Step 3: Balance due will be required 7-15 days ahead of your travel date.
If you have any further question, please feel free to contact us!
Email: [email protected]
Cellphone number: +86 15129005119
WhatsApp / Wechat ID: 008615129005119
Facebook: @xianholidaystravelagency
Our Tour Guide
The core of our service is excellent travel guides. Over 20 years, we have built up a considerable professional guide team that is knowledgeable, attentive and flexible. The most experienced and reliable guides will be arranged for your unique China tour. Our passionate guide team is full of contagious enthusiasm and keen interest to share culture and history in a pleasant manner. We are always glad at your service to lead you to explore a real China and experience authentic local life in China.
Our Driver and Vehicle
The first mission of our service is to ensure you feel safe and comfortable during your travel. The vehicles we use are air-conditioned, clean and well-maintained. Our drivers are all licensed drivers with many years of driving experience. Moreover, we offer free baby seats for families with little kids.
Meals
Food is a very important part of Chinese culture. You won't want to miss the opportunity to taste the real local Chinese food!
Buffet breakfast will be included in the hotel if you would like accommodation to be arranged by us. Having lunch at local restaurants close and convenient to the attractions you will visit, you would enjoy the local dishes in each city. Chinese style, Vegetarian or Muslim meals are all available. If you have any other diet requirements or allergies, please feel free to let us know, we will try our best to organize it.
For daily dinner, you are suggested to have it on your own when you are exploring each city in your own time, this way would be more flexible for you to choose food as per your interest and preference.
Free Inquiry: