Lhasa Carpet Factory is one of most famous Tibetan Carpet Factory in China, located in downtown of Lhasa City. Carpet is a necessity for families living in the pastoral area, which leads this Tibetan traditional handicraft keeping a long history and plentiful types as well. Lhasa Carpet Factory, as one of the largest factories to produce Tibetan carpets today, combines the traditional fine hand-made methods with the present computer technology to operate some procedures, such as designs and drafting, wins great fame among the customers with its high quality and abundant types.
The art style of Tibetan carpets has been found that combined the different merits of carpet from local region, Nepal, India and inner land of ancient China, also shows the strong religious color. There are fine patterns on the carpets involving the theme of Tibetan religion, such as lotus, showing the local people's good wishes for life and also their wise by its complex making method, and also granting it with unique feature and good ornamental value. All of these let Tibetan carpets earn great reputation, considered as the Three Carpets in the world together with Persian carpets and Oriental Art carpets.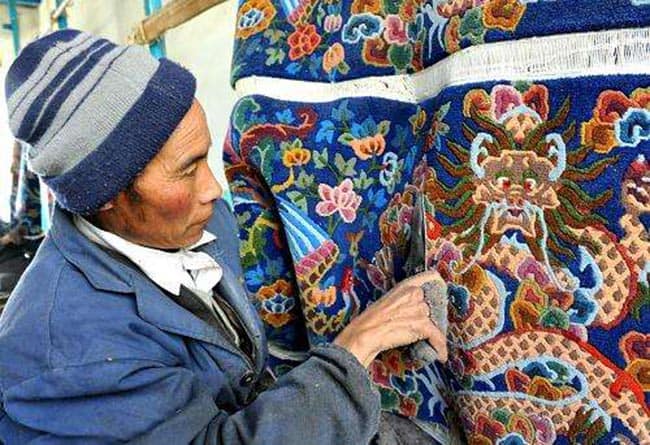 The Tibetan carpets could be classified into different sorts according to different standards. From the material, it can be divided into three sorts: first one is made of yak fuzz and wool, feeling soft and looking colorful; the second one is made of fine sheep yarns, seeming elegant and plain. From the function, there are three sorts: one is carpet bearing both practicability and ornamental value; the second one is rug which is taken to sit or sleep in the daily life of Tibetan people; the third one is tapestry which is majorly functionalized as decoration and ornaments.
The Tibetan carpets from Lhasa Carpet Factory are hot selling among all the souvenirs in Lhasa. By the gift Tibetan gifts to families and friends, travelers could bring the typical Tibetan artwork to their loved ones to show them the culture and art of this holy highland.
More Information
Booking Method
Step 1: You can directly book online or please feel free to share your tour plans or thoughts at

[email protected]

, our travel consultant will contact you within 12 hours.
Step 2: A small amount deposit will be required to book a tour. After deposit received, a detailed service voucher will be sent to you to confirm the booking.
Step 3: Balance due will be required 7-15 days ahead of your travel date.
If you have any further question, please feel free to contact us!
Email: [email protected]
Cellphone number: +86 15129005119
WhatsApp / Wechat ID: 008615129005119
Facebook: @xianholidaystravelagency
Our Tour Guide
The core of our service is excellent travel guides. Over 20 years, we have built up a considerable professional guide team that is knowledgeable, attentive and flexible. The most experienced and reliable guides will be arranged for your unique China tour. Our passionate guide team is full of contagious enthusiasm and keen interest to share culture and history in a pleasant manner. We are always glad at your service to lead you to explore a real China and experience authentic local life in China.
Our Driver and Vehicle
The first mission of our service is to ensure you feel safe and comfortable during your travel. The vehicles we use are air-conditioned, clean and well-maintained. Our drivers are all licensed drivers with many years of driving experience. Moreover, we offer free baby seats for families with little kids.
Meals
Food is a very important part of Chinese culture. You won't want to miss the opportunity to taste the real local Chinese food!
Buffet breakfast will be included in the hotel if you would like accommodation to be arranged by us. Having lunch at local restaurants close and convenient to the attractions you will visit, you would enjoy the local dishes in each city. Chinese style, Vegetarian or Muslim meals are all available. If you have any other diet requirements or allergies, please feel free to let us know, we will try our best to organize it.
For daily dinner, you are suggested to have it on your own when you are exploring each city in your own time, this way would be more flexible for you to choose food as per your interest and preference.
Free Inquiry: