Lhasa Carpet Factory is one of most famous Tibetan Carpet Factory in China, located in downtown of Lhasa City. Carpet is a necessity for families living in the pastoral area, which leads this Tibetan traditional handicraft keeping a long history and plentiful types as well. Lhasa Carpet Factory, as one of the largest factories to produce Tibetan carpets today, combines the traditional fine hand-made methods with the present computer technology to operate some procedures, such as designs and drafting, wins great fame among the customers with its high quality and abundant types.
The art style of Tibetan carpets has been found that combined the different merits of carpet from local region, Nepal, India and inner land of ancient China, also shows the strong religious color. There are fine patterns on the carpets involving the theme of Tibetan religion, such as lotus, showing the local people's good wishes for life and also their wise by its complex making method, and also granting it with unique feature and good ornamental value. All of these let Tibetan carpets earn great reputation, considered as the Three Carpets in the world together with Persian carpets and Oriental Art carpets.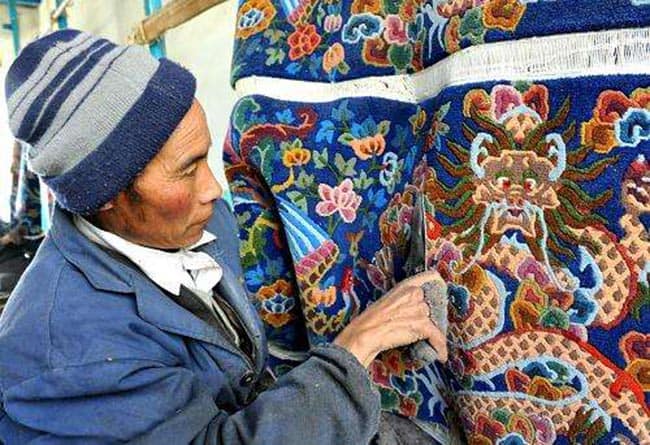 The Tibetan carpets could be classified into different sorts according to different standards. From the material, it can be divided into three sorts: first one is made of yak fuzz and wool, feeling soft and looking colorful; the second one is made of fine sheep yarns, seeming elegant and plain. From the function, there are three sorts: one is carpet bearing both practicability and ornamental value; the second one is rug which is taken to sit or sleep in the daily life of Tibetan people; the third one is tapestry which is majorly functionalized as decoration and ornaments.
The Tibetan carpets from Lhasa Carpet Factory are hot selling among all the souvenirs in Lhasa. By the gift Tibetan gifts to families and friends, travelers could bring the typical Tibetan artwork to their loved ones to show them the culture and art of this holy highland.