Lhasa River runs in the south central part of Tibetan region, originating from the Nyainqentanglha Range. Its Tibetan name is "Kyi River", sharing the meaning of "happy river". Flowing through Maizhokunggar County, Dazi County and Lhasa City lastly as well as meeting with the Yarlung Tsangpo River at the south suburban of Lhasa eventually, Lhasa River covers 31,760km2, stretching from northeast to southwest for 568km in a "S" shape, famous as one of the 5 largest branches of Yarlung Tsangpo River. It also is one of highest river in the world as the mountains at the both side of Lhasa River keep 3,600m to 5500m higher than the sea level.
Corresponding to its Tibetan meaning, Lhasa River had brought the prosperity to the Lhasa City in the history when the Srongtsen Gampo had moved the Tibetan Capital to the Valley of Lhasa River after he unified the Tibetan tribes. The river had nourished the development of the new Lhasa City with its good resource and climate, which leads Lhasa to grow into the center of Tibetan highland regarding its politic, economy, culture, transportation and religion as well.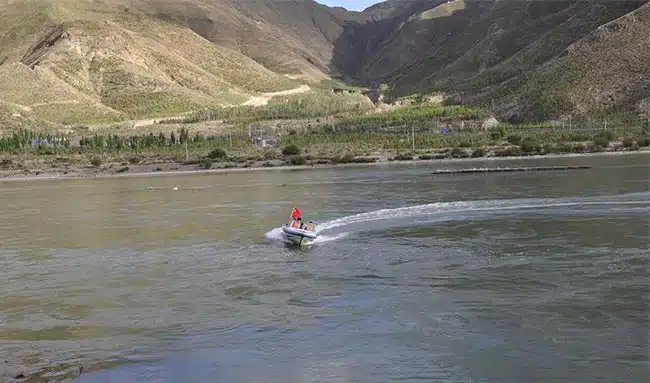 Lhasa River witnessed the first Bathing Festival which takes place from 6th to 12th of July in Tibetan calendar in each year and has enjoyed a long history of more than 800 years. According to the legendary, a very famous Tibetan doctor who always cared about and helped people when he was alive, came into a Tibetan women's dream to try to help curing the people in the highland when he had gone to the paradise but the people of Tibet suffered with a terrible disease again. That woman told the doctor's words to others that a bath in the Kyi River (Lhasa River) would remove all disease from the patients when there appeared a bright star in the southeast of sky. As expected, the all people jumping into the river were magically cured soon. Everyone thought that the doctor became into that star to help them again. And the star just kept in the sky for seven days which was regarded that the doctor was allowed to have seven days to do the favor by God. From then on, people have kept the custom that take a bath in the Lhasa River and other lakes in the days from 6th to 12th of July would get rid of all disease and even bad things from their bodies.
Lhasa people love this river and like to spend some leisure time at the banks of it. Going for a walk, fishing, bathing, having a picnic meal and enjoying the warm sunshine, people just show their love and joy for this river by all these activities.
Open Time: all days
Entrance Charges: free
Travel Tips:
It would be cold in the night, even of summers, thus travelers who plan camping here need to prepare thick cloth to prevent catching colds.
Travelers should keep the environmenthere clean and neat but not leave any rubbish here when you spend your joyful time here.
More Information
Booking Method
Step 1: You can directly book online or please feel free to share your tour plans or thoughts at

[email protected]

, our travel consultant will contact you within 12 hours.
Step 2: A small amount deposit will be required to book a tour. After deposit received, a detailed service voucher will be sent to you to confirm the booking.
Step 3: Balance due will be required 7-15 days ahead of your travel date.
If you have any further question, please feel free to contact us!
Email: [email protected]
Cellphone number: +86 15129005119
WhatsApp / Wechat ID: 008615129005119
Facebook: @xianholidaystravelagency
Our Tour Guide
The core of our service is excellent travel guides. Over 20 years, we have built up a considerable professional guide team that is knowledgeable, attentive and flexible. The most experienced and reliable guides will be arranged for your unique China tour. Our passionate guide team is full of contagious enthusiasm and keen interest to share culture and history in a pleasant manner. We are always glad at your service to lead you to explore a real China and experience authentic local life in China.
Our Driver and Vehicle
The first mission of our service is to ensure you feel safe and comfortable during your travel. The vehicles we use are air-conditioned, clean and well-maintained. Our drivers are all licensed drivers with many years of driving experience. Moreover, we offer free baby seats for families with little kids.
Meals
Food is a very important part of Chinese culture. You won't want to miss the opportunity to taste the real local Chinese food!
Buffet breakfast will be included in the hotel if you would like accommodation to be arranged by us. Having lunch at local restaurants close and convenient to the attractions you will visit, you would enjoy the local dishes in each city. Chinese style, Vegetarian or Muslim meals are all available. If you have any other diet requirements or allergies, please feel free to let us know, we will try our best to organize it.
For daily dinner, you are suggested to have it on your own when you are exploring each city in your own time, this way would be more flexible for you to choose food as per your interest and preference.
Free Inquiry: