Mount Kailash lies at an average of 6656 meters above the sea level as the main peak of Gangdise Mountain and also the second-highest peak of this mountain. In Tibet where stands lots of famous and unknown mountains, Mount Kailash occupies a very special position as the Mountain of Gods which is corresponded with its meaning in Tibetan—the Precious Jewel Snow Mountain. It locates in the north Burang County of southwest area of Tibet, hailed as one of the Ten Famous Mountains with the striking beauty.
Mount Kailash sits at the borders of China, India and Nepal, famed as "Top of Ngari" as well.
Although it bears quite splendid and gorgeous sceneries together with some other famous natural attractions around it, the Mount keeps its strong appeal mainly due to its religious status for people from the whole world, especially the Tibet, India and Nepal. It is a well-acknowledged holy mountain around the whole world, accepted as the center of the world by Tibetan original religion Bonism, Hinduism, Tibetan Buddhism and Jainism at the same time.
What makes Mount Kailash regarded as the resources of the all rivers of the world is that the famous Ganges River, Indus River and the Yarlung Zangbo River was given their lives by it and starts running towards different directions on the earth. Heading to the north is Shiquan River, to the south is Kongqi River, to the east is Matsang Tsangpo River and the west is Glang-chen Gtsang-po River. The four rivers from the foot of Mount Kailash run to nourish the earth and people living on there, which leads it to be worshipped as the holy mountain by people enjoyed its bestowal. Being given lives by the same one mountain and heading to different directions, passing by different earths, all the four rivers eventually come back to the Indian Ocean magically, which seems to demonstrate Mount Kailash the position of resource of the waters in the world.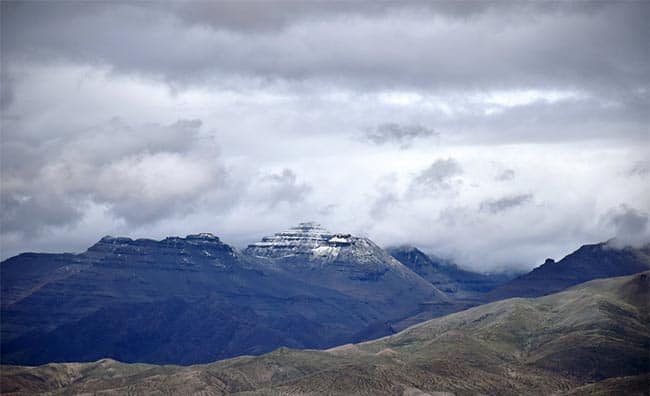 In Tibet, Mount Kailash is the hometown of Tibetan Buddhism Bonismo. It is said that Mount Kailash is the Western Paradise (Sukhavati) and the birth place for the 80 million sages to give teachings. Indian Buddhism takes Mount Kailash as the habitation of Shiva; Jainia thinks it as the place where its founders got enlightenment; Tibetan Buddhism regards it as the habitation of Chakrasamvara, representing boundless happiness.
The Mount bears miraculous scenes accordingly: the snow on the sunny slope persisting throughout the years while little snow could stay on the shaded slope and would melt soon when the sun appears even if there is snow cover the mount. With all holy legends and mysterious natural scenes shrouded, Mount Kailash is honored as Holy Mountain as a matter of course. Therefore, Kailash Mountain has been keeping its position as the desirable place for pilgrim and explorers for centuries but no single person could climb this mountain, maybe no one dare to disturb this center of world.
Due to its worldwide position as a holy mountain, Mount Kailash attracts a large number of pilgrims and travelers to come here. Circumambulating around the holy mountain is the most desirable and significant activity in their Kailash Mount journey beyond doubt. There are two routes regarding circumambulating: one is the outside line surrounding Kangrinboqe Mountain with longer paths while another one is inside line taking a mount at south side of Kangrinboqe. The outside line with 53km will take at least 3 days and kowtow will need 15 to 20 days. Usually, circumambulators finish 13 rounds on the outside paths and then start their way on the inside paths. The year of horse in Tibetan calendar would usher the most pilgrims to proceed circumambulating as it is said that Sakyamuni was born in the year of horse, thus one circumambulating in year of horse would be equal to 13 circumambulating in other common years.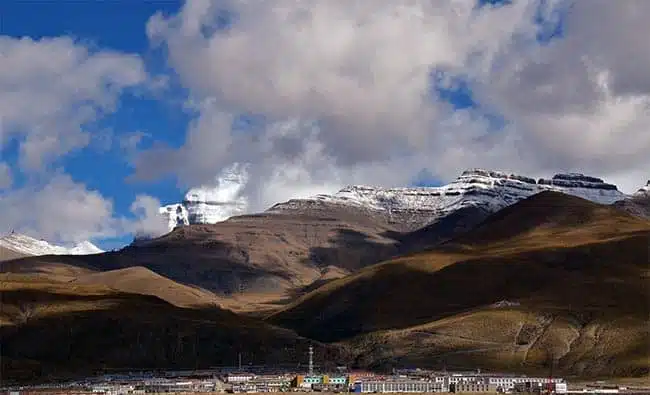 Open Time: all the days
Admission Charges: CNY150 for per person
Travel Tips:
Travelers are suggested to climb the mountain from May to early June when the weather is in the best condition and suitable for circumambulating.
The whole circumambulatingwill walk about 56km on the mountain with high altitudes, so peopleare suggested to consider carefully before take this activity, especially the people not in good physical condition.
The 2 days circumambulating demands travelers stay a night on the mountain and the accommodationcondition here is not as good as in cities, so travelers should better take down-filled sleeping bags themselves to against coldness.
There are heavers to offer service to take packsacks for visitorsat the price of CNY120/one day, people who are not in good physical conditions could take this service.
On the way of circumambulating there are 4 to 5 Tibetan tents offering hot water, cups of instant noodles, buttered tea and so on. In spite of it, visitors are suggested to take some calorie-dense and high energy food.
Visitors should take care of the personal effects, meanwhile, take garbage bags with yourselves and keep the environmentclean and neat is necessary.
Some medicine for carsickness colds and diarrheaand something like these are also suggested to put in your bags with your in the whole journey.
More Information
Booking Method
Step 1: You can directly book online or please feel free to share your tour plans or thoughts at

[email protected]

, our travel consultant will contact you within 12 hours.
Step 2: A small amount deposit will be required to book a tour. After deposit received, a detailed service voucher will be sent to you to confirm the booking.
Step 3: Balance due will be required 7-15 days ahead of your travel date.
If you have any further question, please feel free to contact us!
Email: [email protected]
Cellphone number: +86 15129005119
WhatsApp / Wechat ID: 008615129005119
Facebook: @xianholidaystravelagency
Our Tour Guide
The core of our service is excellent travel guides. Over 20 years, we have built up a considerable professional guide team that is knowledgeable, attentive and flexible. The most experienced and reliable guides will be arranged for your unique China tour. Our passionate guide team is full of contagious enthusiasm and keen interest to share culture and history in a pleasant manner. We are always glad at your service to lead you to explore a real China and experience authentic local life in China.
Our Driver and Vehicle
The first mission of our service is to ensure you feel safe and comfortable during your travel. The vehicles we use are air-conditioned, clean and well-maintained. Our drivers are all licensed drivers with many years of driving experience. Moreover, we offer free baby seats for families with little kids.
Meals
Food is a very important part of Chinese culture. You won't want to miss the opportunity to taste the real local Chinese food!
Buffet breakfast will be included in the hotel if you would like accommodation to be arranged by us. Having lunch at local restaurants close and convenient to the attractions you will visit, you would enjoy the local dishes in each city. Chinese style, Vegetarian or Muslim meals are all available. If you have any other diet requirements or allergies, please feel free to let us know, we will try our best to organize it.
For daily dinner, you are suggested to have it on your own when you are exploring each city in your own time, this way would be more flexible for you to choose food as per your interest and preference.
Free Inquiry: