Nietang Buddha situates at 40km southwest of Lhasa, built over 700 years ago. Sitting on the north side of Nietang Mountain, along Lhasa River at east, Nietang Buddha is the first attraction to see by the travelers coming from the Gonggar airport of Lhasa City. It is the biggest cliff sculpture in Tibetan region in statue of seated Sakyamuni under the Bodhi tree.
About the Nietang Buddha, there is an interesting legend: the great master of Tibetan buddhism Phags-pa who was acknowledged as the imperial tutor by the first Emperor of Yuan Dynasty, brought a Buddha statue with him when he came back from Beijing to Sakya Monastery. The magic thing was that the Buddha statue uttered words when pass a place that it would stay here but not go anywhere. Phags-pa then let people build the sculptures immediately, hence, we can appreciate the amazing Nietang Buddha today.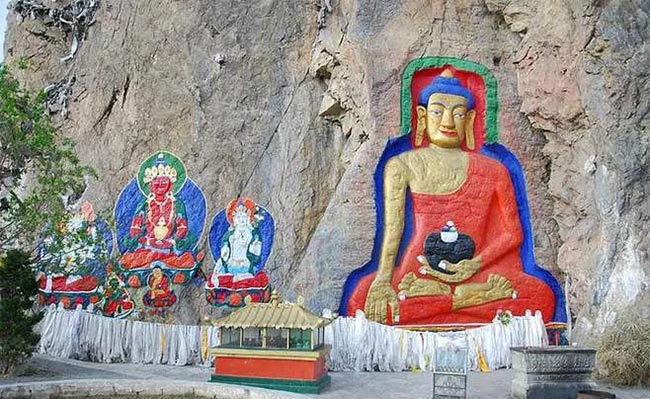 The sculpture is in proper proportion, vigorous and firm manner, showing a grand and magnificent appeal as typical stone carving. Famed as the best stone sculpture in Tibet, the whole carving is 9.83m tall, 7.9m wide, with 1.3-meter- tall pedestal, 1.4-meter- long arms and 1.9-meter- long legs. Nietang Buddha is striking to the visitors in the far distance with its bright color filled with religious appeal and large scale, and also attracts lot visitors to take pictures here.
Travel Tips:
There is airport shuttle bus between Gonggar airport and downtown of Lhasa city which will pass this attraction site for the travelers at the price of CNY25 for per person. Also travelerscould choose to take the sightseeing bus to stop at the attraction site to appreciate Nietang Buddha.
People are not suggested to take pictures of the Buddha in the afternoon becauseit will be covered by the shadow when there is backlight in afternoon. Morning is the best time for take photos here.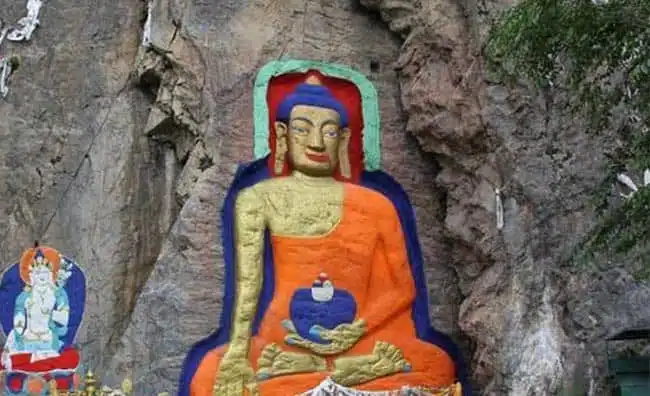 Booking Method
Step 1: You can directly book online or please feel free to share your tour plans or thoughts at

[email protected]

, our travel consultant will contact you within 12 hours.
Step 2: A small amount deposit will be required to book a tour. After deposit received, a detailed service voucher will be sent to you to confirm the booking.
Step 3: Balance due will be required 7-15 days ahead of your travel date.
If you have any further question, please feel free to contact us!
Email: [email protected]
Cellphone number: +86 15129005119
WhatsApp / Wechat ID: 008615129005119
Facebook: @xianholidaystravelagency
Our Tour Guide
The core of our service is excellent travel guides. Over 20 years, we have built up a considerable professional guide team that is knowledgeable, attentive and flexible. The most experienced and reliable guides will be arranged for your unique China tour. Our passionate guide team is full of contagious enthusiasm and keen interest to share culture and history in a pleasant manner. We are always glad at your service to lead you to explore a real China and experience authentic local life in China.
Our Driver and Vehicle
The first mission of our service is to ensure you feel safe and comfortable during your travel. The vehicles we use are air-conditioned, clean and well-maintained. Our drivers are all licensed drivers with many years of driving experience. Moreover, we offer free baby seats for families with little kids.
Meals
Food is a very important part of Chinese culture. You won't want to miss the opportunity to taste the real local Chinese food!
Buffet breakfast will be included in the hotel if you would like accommodation to be arranged by us. Having lunch at local restaurants close and convenient to the attractions you will visit, you would enjoy the local dishes in each city. Chinese style, Vegetarian or Muslim meals are all available. If you have any other diet requirements or allergies, please feel free to let us know, we will try our best to organize it.
For daily dinner, you are suggested to have it on your own when you are exploring each city in your own time, this way would be more flexible for you to choose food as per your interest and preference.
Free Inquiry: