Nietang Buddha situates at 40km southwest of Lhasa, built over 700 years ago. Sitting on the north side of Nietang Mountain, along Lhasa River at east, Nietang Buddha is the first attraction to see by the travelers coming from the Gonggar airport of Lhasa City. It is the biggest cliff sculpture in Tibetan region in statue of seated Sakyamuni under the Bodhi tree.
About the Nietang Buddha, there is an interesting legend: the great master of Tibetan buddhism Phags-pa who was acknowledged as the imperial tutor by the first Emperor of Yuan Dynasty, brought a Buddha statue with him when he came back from Beijing to Sakya Monastery. The magic thing was that the Buddha statue uttered words when pass a place that it would stay here but not go anywhere. Phags-pa then let people build the sculptures immediately, hence, we can appreciate the amazing Nietang Buddha today.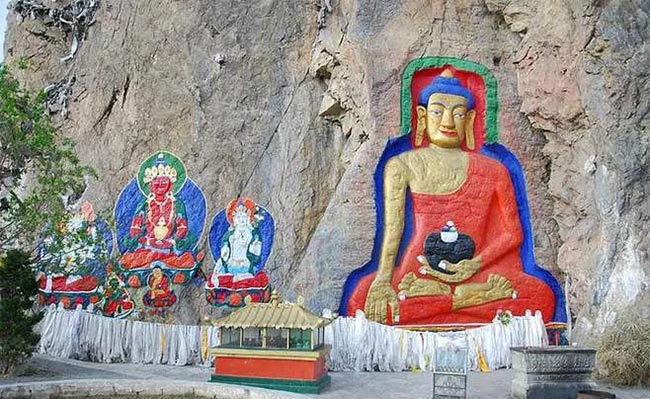 The sculpture is in proper proportion, vigorous and firm manner, showing a grand and magnificent appeal as typical stone carving. Famed as the best stone sculpture in Tibet, the whole carving is 9.83m tall, 7.9m wide, with 1.3-meter- tall pedestal, 1.4-meter- long arms and 1.9-meter- long legs. Nietang Buddha is striking to the visitors in the far distance with its bright color filled with religious appeal and large scale, and also attracts lot visitors to take pictures here.
Travel Tips:
There is airport shuttle bus between Gonggar airport and downtown of Lhasa city which will pass this attraction site for the travelers at the price of CNY25 for per person. Also travelerscould choose to take the sightseeing bus to stop at the attraction site to appreciate Nietang Buddha.
People are not suggested to take pictures of the Buddha in the afternoon becauseit will be covered by the shadow when there is backlight in afternoon. Morning is the best time for take photos here.