Norbulingka was firstly built in 1740s, the time of the 7th Dalai Lama and experienced about 200 years' construction until the time of 14th Dalai Lama. On the list National Relic Protection Units, the Norbulingka situated at the western suburban of Lhasa for over 200 years. It is a typical Tibetan style garden occupied 360 thousands m², used as the place for the Dalai Lamas to live and deal with the daily political affairs.
Norbulingka shares meaning of "precious garden" in Tibetan language, corresponding to its real condition: the garden bears the largest scale, best scenes and most relics in the Tibetan region with 3 palaces as the major body, 374 rooms in total and more than 100 floristic collecting from all the Tibetan area, the other Chinese area and even rare plants of the Himalayas. The graceful scenery, abundant plant species and treasures grants this garden a fame of "Idyllic World".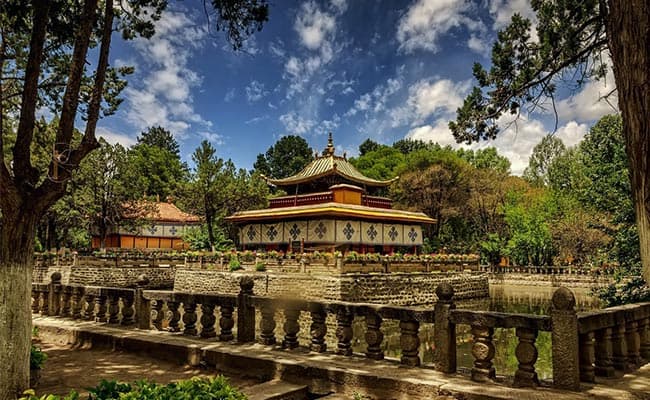 This garden is about 1000m long and 500m wide, divided into three areas that are the front garden areas with the east entrance, the central palace areas in the middle area and the natural jungle areas in the west part. Travelers could walk through the whole garden at ease. The three areas were constructed into different appearance according to the different functional requirements of them. Norbulingka absorbed both the merits of Tibetan highland and the traditional features of Han style garden in the inner land, applying the architectures, stones, lake and trees to create the strange and special prospects.
The central palace area was mainly for the Dalai Lamas' life and works before and had accumulated plentiful treasures in the 200 years, which could be divided into two sorts according their source: one was the Tibetan local relics and another one was given or awarded by the Emperors and his central governments. Thus, visitors coming here today will enjoy an eye-feast with the deliberate Thangkas and wall paintings, fine stupas and Buddhist images as well as some significant products from the Emperors of the inner land.
There is many attractions nearby Norbulingka and allows the travelers explore fully this holy area of Tibetan without too much exhaustion on the road, such as Tibetan Museum, Sera Monastery, the Potala Palace, Jokhang Temple and Ramoche Temple, Barkhor Street.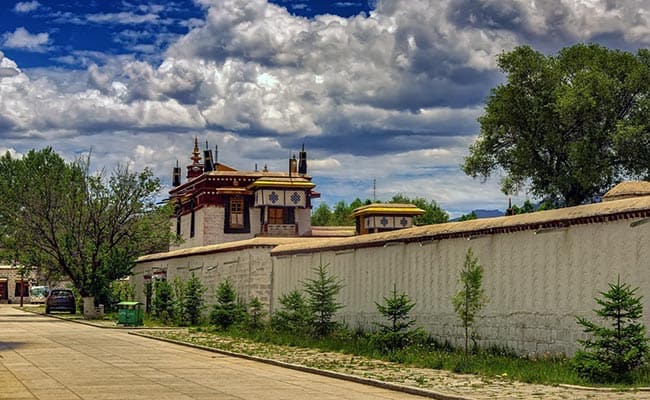 Open Time: 09:00-17:30
Entrance Charges: CNY80 for per person (the peak season); CNY60 for per person (the low season)
Travel Tips:
There are traditionalTibetan operas in Norbulingka on some Tibetan festivals, such as each 1stMay and each Shonton Festival (Sour Milk Drinking Festival).
The blossom time in Tibetan region is not very long so, except the summer days, the scenery in the Norbulingka would reduce. Travelers should think over this point before they decide go for it.
The Tibetan Museum is right the opposite of the east entrance of Norbulingka, travelers could visit the two sites together.