Ranwu Lake, located at Basu County, Chamdo Town, is known by travelers who go through Sichuan-Tibet line because it adjoins to the Sichuan-Tibet Highway. The lake comes into being, as a dammed lake, because of landslide and debris flow.
About its name, there is an interesting tale. "Ranwu" sounds beautiful in Chinese but has a terrible-sounding name in Tibetic language which means a lake piled with dead bodies. It is said that there were many wild monkeys living in a mountain near this lake, they bears intelligent mind, great ability to imitate and learn, aggressive characters, all of which posed terrible disturbance on local people's daily life. People suffered from it badly but can't do anything about it. Finally a wonderful idea occurred in a people's mind: now that these monkeys tended to imitate local people, they would perform that they drink highland barley wine (Qingke wine) on the mountain and then pretended to duel with each other with wooden swords, endless roaring attracted these wild creatures really, finally, they just lay down on the ground and pretended to be dead. Sly people left the real weapons on the mountain and went home. As expected, these monkeys were so excited to have a duel with their fellows, too. No doubt that they killed each other and their bodies piled there together where these dead bodies became a lake later—Ranwu Lake.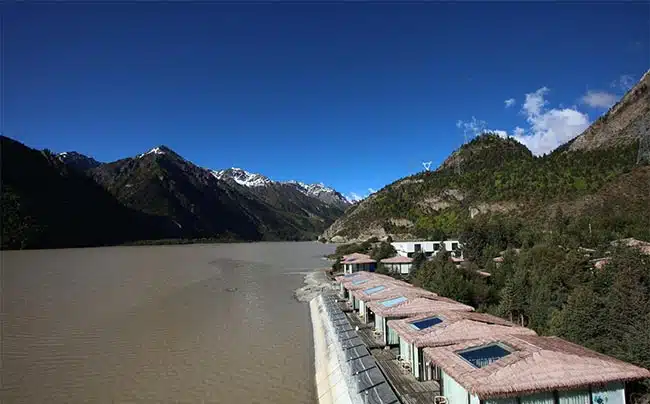 Ranwu Lake is not a common lake in an elliptical shape but long and narrow which keeps more than 20 km long but 1 to 5km wide, in the dry season, it even shrinks into less than one kilometer wide. This Lake is not even "a" lake because there are three reaches in this lake which are connected by fields, villages and some small rivers. At the back of the Lagu Glacier which stretch to the bank of lake. Up until the time of thaw, the lake will be injected with snow water, which keeps the ample water resource not only for the lake itself but also for Parlung Zangpo River, one of branche of the Yarlung Zangbo River. That allows the fields and grasslands around here keeping fair scenery here. Beautiful lake, grand snow mountain, splendid bush and green fields, all of these things make up a wonderland for visitors.
Open time: all the day
Entrance fee: free
Travel Tips:
As Ranwu Lake is not a scenery site which is not developed well and still keeps relatively natural condition, visitors are reminded to expect the quality of service in hotelsand restaurants there couldn't as good as in the big cities.
In the Ranwu County, you will have a good communication condition, but sometimes it may not keep steady near the lake.
There is Bus 89 for travelersfrom Basu County to Ranwu County, of course you could take a localmicrobus, and it will take about CNY20-CNY50.
If you would like do a close exploration around the lake, you need to cross some small rivers and grasslands, so you'd better to prepare shoeswith optimum watertight capacity. If you want take some pictures here, please come close to the Lake before 10:30am as the frozenswamps and sands are not melted before the sunrise.
More Information
Booking Method
Step 1: You can directly book online or please feel free to share your tour plans or thoughts at

[email protected]

, our travel consultant will contact you within 12 hours.
Step 2: A small amount deposit will be required to book a tour. After deposit received, a detailed service voucher will be sent to you to confirm the booking.
Step 3: Balance due will be required 7-15 days ahead of your travel date.
If you have any further question, please feel free to contact us!
Email: [email protected]
Cellphone number: +86 15129005119
WhatsApp / Wechat ID: 008615129005119
Facebook: @xianholidaystravelagency
Our Tour Guide
The core of our service is excellent travel guides. Over 20 years, we have built up a considerable professional guide team that is knowledgeable, attentive and flexible. The most experienced and reliable guides will be arranged for your unique China tour. Our passionate guide team is full of contagious enthusiasm and keen interest to share culture and history in a pleasant manner. We are always glad at your service to lead you to explore a real China and experience authentic local life in China.
Our Driver and Vehicle
The first mission of our service is to ensure you feel safe and comfortable during your travel. The vehicles we use are air-conditioned, clean and well-maintained. Our drivers are all licensed drivers with many years of driving experience. Moreover, we offer free baby seats for families with little kids.
Meals
Food is a very important part of Chinese culture. You won't want to miss the opportunity to taste the real local Chinese food!
Buffet breakfast will be included in the hotel if you would like accommodation to be arranged by us. Having lunch at local restaurants close and convenient to the attractions you will visit, you would enjoy the local dishes in each city. Chinese style, Vegetarian or Muslim meals are all available. If you have any other diet requirements or allergies, please feel free to let us know, we will try our best to organize it.
For daily dinner, you are suggested to have it on your own when you are exploring each city in your own time, this way would be more flexible for you to choose food as per your interest and preference.
Free Inquiry: