Ruins of Guge Kingdom was built along south bank of Xiangquanhe River (Sutlej), Zanda County of Tuolin Town, Ngari Region by some descendants of Tubo Empire who escaped to here to stage a comeback when their empire just collapsed. They had built three small kingdoms and Guge Kingdom was of three ones, built by Dezu Dagon.
Guge Kingdom had sustained its life for more than 700 years at Zanda County of Ngari Region, inherited about 20 Kings. Perished in 17th century, dating back over 1300 years of history, Guge Kingdom had left a large number of precious relics and historical materials. It had not been the continuation of Tubo Empire but also made Buddhism revive again and then achieve the highest point of prosperity. Except the historical and cultural heritage, the sudden disappearance also left the world a great riddle which has not been unlocked until today.
The predecessor of Guge Kingdom could date back to the old Zhang Zhung Empire. Built in 9th century and lasting to 17th century, this Kingdom had spread its sphere of influence across all Ngari region. In the middle of 17th century, a civil war happened in the Guge Kingdom that the brother of King, to scramble for power, invited the Ladakh Army to attack the Palace of the Kingdom where his brother King lived in. The result was that Guge Kingdom had been occupied by Ladakh for some time but eventually taken back by the Dalai Lama and Tibetan Governmet. We all know that Guge Kingdom had already declined but we don't know how such a civilized kingdom disappeared suddenly in a quite short time, which posed a riddle to the whole world.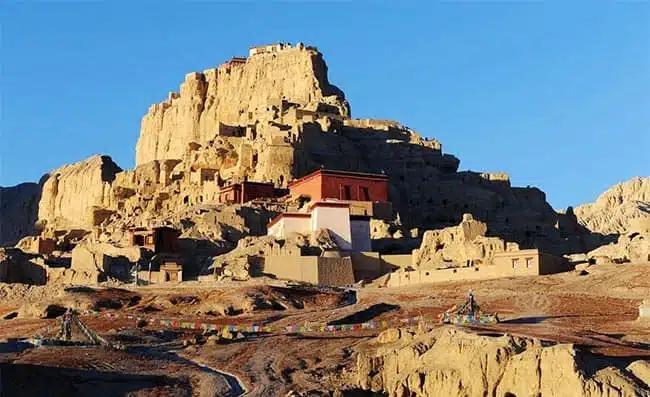 The disappeared Guge Kingdom had left the grand but desolate ruins and splendid artistic and cultural relics. The whole castle building groups had been on a loess slope with the height of over 300 meters. These buildings were easy to hold but hard to attack, and meanwhile showed the strict hierarchy obviously, telling the later generations the ever stories about this Kingdom, prosperous or worn-out, strong or declined.
Among all the buildings, temples got the best preserved. At the slopes of earth piled hill stand the famous temples with the typical Tibetan style, the White Temple, Red Temple, Samsara Temple, and Tara Temple. The wall paintings are the fine art products of Guge Kingdom, involving rich things of this Kingdom, the stories of Buddhism, myths and legends, production and living scenes of Guge people. Sculptures, images, statues and Buddhism classics writing with liquid gold or silver, all of these treasures have been found in the ruins of Guge Kingdom gradually, surprised and delighted the world.
Guge Buddha Statue with Silver Eyes is the most important treasure among all unearthed things here. The body of the statue was made by bronze and eyes by silver, with crown on head, musical instruments used in a Buddhist in the four hands and 3 eyes on the dead. The statue looks glittering as its material is the fine combination of gold, silver and bronze as well as some else metals, showing the amazingly high level of the metallurgy technology of Guge Kingdom.
Open Time: 8:00-19:00
Admission Charge: CNY200 for per person
Travel Tips:
It will take 2 hours to explore Ruins of Guge Kingdom, afterwards, travelers could come back to Zanda County for accommodations.
People who seek for photos of Guge Kingdom under twilight scene need to stay at the nearby village where offer accommodation at some family inns.
More Information
Booking Method
Step 1: You can directly book online or please feel free to share your tour plans or thoughts at

[email protected]

, our travel consultant will contact you within 12 hours.
Step 2: A small amount deposit will be required to book a tour. After deposit received, a detailed service voucher will be sent to you to confirm the booking.
Step 3: Balance due will be required 7-15 days ahead of your travel date.
If you have any further question, please feel free to contact us!
Email: [email protected]
Cellphone number: +86 15129005119
WhatsApp / Wechat ID: 008615129005119
Facebook: @xianholidaystravelagency
Our Tour Guide
The core of our service is excellent travel guides. Over 20 years, we have built up a considerable professional guide team that is knowledgeable, attentive and flexible. The most experienced and reliable guides will be arranged for your unique China tour. Our passionate guide team is full of contagious enthusiasm and keen interest to share culture and history in a pleasant manner. We are always glad at your service to lead you to explore a real China and experience authentic local life in China.
Our Driver and Vehicle
The first mission of our service is to ensure you feel safe and comfortable during your travel. The vehicles we use are air-conditioned, clean and well-maintained. Our drivers are all licensed drivers with many years of driving experience. Moreover, we offer free baby seats for families with little kids.
Meals
Food is a very important part of Chinese culture. You won't want to miss the opportunity to taste the real local Chinese food!
Buffet breakfast will be included in the hotel if you would like accommodation to be arranged by us. Having lunch at local restaurants close and convenient to the attractions you will visit, you would enjoy the local dishes in each city. Chinese style, Vegetarian or Muslim meals are all available. If you have any other diet requirements or allergies, please feel free to let us know, we will try our best to organize it.
For daily dinner, you are suggested to have it on your own when you are exploring each city in your own time, this way would be more flexible for you to choose food as per your interest and preference.
Free Inquiry: