Ruins of Guge Kingdom was built along south bank of Xiangquanhe River (Sutlej), Zanda County of Tuolin Town, Ngari Region by some descendants of Tubo Empire who escaped to here to stage a comeback when their empire just collapsed. They had built three small kingdoms and Guge Kingdom was of three ones, built by Dezu Dagon.
Guge Kingdom had sustained its life for more than 700 years at Zanda County of Ngari Region, inherited about 20 Kings. Perished in 17th century, dating back over 1300 years of history, Guge Kingdom had left a large number of precious relics and historical materials. It had not been the continuation of Tubo Empire but also made Buddhism revive again and then achieve the highest point of prosperity. Except the historical and cultural heritage, the sudden disappearance also left the world a great riddle which has not been unlocked until today.
The predecessor of Guge Kingdom could date back to the old Zhang Zhung Empire. Built in 9th century and lasting to 17th century, this Kingdom had spread its sphere of influence across all Ngari region. In the middle of 17th century, a civil war happened in the Guge Kingdom that the brother of King, to scramble for power, invited the Ladakh Army to attack the Palace of the Kingdom where his brother King lived in. The result was that Guge Kingdom had been occupied by Ladakh for some time but eventually taken back by the Dalai Lama and Tibetan Governmet. We all know that Guge Kingdom had already declined but we don't know how such a civilized kingdom disappeared suddenly in a quite short time, which posed a riddle to the whole world.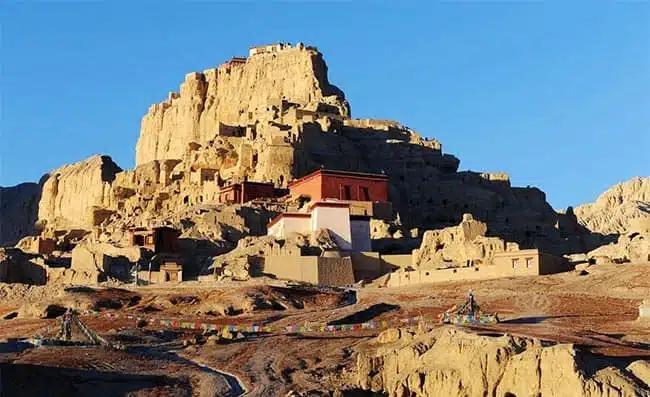 The disappeared Guge Kingdom had left the grand but desolate ruins and splendid artistic and cultural relics. The whole castle building groups had been on a loess slope with the height of over 300 meters. These buildings were easy to hold but hard to attack, and meanwhile showed the strict hierarchy obviously, telling the later generations the ever stories about this Kingdom, prosperous or worn-out, strong or declined.
Among all the buildings, temples got the best preserved. At the slopes of earth piled hill stand the famous temples with the typical Tibetan style, the White Temple, Red Temple, Samsara Temple, and Tara Temple. The wall paintings are the fine art products of Guge Kingdom, involving rich things of this Kingdom, the stories of Buddhism, myths and legends, production and living scenes of Guge people. Sculptures, images, statues and Buddhism classics writing with liquid gold or silver, all of these treasures have been found in the ruins of Guge Kingdom gradually, surprised and delighted the world.
Guge Buddha Statue with Silver Eyes is the most important treasure among all unearthed things here. The body of the statue was made by bronze and eyes by silver, with crown on head, musical instruments used in a Buddhist in the four hands and 3 eyes on the dead. The statue looks glittering as its material is the fine combination of gold, silver and bronze as well as some else metals, showing the amazingly high level of the metallurgy technology of Guge Kingdom.
Open Time: 8:00-19:00
Admission Charge: CNY200 for per person
Travel Tips:
It will take 2 hours to explore Ruins of Guge Kingdom, afterwards, travelers could come back to Zanda County for accommodations.
People who seek for photos of Guge Kingdom under twilight scene need to stay at the nearby village where offer accommodation at some family inns.