The best months to visit Tibet are April, May, September, and October when you could enjoy full-blown blossoms and exhilarating trekking in a warm weather with less rainfall.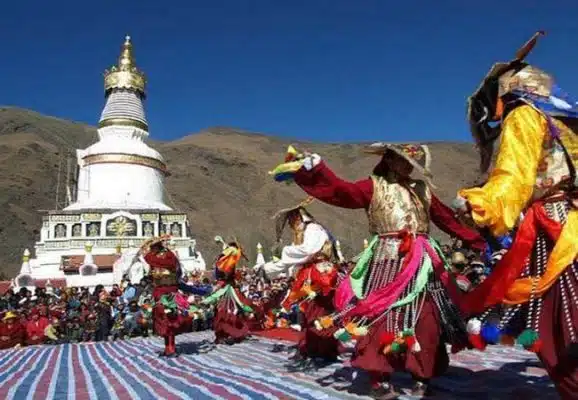 Due to the complex and diverse landform, Tibet has a sub-tropical plateau climate, with temperatures generally lower than in most China's inland cities. As a whole, Tibet weather, dry and cool all year round, with strong sunshine, is most comfortable in the period from April to November.

Best Time to Visit Tibet
Best Time to Tibet for Ordinary Sightseeing
Generally speaking, the months from April to May and September to October are the best time for sightseeing in Tibet. During these months, Tibet features a warm weather with relatively high-oxygen air and less rainfall, which is comfortable for ordinary outdoor activities, such as appreciating peach blossoms, azaleas, peonies in full bloom in Nyingchi.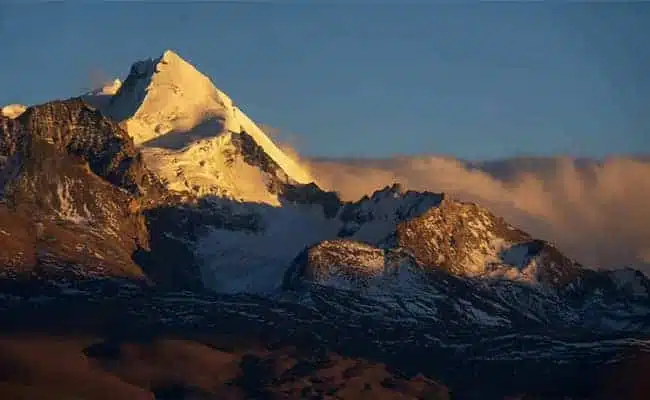 April to early June & late September to early December with relatively less precipitation are the best time to plan a trip to Mt. Everest when you could enjoy the brightest and clearest views of mountain peaks. Besides, the pleasant weather is a major factor for trekking to Everest Base Camp during the two periods, neither too cold nor too hot.
The best time for taking a trek to Mount Kailash are spring and autumn, from May to mid-June and from September to mid-October. Temperatures start to rebound, with mostly sunny weather and less snow, making it relatively easy to hike. Moreover, the 15th day of April in the Tibetan calendar, the Saga Dawa Festival, is the most important festival in Tibetan Buddhism when there will be a great number of pilgrims gathered, providing you with a rare scene of grand religious ceremonies.
Best Time to Visit Tibet for Trekking
The best time for hiking in Tibet are April-May and September-October. High altitude areas such as Mt. Everest or Ngari have lower temperatures in winter (November-March) and roads may be closed due to snow, making hiking impossible. But if tourists are just hiking around the city of Lhasa, winter is also feasible.
Visit Tibet in Different Seasons
Visit Tibet in Spring (April–May)
Reasons to go: pleasant weather, avoid large crowds
After the Tibetan New Year in March, Tibet reopens in April, which receives a small number of tourists, enabling you to get a comfortable travel experience. Little rainfall gives you the opportunity to enjoy clear, spectacular views of Mount Everest and other mountains in Tibet. In April, Nyingchi put on a pink dress. Blooming peach blossoms spread over the plateaus and valleys, which makes Nyingchi one of the must-see destinations in Xinjiang in spring.
Tibet Weather in Spring
Tibet's weather in spring is dry, windy, and a little bit cold, especially in the morning and evening. April marks the beginning of spring in Tibet, during which the minimum temperatures rise above 0 ºC (32 ºF), with the average daily maximum ranging from 15 ºC (59 ºF) to 20 ºC (68 ºF).
What to wear in Spring in Tibet
Sweaters, long-sleeved shirts, windbreakers are recommended clothes to wear in Tibet in spring. Also, don't forget to pack your sunglasses and hiking shoes for Everest hiking.
Visit Tibet in Summer (June–August)
Reasons to go: peak season of Tibet & good time to enjoy Tibetan festivals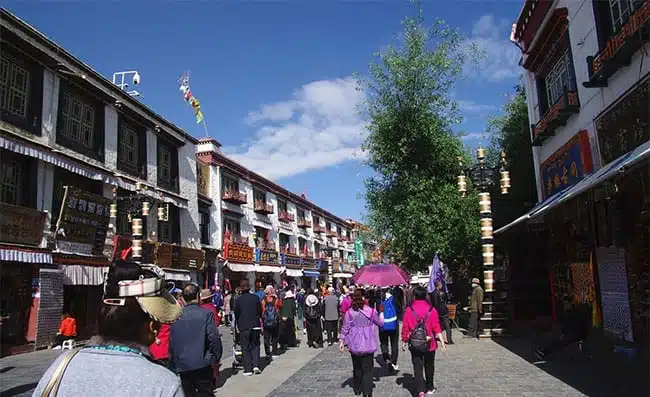 In addition to the visits to Potala Palace, and other famous scenic spots, you can experience lots of magnificent Tibetan festivals in summer. Shoton Festival celebrated in the sixth month in Tibetan Calendar (usually in August) is a religious and cultural festival only secondary to the Tibetan New Year, during which you'll admire unveiled giant Thangka paintings, watch exciting horse and yak races, and taste traditional Tibetan yogurt. Nagqu Horse Racing Festival, celebrated from August 1st, will offer you the best chance to experience intangible Tibetan nomadic culture in depth.
Tibet Weather in Summer
Featuring the mild weather and high-oxygen air, summer is undoubtedly the peak season for tourism in Tibet. The temperature usually fluctuates at 11-24 ºC (51.8-75.2 ºF). Although July and August bring the highest rainfall to Tibet (almost rains at night), it is not particularly wet and muggy.
What to wear in Tibet in Summer
Normally, T-shirts, linen short sleeves, sweatpants, sunscreen and sunglasses are necessary items for Tibet travel in summer. However, you have to take some warm clothes such as thick overcoats, windbreakers and thin sweaters because of the big temperature difference between day and night.
Tips: The ultraviolet rays in summer are very strong, so it is necessary to supplement water and vitamins appropriately.
Visit Tibet in Autumn (September–October)
Reasons to go: less rain, great for hiking
As you hike along the Yarlung Tsangpo Grand Canyon, verdant pine, golden poplars, and clear lakes gradually spread out in front of you like a picture scroll. The snow-covered peaks of Mt. Everest are reflected in highland lakes against an azure blue sky, creating stunning "screen wallpapers". The yellow and green vegetation alternates along the banks of Niyang River, which are surrounded by mist, but still conveys warmth to visitors under the sunshine. It is also a famous overwintering area for black-necked cranes in Tibet.
Tibet Weather in Autumn
Tibet temperature begins to drop in this period, ranging from 6 ºC (42.8 ºF) to 20 ºC (68 ºF), and with less rain, the weather becomes cool and dry. Autumn provides superior climate conditions and some of the most colorful landscapes for hiking in Tibet.
What to wear in Tibet in Autumn
Thick jackets, sweaters and parkas are enough for trekking in autumn. If you sweat easily, breathable, fast-drying long sleeves are highly recommended when doing a Mount Everest hike. Lotion is a great item to keep your skin moist.
Visit Tibet in Winter (November-March)
Reasons to go: cheaper price, fewer tourists, the temperature in Lhasa and its surrounding areas is not as cold as you might imagine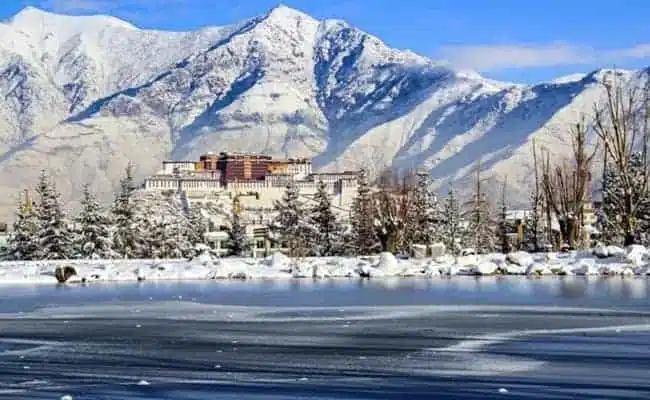 Winter is a good time for budget travelers to Tibet due to the lower price of transportation, accommodation, and admission tickets. Lhasa and its surrounding areas are less touristy in this time, allowing you to get fully immersed in a tranquil environment. If it happens to be snowy, you can enjoy the breathtaking scenery of the Potala Palace shrouded in falling snowflakes. Nyingchi, full of red leaves, is a highlight in winter. Namjagbarwa and Ranwu Lake also show their best in winter, Snow Mountain of Sunrise and Pure Snowy Peak View Reflected in the Lake.
Tibet Weather in Winter
The temperature of Tibet is generally low in Tibet, but the climate of southern and northern Tibet is very different. Lhasa is located in the southern Tibet Basin, with temperatures being about 10 ºC (50 ºF) during the day and -5 ºC (23 ºF) at night. The temperature of the northwest Tibet Ngari region fluctuates between -3 ºC (26.6 ºF) and -15 ºC (5 ºF) in winter.
What to wear in Tibet in Winter
Warm clothes including down-filled coats, padded jackets, anti-skid shoes, scarves and gloves are essential for traveling in Tibet in winter. Remember to bring lip balm, facial cream and other skincare products for keeping moist.
Recommended Related Tours You May Like
More Information
Booking Method
Step 1: You can directly book online or please feel free to share your tour plans or thoughts at

[email protected]

, our travel consultant will contact you within 12 hours.
Step 2: A small amount deposit will be required to book a tour. After deposit received, a detailed service voucher will be sent to you to confirm the booking.
Step 3: Balance due will be required 7-15 days ahead of your travel date.
If you have any further question, please feel free to contact us!
Email: [email protected]
Cellphone number: +86 15129005119
WhatsApp / Wechat ID: 008615129005119
Facebook: @xianholidaystravelagency
Our Tour Guide
The core of our service is excellent travel guides. Over 20 years, we have built up a considerable professional guide team that is knowledgeable, attentive and flexible. The most experienced and reliable guides will be arranged for your unique China tour. Our passionate guide team is full of contagious enthusiasm and keen interest to share culture and history in a pleasant manner. We are always glad at your service to lead you to explore a real China and experience authentic local life in China.
Our Driver and Vehicle
The first mission of our service is to ensure you feel safe and comfortable during your travel. The vehicles we use are air-conditioned, clean and well-maintained. Our drivers are all licensed drivers with many years of driving experience. Moreover, we offer free baby seats for families with little kids.
Meals
Food is a very important part of Chinese culture. You won't want to miss the opportunity to taste the real local Chinese food!
Buffet breakfast will be included in the hotel if you would like accommodation to be arranged by us. Having lunch at local restaurants close and convenient to the attractions you will visit, you would enjoy the local dishes in each city. Chinese style, Vegetarian or Muslim meals are all available. If you have any other diet requirements or allergies, please feel free to let us know, we will try our best to organize it.
For daily dinner, you are suggested to have it on your own when you are exploring each city in your own time, this way would be more flexible for you to choose food as per your interest and preference.
Free Inquiry: