The Everest Base Camp (EBC) is a special zone set for protecting the core area of the Everest and also providing the life supply. Chinese EBC locates at the north side of the Everest with 5200m higher than the sea level. There are also EBCs in the territory of Nepal at the south side of the peak.
The best time to climb the Everest Peak is between early April to early June and middle September to early October each year, also the busy time for the EBC. During the periods, people will less suffer from the wet season and strong wind here which would expose bad effect for exploring activity at the highest peak in the world. Therefore, if you would like to explore the Everest Peak, please arrange your trip in the right time, then you could see the real face of Everest Peak and the possible flag cloud floating above it at the utmost.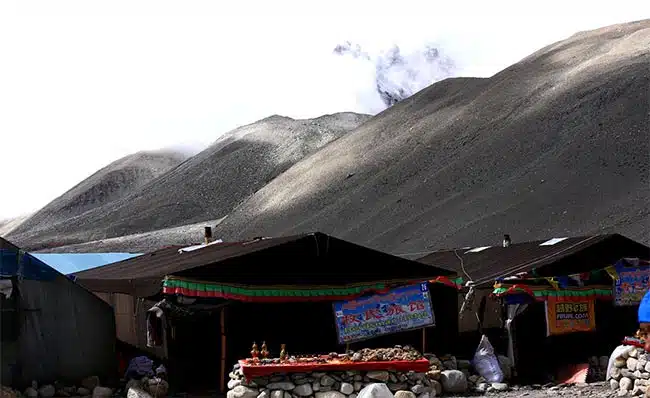 Given the special location, the EBC is little benefit from the good transportation and lacking in the access to the core area of the base camp. It is the Rongbuk Monastery that the deepest site the vehicle could reach. People need to trek or take the horse-drawn carriages to approach the Everest Peak. Usually, travelers would rent a car from the downtown of Shigatse or Lhasa to the EBC, taking about 4 days for round way. There is still about 8km from the Monastery to the Everest Peak so some travelers would have a short rest at the Rongbuk Monastery before they head to the Peak, where some tented camps are available but not in a very good condition. Continue a further proceeding and then you will have the "Third Pole in the World" before your eyes.
The major seeing sites at the EBC
Rongbuk Monastery
Rongbuk Monastery is the temple of highest altitude in the world, 5154m, which entitles it having especially fabulous scenery. Belong to Nyingma Sect, this temple has been known for an interesting fact that it is temple with both monks and nuns. In the old glory time of the monastery, it maintained a quite large scaled with tens of temple governed, some even in Nepal. Today there are 8 small temples belonging to it including a nun one. Due to its near location to the EBC, it has been a necessary base for the Everest Peak.
The Monument for 5200-meter-altitude
The symbol of the EBC is the famous Monument for 5200-meter-altitude located at the 4km south of the EBC; from there travelers should take green cars or trek to get to your aiming place. Before here, you would see the soldiers guarded here to warn visitors to obey laws and rules about EBC to keep it a good environment.
Open Time: All the days
Entrance fee: CNY180 per person
Tips for Travel to the EBC
There is a little dirt hill in dozens of meters'height used to be the best place to see the Everest Peak.
If you'd like to appreciate the sunrise or sunset of the Everest Peak, please ask help from the local people who know well the exact time about that.
There are postcardsabout the Everest Peak selling for travelers as a keepsake.
You should expect the sanitary conditions here couldn't be as good as the downtown cities. If you really mind it, you are suggested to preparesleeping bags yourselves in advance.
It would be very very cold in the night at the EBC. If you would liketo appreciate the beautiful starry sky, please note to keep yourselves warm to being away from sickness which would easily cause altitude sickness.
Please note the altitude sickness as EBC is over 5000m higher than the sea level. An oxygen cylinder is necessary here. Don't be too excited and don't do strong sports here and also try to keep a good mental condition. You are suggested to read the passage here carefully to make you better understand and adjust yourselvesbetter to the high sickness