Can foreigners go to Tibet now?
Yes, foreign travelers can now travel to Tibet.
Currently, Tibet is reopen for expats in China after its closure for COVID-19 prevention and management. Foreigners working or living in China can apply for a Tibet Travel Permit to visit Tibet.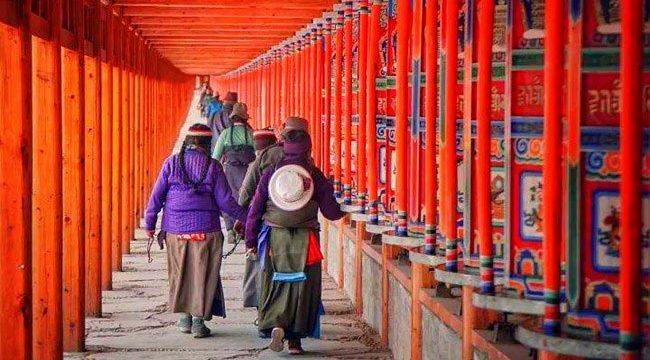 What documents do I need to go to Tibet? Can I go to Tibet with a Chinese Visa?
You can not go to Tibet with only a Chinese Visa. Tibet Travel Permit is a must for international tourists to visit Tibet. Below are the requirements to apply for a Tibet Travel Permit:
Copies or screenshots of your valid passport and Chinese Visa;
A certificate issued by your company or neighborhood committee to prove that you have not left mainland China within the past 90 days;
Screenshots of the green Health Code of where you live now and the Travel Code;
Negative nucleic acid test result (suggest within 48 hours);
Have not been to provinces with locally confirmed cases in the past 14 days.
Another negative nucleic acid test result within 48 hours is still required when your Tibet tour started.
Note: The requirements related to epidemic control and prevention may change according to the epidemic situation.
Which parts of Tibet need a special permit?
An Alien Travel Permit issued by PSB is required if you want to visit areas other than Lhasa, including Ngari, Shigatse, Shannan, Nyingchi, Western Nagqu Prefectures and Gyantse County.
A Military Permit is necessary for visiting border areas such as Kailash Mountain. In addition, the Foreign Affairs Permit is also needed if your Tibet tour covers some sensitive areas like Tholing.
Can I travel independently in Tibet?
At present, foreign travelers can not travel independently in Tibet since most activities are required to be accompanied by a guide, especially when visiting monasteries and local families.
All foreign travelers need to book a tour with a trustworthy Tibetan tour operator.
We JoyTravel have years of experience to help our clients organize their Tibet tours. We offer both private and group Tibet tours and are more than happy to help you create a lifetime trip in Tibet.
What are the altitudes of Tibet?
Tibet is located in the southwest of the Qinghai-Tibet Plateau, with an average elevation of more than 4,000 meters (1,3123 feet).
Altitude of main attractions in Tibet:
Potala Palace: 3750m (12300 ft)
Ranwu Lake: 3800m (12467 ft)
Lake Yamdrok: 4500m (14764 ft)
Tashilunpo Monastery: 4800m (15748 ft)
Rongbuk Monastery: 5100m (16732 ft)
Lake Namsto: 4700m (15420 ft)
Everest Base Camp: 5200m (17060 ft)
How to reduce or prevent altitude sickness?
For new arrivals in Tibet, it takes 1-2 days to acclimate to the high altitude. To avoid or reduce altitude sickness, you'd better:
Have a physical examination before the trip (those with serious heart disease are not recommended to go).
Keep healthy before the trip, even a cold makes the altitude sickness feel worse.
Rest well, keep warm to prevent colds, eat simply in the first two days and avoid alcohol.
Ascend slowly from low altitude regions to high altitudes, for new arrivals, acclimating for 1-2 days in Lhasa (with lower altitude) before heading to the higher altitude is a good choice.
Prepare some medicines to alleviate altitude sickness symptoms. (Don't forget to consult your doctor to see if it is good for you to take such kind of medicine.)
Don't walk fast. Plan a slow-paced trip to Tibet.
Which are the best places to go in Tibet?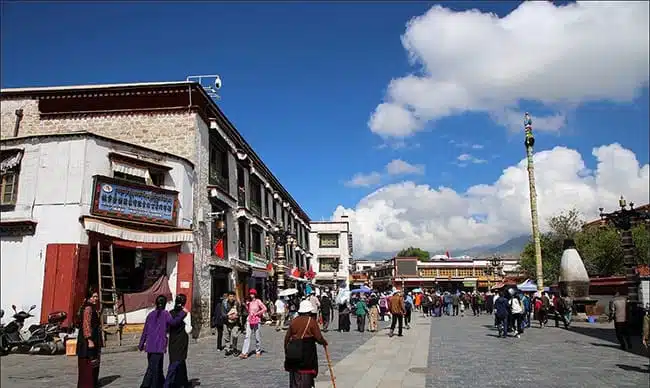 Potala Palace – the intact palace-style complex in Tibet composed of two parts: the White House and the Red Palace; the home to many Tibetan Buddhist treasure, murals, Tangka, etc.
Jokhang Temple- a sacred place for Tibetan Buddhists.
Barkhor Street- lined with numerous handicraft shops selling Thangka paintings, etc.
Namtso Lake- the highest lake in the world.
Mount Everest- world's highest peak covered with snow all year around.
Kailash- a sacred mountain and the center of the world recognized by Buddhists.
Namtso Lake- one of the three holy lakes in Tibet with the stunning view of the snow-capped mountains reflected on the lake.
Yamdrok Lake- dubbed as the "Coral Lake", the habitat of waterfowl in winter.
When is the best time to visit Tibet?
The period from March to October is the best time to visit Tibet, during which you can enjoy beautiful natural scenery in a mild weather. Even in July and August, Tibet is not scorching thanks to its high altitude. March to April is a perfect time to admire the peach blossoms in full bloom in Nyingchi.
What kind of food do they eat in Tibet?
Tibetans have their own unique food structure and eating habits. Salted Butter Tea, Roasted Barley Flour, Tea and Beef & Lamb are the "four treasures" of the Tibetan diet. In addition, Barley Wine and various dairy products are popular among Tibetans.
How many days do you need in Tibet?
4 days are enough for the Lhasa city tour, covering most of the attractions such as Potala Palace, Barkhor Street, Jokhang Temple, Tibet Museum and Sera Monastery.
Spend 8-10 days to extend your journey to attractions in Nyingchi, Shannan, Shigatse areas in addition to Lhasa, and travel at a leisure pace.
If you want to hike Mount Everest and Mt. Kailash further, a 15-day trip would be good.
Can you take pictures in Tibet?
You are allowed to take pictures of most natural scenery in Tibet. However, photographing is banned in many monasteries in Tibet, like Jokhang Temple. No photography are allowed inside the Potala Palace, as well as at checkpoints along the way and Nujiang Bridge.
Don't take photos of Tibetan mastiffs and yaks at will as it is likely to be charged.
What is the temperature in Tibet?
Most areas of Tibet have high altitudes and large temperature differences between day and night. Compared with most areas in China, the temperature in Tibet is relatively low. In places with an altitude of more than 5,000 meters (16,404 feet) in the Ali area, the temperature is only about 10 ºC (50 ºF) during the day even in the midsummer (July & August), and the nighttime temperature will drop below 0 ºC (32 ºF).
Summer in Tibet is relatively cool, with the temperature basically below 25 ºC (77 ºF) during the day and around 12 ºC (53.6 ºF) at night. In winter (December to February), it is about 10 ºC (50 ºF) during the day and -5 ºC (23 ºF) at night. Your tourism activities are concentrated in the daytime, so it's not too hot in summer and not too cold in winter.
How much does it cost to travel to Tibet?
A Tibet tour is undoubtedly considered to be expensive. However, most of your travel costs will be on transportation and accommodation.
Air fares to Lhasa vary from place to place and usually range from CNY 800 to 2,500. The price of a hard sleeper train to Lhasa is about CNY 500 from Xining, CNY 700 from Chengdu, and CNY 800 from Beijing. The price for accommodations depends on the hotel star rate and travel seasons.
In terms of admission, you will spend about CNY 700, covering more than 10 famous scenic spots such as Potala Palace, Jokhang Temple, Namtso, Yamdrok Yumtso Lake, Nyingchi and Shigatse.
The cost of transfer between destinations is about CNY 800-1,000.
Therefore, it can be roughly calculated that the total cost of a general 8-day travel to Tibet (including round-trip air and train tickets) is between CNY 3,800 and CNY 7500.
Note: If you visit Tibet in July-August, you will see a 30% increase in the total cost; while if you visit Tibet in December, January or February, the cost will decrease by 20%.
Is it safe to travel to Tibet?
It's very safe to travel to Tibet, basically the same as anywhere else in China. Tibetans who are honest and hospitable always wave and smile at you on the way. Armed police can be seen on the streets of Lhasa. You can turn to them for help in any difficulty.
What should I pack for traveling to Tibet?
Documents: passport, Chinese visa, Tibet Travel Permit, Alien's Travel Permit.
Medical kit: medicines for altitude sickness and some common medications.
Sunburn and dry climate protection: sunglasses, sunhat, lip balm, moisturizer, sunscreen, etc.
Clothes: light down coats, T-shirts with both short and long sleeves, windbreaks, sport shoes, sunglasses, sun hat, sunscreen, skin cream, lip balm.
For Tibet EBC or Mount Kailash hiking, there are some additional items: high calorie foods like dried beef, chocolates, functional beverages, hardtack and nut fruits, a pair of warm gloves, trekking shoes, trash bags.
Is there age-limit for Tibet Travel Permit?
No, there is no age limit when applying for the Tibet Travel Permit.
Parents can bring little kids to Tibet as long as they can impress their feelings properly.
How to get to Tibet from Malaysia?
There are no direct flights from Malaysia to Lhasa, Tibet. You're are advised to fly to mainland Chinese cities such as Guangzhou, Xiamen, Beijing, and then transfer to Tibet by plane or train. If you plan to travel to Nepal, you can take a direct flight from Kathmandu to Lhasa.
Note: Nepal is the only country with direct flights to Lhasa from Kathmandu.
How to Go to Tibet from the Philippines?
Take a direct flight from Manila, Philippines to Beijing, Shanghai and Guangzhou. And then transfer to Tibet by plane or train.
Where to stay in Tibet?
Some of Tibet's best luxury 4 or 5-star hotels are mainly located in Lhasa. The vicinity of Jokhang Temple and Barkhor Street, the most popular accommodation area in Lhasa city, is well equipped for tourism, with a lot of specialty restaurants, bars and markets.
In some remote areas like EBC, Ngari and northern area, the hotels guesthouses may not be up to the standard you are used to in other cities.
If you spend the night at Everest Base Camp, tents and guest rooms are prevalent with simple facilities, but indoor toilets and running water are sometimes not available. For hygiene and cold protection, it is recommended that you prepare your own toiletries and sleeping bags.
Tents are necessary when you are hiking Mt. Kailash, as there are no hotels or guest rooms nearby.