Top 8 Recommended Yunnan Winter Hiking Routes
As a hiker's paradise, Yunnan Province with a diverse topography is home to fantastic natural scenery, the spring-like climate in all seasons, and diverse ethnic customs, encompassing snow-covered peaks, alpine lakes, magnificent gorges, and glaciers, as well as picturesque terraced fields, etc. Many of the hiking tours in Yunnan have been rated as the best hikes in China, some of them are extremely classic and famous that attracting lots of hiking enthusiasts at home and abroad. You can choose from a variety of trekking tours that last from several hours to one day even one week. Among the winter hiking routes in Yunnan, you'll enjoy all kinds of charming landscapes you hope to see at different altitudes!
1. Tiger Leaping Gorge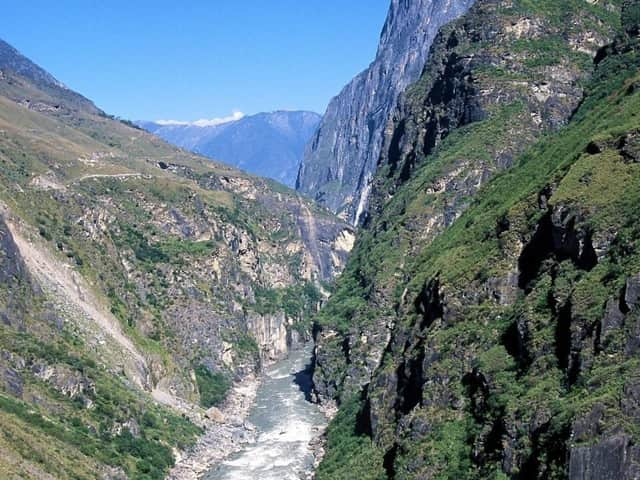 Highlights: spectacular gorge, turbulent river, Walnut Garden, Tiger Leaping Stone
Distance: 25 km (15.5 miles)
Duration: 9-10 hours (usually over 2 days)
Difficulty: hard
Altitude: 1,900-2,700 m (6,200-8,800 ft)
Tiger Leaping Gorge is definitely an incredible place for hiking, which is one of the deepest gorges in the world, crossing between Haba and Jade Dragon Snow Mountain. It is divided into three sections: upper, middle, and Lower Tiger Leaping Gorge, with a total length of about 25 km. The upper and middle sections of the gorge are recommended, where you can see the towering rogue waves. The upper part is suitable for hikers with weaker physical strength. The middle section, known as "One of the World's Top 10 Trekking Routes", is densely covered with reefs. The paths here become narrow, the rivers are more turbulent, and the journey is not easy, but the scenery is exceptionally awesome. It is a reward for hikers who are not afraid of hardships.
2. Haba Snow Mountain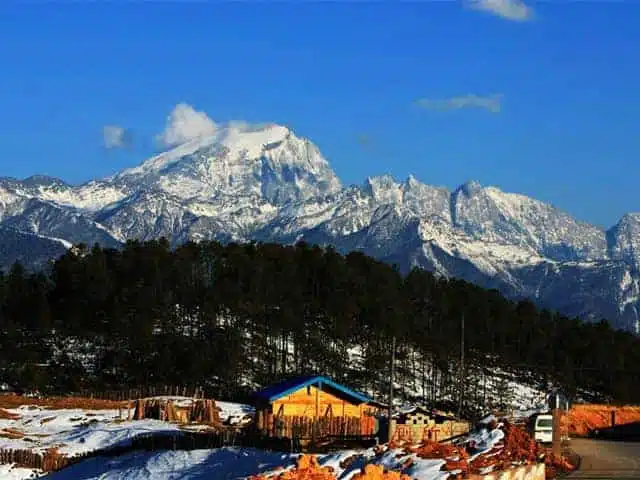 Highlights: snow-topped peaks, glaciers, pastures, Haba Village, Haba Base Camp
Distance: 4 km (2.5 miles)
Duration: 2 hours
Difficulty: moderate
Altitude: 3,500-3,700 m (11,483-12,139 ft)
Facing the Jade Dragon Snow Mountain across the Tiger Leaping Gorge, Haba Snow Mountain is the highest peak in Shangri-La with an elevation of 5,396 meters (17,703 ft) in the summit and has always been the entry-level choice for climbers. It boasts a unique plateau snow scene, the top of which is covered with snow and glaciers all year round, just like a crystal pagoda. Haba Snow Mountain is rich in flora and fauna and is called "The Mother of the World's Gardens" by biologists. In spring and summer, the meadow is scattered with azalea flowers in full bloom. If you come to hike in winter, you will appreciate the fresh grasslands, forests and lakes along the hiking route.
3. Baoshan Stone Village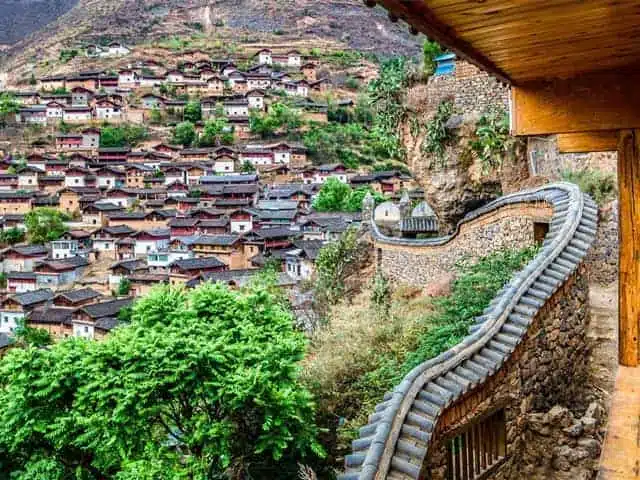 Highlights: rushing river, huge mountains, local customs, Prince Pass
Distance: 10 km or 18 km (6 miles or 11 miles)
Duration: 3-7 hours
Difficulty: moderate or hard
Altitude: 1,800-2,100 m (5905.5-6889.5 ft)
Nestled in the Jinsha River ravine, Baoshan Stone Village is built on a huge stone that looks like a mushroom. With a real natural barrier, the village is surrounded by cliffs on three sides, and the other side faces the Jinsha River. You can enter the town from only two stone gates, one on the south and another on the north. There are about 100 families living here, and the houses are all made of natural stones. You will marvel at the exquisite craftsmanship done by the village ancestors hundreds of years ago. Hike to Prince Pass, where you can admire narrow canyons formed by huge mountains. The 6-mile and 11-mile hiking routes are available, and you can choose the one according to your physical condition.
4. Yubeng Village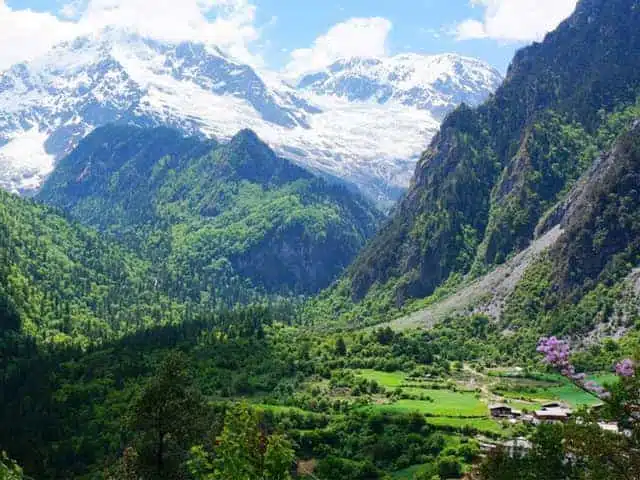 Highlights: Glacier Lake, Sacred Waterfall, valleys, forest
Distance: 53 km (33 miles)
Duration: 25 hours (spread over 4 days)
Difficulty: hard
Altitude: 3,100-3,800 m (10,171-12,467 ft)
Yubeng Village is an epic hiking route in Yunnan, known as the "Heaven for Hikers". It is an ancient Tibetan village hidden at the foot of Meili Snow Mountain. Here you will enjoy the beautiful scenery of waterfalls, ice lakes, canyons and so on. Yubeng Village is divided into Upper Village and Lower Village. From the upper village, hikers can go to the Glacier Lake and the Joint Sino-Japanese Base Camp via large tracts of virgin forest and unnamed mountain passes, while from the Lower Village, tourists can trek to the Sacred Waterfall. Along the way, you can also see the wonders of five trees with the same root.
5. Meili Snow Mountain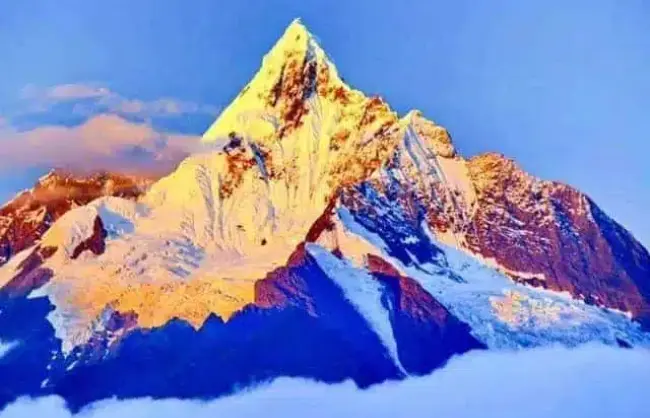 Highlights: snowy peaks, golden sunrises, Feilai Temple, Bamboo Camp
Distance: over 130km (81 miles)
Duration: 10 days
Difficulty: very hard
Altitude: 2,700-6,740 m (10,171-12,467 ft)
Meili Snow Mountain is the first of the eight sacred mountains of Tibetan Buddhism. Among the 13 peaks, Kawagebo is the highest peak at 6,740 meters above sea level. Many hikers come in November-December to enjoy the glorious golden sunrises on the spectacular snow-covered peaks. The north slope of Meili Snow Mountain is quite a difficult hiking trail, which requires a high level of physical fitness and endurance. It is more secluded than Yubeng Village, where you'll climb more than 4km of passes and cross three big rivers, including the Jinsha River. The route has not been developed, except for wooden houses and cattle sheds left by Tibetans in camps. If you are a trekking fanatic, then it will not disappoint you. On the way, Feilai Temple and Bamboo Camp and other attractions will surprise you.
6. Cangshan Mountain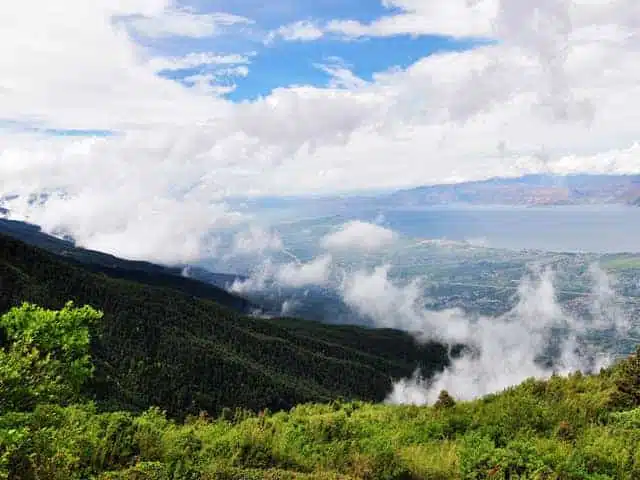 Highlights: snow scenery, streams, temples, Erhai Lake
Distance: 12 km (7.5 miles)
Duration: 4 hours
Difficulty: easy
Altitude: 2,600 m (8,530 ft)
The majestic snow scenery on the main peak of Cangshan Mountain is one of the Four Famous Scenes (wind, flowers, snow and moon) in Dali. Hiking along the Cangshan Mountains, you can enjoy waterfalls, streams, peaks and temples. On the mountainside there is a long about 18 km of hiking trail, known as the Jade Belt Road, where you could overlook the Dali Dam and Erhai Lake. Instead of hiking, visitors with kids can take a cable car to enjoy Cangshan Mountain. Gantong and Zhonghe Cable-ways are recommended, from which you can get natural scenery on Cangshan Mountain and Dali Ancient City.
7. Yuanyang Terraced Fields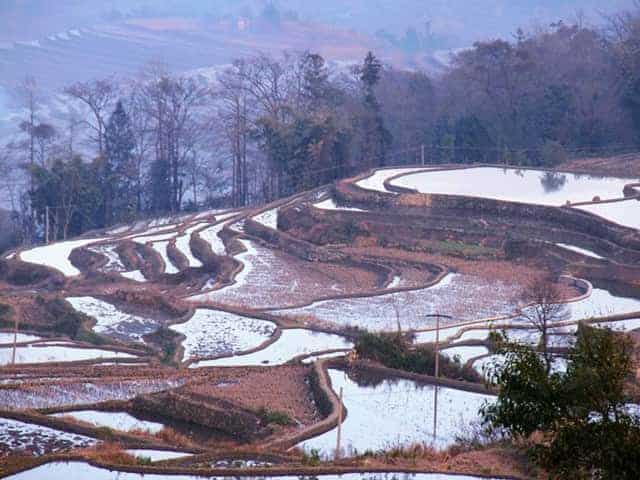 Highlights: rice terraces, ethnic Hani villages, lakes
Distance: 12 km (7.5 miles)
Duration: 4 hours
Difficulty: moderate
Altitude: 1,800-2,000 m (5,905.5-6,561.5 ft)
Known as "the most beautiful land sculpture", Yuanyang Terraced Fields is the hani people's masterpiece from generation to generation. Hikes on the Yuanyang Terraced Fields often include spectacular sunrise and sunset scenery, and the unique customs of Hani villages. On this UNESCO World Heritage Site, you are sure to make an unforgettable memory when seeing the colorful terraced fields shine in the sunlight as the sun rises over the mountains. Hiking higher, the rice terraces are more marvelous, looking like a wonderful picture painted by an artist. December to February is the best time to visit.
8. Rainforest
Highlights: rainforest wonders, cascading waterfalls
Distance: 11 km (7 miles)
Duration: 3-4 hours
Difficulty: moderate
Altitude: 500 m (1,640.5 ft)
Yunnan is endowed with the most intact tropical rainforest in China's high-altitude areas. The rainforest provides unique natural scenery of virgin forest and charming ethnic customs. Hiking in the rainforest, you can not only enjoy the tranquil and beautiful forest scenery but also experience real survival in the wilderness. Here you'll visit ethnic villages, cascading waterfalls, and even have a barbecue in the jungle. Various local rainforest delicacies are also a major feature of this hiking trip. There is a kind of moss in the pond near the rainforest every March. It can be used to make soup, fried snacks, or sun-dried to eat. Don't miss the amazing hike to Yunnan's rainforest where you can experience a truly tropical flavor.