Day 1
Kunming Arrival (No meal)
Upon your arrival at Kunming airport, you will be greeted by a local driver who will hold a sign with your name on it and then transferred to your hotel for check in. The rest of day is free time on your own disposal.
Accommodation: Kunming local 4 star hotel
Attractions: Stone Forest, Green Lake, Flowers and Birds Market (B+L)
Get picked up in the morning from your hotel lobby and then transferred to the famous Stone Forest after about 2 hours' driving. The Stone forest is one of the most special Karst landform on the earth, earning the same great fame together with Beijing Forbidden City, Xian Terracotta Warriors and Guilin's hills & waters, and attracting endless visitors home and abroad. After lunch, drive back to Kunming downtown to visit the Green Lake which is the most beautiful park in Kunming. From there, you will walk leisurely about 20 mins to visit Flowers and Birds Market to get a close observation to local life. Finally, you will be dropped off to your hotel.
Accommodation: Kunming local 4 star hotel
Day 3
Kunming-Dali by High Speed Train
Attractions: Three Pagodas in Chongshen Monastery, Erhai Lake, Dali Old Town (B+L)
Meet the local driver in the early morning and take a bullet train to Dali with about 2 hours' train riding. When you arrive to Dali Train Station, you will find your local guide waiting for you at the exit with a name board in hands. Start today's visit at the Three Pagodas in Chongshen Monastery. It locates at northwest of Dali Ancient Town, facing Cangshan Mountain at west and Erhai Lake at east. The pagodas were built thousands of years ago for the purpose of preach Buddhism and have important value to research the past history and culture. The next stop is today's highlight: Erhai Lake. You will take a boat cruise to the Jinsuo Islet, appreciating the peaceful and amazing scenery along the way, such as Cangshan Mountain and Three Pagodas from distance. There are here are 200 Bai ethnic families around 1000 people living Jinsuo Island where you will learn the local folk culture from tour guide. In the late afternoon, come to Dali Old Town, you will take a walk there, immerse yourself in the free, leisure, busy atmosphere of this town. Finally, check in at a local hotel in the old town.
Accommodation: Dali local 4 star hotel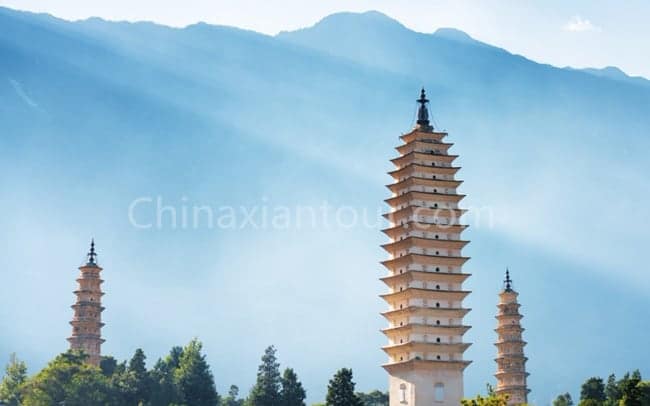 Attractions: Xizhou Town, Zhoucheng Village, Lijiang Old Town (B+L)
Meet your tour guide in the morning and then head to the first stop today: Xizhou Town. It's a beautiful old town filled with Bai-style elements specially architectures, folk customs and culture. You will visit some courtyards and taste their fragrant Three-Course Tea there. Then move to Zhoucheng Village and visit the local Bai people's Tie-dying cloth workshop which is a distinct feature of this minority. It's a good place to buy some souvenir with the Bai ethnic elements if you are interested in that. After lunch, you will come to Lijiang Old Town. This old town wins its name nationwide with its unique historical, cultural and tourist value and listed as one of World Cultural Heritage. It's home of Naxi Ethnic Minority, located on the plateau with 2400 meters above the sea level. With the well-preserved unique architectures, layout of the town, distinct traditional customs and folk culture, you will find the ever achievement of Chinese ancient city. Besides these shining titles, Lijiang is "Utopia" in China especially for the youth trying to escape from the pressure of modern life.
Check in your local hotel finally.
Accommodation: Lijiang local 4 star hotel
Attractions: Jade Dragon Snow Mountain, Ganhaizi Meadow, Blue Moon Valley, Impression Lijiang Ethnic Show, Baisha Old Town (B+L)
Begin today's tour with the highlight Jade Dragon Snow Mountain. Located at the north of Lijiang city, it's the biggest snow mountain at the Northern Hemisphere with altitude over 4,00 meters. You will reach to Ganhaizi Meadow firstly. Then take a sightseeing bus to have a visit through the Baishuihe River. Afterwards, take cable care to Spruce Meadow, hike about 30 minutes in the forest and then take a battery cart to Blue Moon Valley where you will see pearl-like lakes scattering on the land and marvel at the great scenery here. After lunch, you will enjoy the Impression Lijiang Ethnic Show directed by Zhang Yimou. It is held in Ganhaizi Meadow about 3100M above the sea level. Later on, come to visit Baisha Old Town, an beautiful traditional Naxi style old town. Baisha Murals here are the must-see sites which has been enrolled on the World Cultural Heritage by UNESCO 1997.
Drop off to your Lijiang hotel after the tour.
Accommodation: Lijiang local 4 star hotel
Day 6
Lijiang-Tiger Leaping Gorge-Shangri-La
Attractions: First Bend of the Yangtze River, Red Army's Long March Memorial Monument, Tiger Leaping Gorge, Dukezong Ancient Town, Guishan Hill (B+L)
It's a full day today with top highlights.
Drive about 60 km from Lijiang in the morning to the First Bend of the Yangtze River with breath-taking gorge scenery. Walk through the Iron Chain Bridge on the river, which is a thrilling experience. And then visit the Red Army's Long March Memorial Monument at the Shigu Old Town to learn the suffering but great history of new China. Shigu means stone drum in Chinese. There is a large, cylindrical and marble tablet shaped like a drum in the town, hence the name. Next come to the Tiger Leaping Gorge which is the deepest gorge in the world, famous for "steep and dangerous". Jinsha River flows softly from Qinhai Plateau but starts to run rapidly like a roaring tiger when meeting the narrow and deep gorge, thus it gets the name of Tiger Leaping Gorge. Afterwards, head to enter the Tibetan area and come to Dukezong Ancient Town exactly. It's the largest and best-preserved Tibetan population in China and also a very important station along the Ancient Tea Horse Road. Besides, walking up to the top of Guishan Hill to appreciate the typical Tibetan style view—Prayer Wheel. From there, you will have a bird-view of Shangri-La county and Duzekong Ancient Town. Get to your Shangri-La hotel to check in.
Accommodation: Shangri-La local 4 star hotel
Attractions: Songzanlin Monastery, Shudu Lake,Pudacuo National Park (B+L)
Shangri-La has a totally different appearance of the past places where you will start to meet Tibetan element. The first site today is Songzanlin Monastery which is the largest Tibetan monastery in Yunnan area and famed as "Small Potala Palace". It was built along hillside, looking like an old castle, showing the brilliant construction technology of Tibetan. Afterwards, come to a Tibetan family and enjoy a local Yak Butter lunch there. In the afternoon, you will head to visit Shudu Lake. It is embraced by beautiful mountains all around where primitive forest and many precious animals are well protected. Next is the Pudacuo National Park, a main highlight of Shangri-La. The park is definitely a priceless gift from nature: with altitude between 3,500 meter and 4,159 meter, it does collect rich natural resources including geology and landform, lake wetland, meadow, river and valley, rare plants and animals. The amazing scenery here will make you can't stop the camera in your hands and marvel at this wonderland.
Transferred back to hotel after the tour.
Accommodation: Shangri-La local 4 star hotel
Day 8
Shangri-La Departure (Breakfast)
It's time to say goodbye. You will be transferred to Shangri-La airport by your diver. Service ends here.