Dragon Boat Festival Show in Tang Paradise
In the pas three days, all Chinese people had the 3-day public holiday for Dragon Boat Festival, one of the most important traditional festival of Chinese nation.
Many visitors to Tang Paradise found something special and interesting on June 7, the day of Dragon Boat Festival. Let's see what were special on that day?
On June 7th, cultural experts, scholars, and international students gathered in Luyu Tea Shop in Tang Paradise to held some special performances for the festival by reading poem of Qu Yuan, dancing, and worship show.
Dragon Boat Festival Market
During the holiday, Tang Paradise established a current market to sell unique things people must use to welcome Dragon Boat Festival, like sachets, five-color string bracelet, tiger-figure shoes for baby, and foods especially offered during the festival.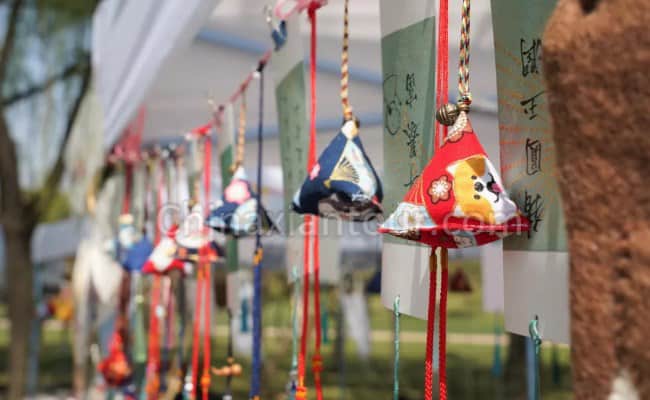 Sachets
Making glutinous rice cake
Interactive show
Dragon Boat Game
Dragon Boat Boating was created in the Warring Period in 2200+ years ago in memory of Qu Yuan. In later hundreds of years it gradually became a game during Dragon Boat Festival in southern China. In the past Dragon Boat Festival, Tang Paradise held a game called Dragon Boat Boating on Land. People can volunteer in the game for free.
Reading Poem of Qu Yuan
Collage students and volunteers dressed in ancient Chinese costume read and performed poems of Qu Yuan to show respect for this great poet and patriot. Any one who learn about Chinese history and culture would be deeply attracted.
Dragon Boat Festival Makeup for Children
In ancient China, people think the 5th day of the 5 month in lunar calendar is the beginning date when snakeworm begin to active. Paint on forehead with realgar and have five-color string bracelet on wrist can drive off the bad thing bring by snakeworm so to protect children's health. Kids visitors to Tang Paradise can have a forehead paint for free during the festival. Lots of kids got their unique forhead paint and where happy with it.