Kunming Lake in Xian
The largest artificial lake in Chinese history is the Kunming Lake lying to southwest of Changan City. The lake was dug in the Han Dynasty (202BC-220AD) in Emperor Wudi's Era (141AD-87AD)and covered an area of 16.6km2, which triples the area of West Lake in Hangzhou. The better known Kunming Lake in Beijing Summer Palace was also named after that lake.
When talking about Kunming Lake in Xian, there are three key words worthy attention: the oldest lake dug for military use, water area triples West Lake in Hangzhou, the largest artificial lake in Chinese history.
Kunming is the name of a city in southwestern China. Why a lake in inland city name after it? There is a historical story.
In the Han Dynasty, Emperor Wudi sent special envoy to ancient India. When the envoy travel through Kunming Kingdom, they were beaten by the kingdom's waterborne troops. So the envoy failed to reach ancient India. When they were back to Changan, Emperor Wudi ordered the construction of Kunming Lake to cultivate and train Han Dynasty's waterborne troops in hope to fight against Kunming Kingdom. And the emperor named the lake in Changan as Kunming Lake.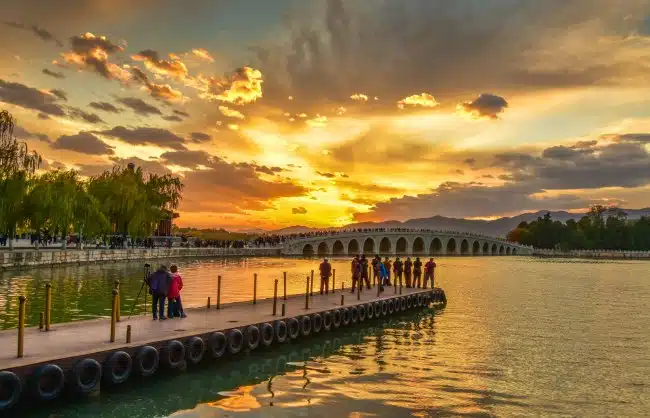 Though the lake was originally built for military use, in the later years, besides the function for training waterborne troops, Kunming lake was used for water transportation, imperial sightseeing, astronomical phenomena imitation, and aquiculture.
In Emperor Wudi's Era, citizen population of Changan reached 400 thousand. Plus the suburban population the number reached 1 million. The city area water supply was remarkably short.  When the Kunming Lake was built, seasonal rainfall rivers from Qinling Mountain flowed into the lake. So besides being used for training waterborne troops, the lake became the bulwark of city area water supply and agriculture irrigation in dry season.
The lake functioned for about 1000 years. In the Song Dynasty (960-1279), the lake completely dried up.