Taking the Bullet Train from Xian to Explore China
If you traveled to Xian 8 years ago, you may have only two choice to arrive the city: train and flight. The train takes quite long time on the way while the flight fare is usually quite expensive. In the past several years, with the construction of bullet train, Xian becomes more accessible. And departing from Xian tourists could go to more cities with shorter traveling time. There are so many places to go from Xian. Which place is your favorite?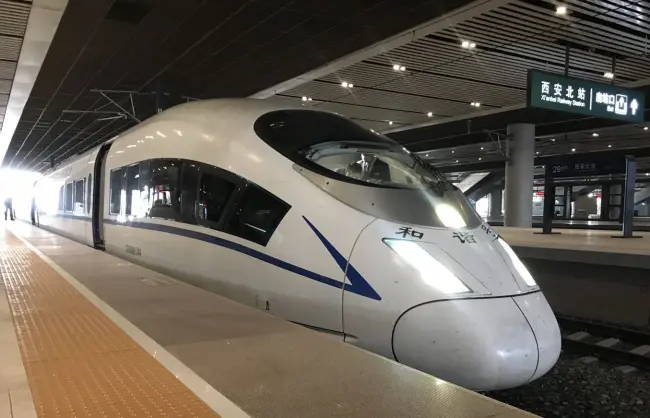 Taking 12 Minutes & CNY9.5 to Xianyang
The fastest bullet train takes only 12 minutes from Xian to Xianyang. A wonderful weekend trip choice! In Xinanyang you could go to visit Maoling Mausoleum of Emperor Wudi in the Han Dynasty (206BC-184AD), Qianling Mausoleum of Empress Wu Zetian and the Emperor Gaozong in the Tang Dynasty (618-907), Yujiacun Food & Folk Culture Village.
Taking 30 Minutes & CNY34.5 to Mt. Huashan
Since the ancient tine, Mt. Huashan is regarded the most precipitous in China. Visiting Mt. Huashan in Autumn you may see the most beautiful scenery of the mountain. The peaks and cloud-sea create a huge inkwash drawing.
Taking 34 Minutes & CNY36 to Dali
Dali can be your choice as a 1 day extended Xian tour. You will see the country landscape and the Fengtu Grain Store built in 1882 in the late Qing Dynasty.
Taking 59 Minutes and CNY51.5 to Baoji
Famen Temple, Taibai Mountain National Forest Park, Guanshan Prairie… Baoji has so many interesting places. It is one of the best place to spend 2-3 days from Xian.
Taking 1 hour 17 minutes & CNY60.5 to Huangling
Huangling is the hometown of Mausoleum of Yellow Emperor. Each year during the Tomb Sweeping Day thousands of Chinese people pore to Huangling for ancestor worship. It is also the popular destination for overseas Chinese people during their Shaanxi Tour.
Taking 1 hour 26 minutes & CNY 119.5 to Luoyang
Longmen Grottoes, White Horse Temple, Old City Food Street, and slow life in Luoyang definitely is worthy of your visiting.
Taking 2 hours 15 minutes and CNY95.5 to Yan'an
Yan'an is the well known revolutionary base areas. The Yangjialing Revolution Memorial Museum, Date Garden, and scenery of loess plateau will show you the special history and culture here.
Taking 3 hours 8 minutes and CNY174.5 to Lanzhou
With the bullet train opens, Journey to West becomes the hot tour route for Xian people. The Xian – Lanzhou Bullet train passes Baoji, Tianshui, and Yuzhong. Appreciating the changing landscape in bullet train will be a cool experience.
Taking 3 hours 58 minutes and CNY 232.5 to Xining
In the late July, Xian often suffers from the burning days which reach 40℃. While if you board the Xian – Xining bullet train, after 4 hours you will enjoy the 25℃ summer of Xining. The toasted mutton, Qinghai Lake, Ta'er Monastery are the top attractions.
Taking 3 hours 50 minutes & CNY454.5 to Wuhan
Some tourists would list Wuhan into their itinerary due to the city's history culture.
Taking 4 hours 35 minutes and CNY515.5 to Beijing
Beijing is totally the top city to see in China: Forbidden City, Great Wall, Summer Palace, Tsinghua University and Beijing University, Hutongs … Beijing is among the top cities to see Chinese culture.
Taking 5 hours 58 minutes and CNY 669.5 to Shanghai
Shanghai is a pretty city to see the China's change in the past century. The tasty local food, charming scenery of the Bound, and the newly opened Disneyland are some of the most attractive things in Shanghai.
Taking 7 hours 8 minutes & CNY 653.5 to Hangzhou
West Lake makes Hangzhou a famous tourist city. Actually the developed economy and the slow pace life are also of much attractions. West Lake, Grand Canal, Xixi Wetland, Six Harmonious Pagoda… they make Hanzhou a picturesque city in all four seasons.