Why is Xian Subway Built Always So Tardily?
In the March of 2019, the construction group of Xian subway line 5 happened to unearth the ruins of tomb again, which is not an ordinary site, but the capital of high-ranking Zhanghan, one of three rulers in the middle of The Warring States. The ruins of the capital has a history about 2000 years until now.
Hearing the news, Xian archaeological team quietly put down their mobile phone and began to pack toolboxes; Subway planners scratched the head of a few hair left unfurled and pitched into subway route planning map; The construction team yet had to take a short holiday and come back again after May of this year(jokingly to say that).
This is never to be the first time to bump into things like that while building the metro. To tell you the truth, it took five years for building Xian subway line 2 from construction to official operation, which is the longest adventure in the history of urban subway construction. More than 130 ancient tombs were excavated and cleared, and more than 200 cultural relics were unearthed.
Every time a subway line is planned in Xian, the archaeological research institute will carry out a thorough archaeological inspection along the line with the drawings. After determining that there is basically less possibility of ancient tombs, the subway construction team can officially take over.
Many people think that the working process of Xian archaeological institute is "accidental excavation – starting work", but in fact, the routine process of the archaeological institute should be like this, "I heard that you guys are planning to build a large-scale municipal project, no hurry, let us have a look at it first."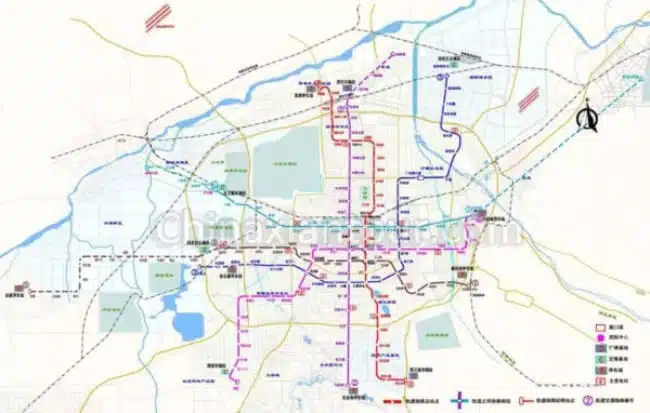 But even then, it's hard to completely avoid digging up tombs. After all, Xian is the ancient capital of thirteen dynasties, a place where a hoe can unconsciously dig out the existence of an imperial tomb. Speaking of this, isn't it necessary to experience Xian metro if you travel to Xian? You may be close to a nearby ancient tomb though you can't see it in the metro station.
That Xian subway is always slowly built is no fault of Xian Municipal Commission of Transport, or Development and Reform Commission, or Subway Bureau, or Cultural Relics Bureau, or archaeological team, or construction team and various relevant departments. What is to be blame is just the fact that too much underground palaces and tombs are buried in Xian, and many of the owners are with high identity.
Not only did tombs find in building subway, but also many universities excavated historic relics or tombs in the process of constructing new campus. Xian University of Posts and Telecommunications is the most "lucky" one. During the construction of its new campus, more than 600 tombs of Warring States period, Qin, Han and Tang dynasty have been excavated, whose history spans from the Eastern Zhou dynasty to the Tang dynasty and can be called a living fossil of ancient Chinese history.