Great Tang All Day Mall locates to south of Big Wild Goose Pagoda. It is the priority tourist project of Xian City and Shaanxi Province. The project take Tang Dynasty culture as background and the follows the Tang Dynasty social costume as main feature. Here people could experience different way of shopping. Great Tang All Day Mall combines functions of shopping, dinning, amusement, sightseeing, and business operating, etc. In day times there are relatively less visitors so some restaurants and coffee houses close in day time and open at night. Because the night of Great Tang All Day Mall is much more attractive than day time. The axis of Great Tang All Day Mall is a 1500 meters long pedestrian street. And along the street several statues are telling stories of China in the Tang Dynasty. According to themes, the statues falls into nine sections: Powerful emperors of Tang Dynasty, historical figures, story of national heroes, classical art works, etc. The statue group comprehensively present the Tang Dynasty's achievements in religion development, literature, art, science, etc.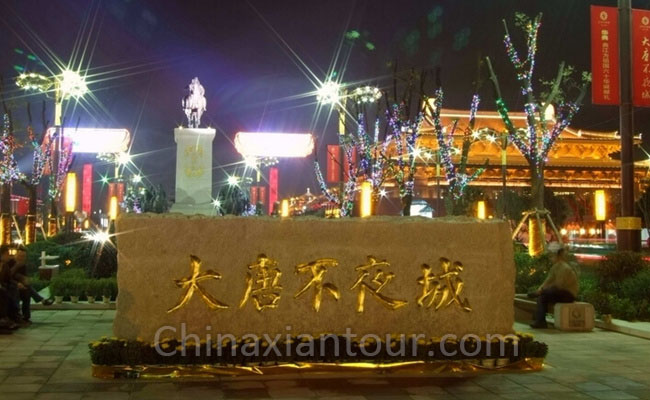 Great Tang All Day Mall
For tourists who want to learn about the content of each statues, starting the visit of Great Tang All Day Mall in the early afternoon. Each statue and relief sculpture tells a historical story. And all the historical figures settled in the street has something to do with Changan in the Tang Dynasty. The statues worthy of special attention are the ones presenting the Emperor Taizong, Empress Wu Zetian, and the Emperor Xuanzong. In the early and middle Tang Dynasty, China was the most powerful, most developed and most influential country in the world. Numerous people from different parts of the world looked forward to traveling to Chang'an. Due to the undeveloped long distance traffic, Mid-and-West Asian people accounted most part of foreign travelers in Xian. Along Silk Road, Chinese civilization was spread to almost all countries. To take lessons from Tang Dynasty, the countries sent envoys to China on after another. And businessmen overcame various difficulties and barriers to Chang'an to earn their lives. The statue group in Great Tang All Day Mall shows the scene that envoys from tens of countries pay their respects to the Emperor Taizong. The statues group about the Empress Wuzetian presents the scene that Empress goes on a journey followed by housecarls and imperial maids. Observing more carefully one will find many other interesting details.
Finishing the statute appreciating it will be evening when the 8 screen columns will be lit. The columns are not the common lighting scenery, but the screen controlled by computer to present typical Chinese factors to visitors. With light of the screen columns and the light from buildings on edge of the Mall, the whole Great Tang All Day Mall looks totally different from it is in day time. Ending the visiting and enjoying dinner at restaurant here and then back to hotel in the cool night air.