Zaki Temple is the only one temple of the God of Wealth in the whole Tibetan region. Located on the Zaki Road, in north suburb of Lhasa, Zaki Temple keeps a small scale but has been received quite good attendance with free charges. Zaki Temple is known as a branch temple of Sera Monastery . "Zaki Temple" means " a temple with four monks" in Tibetan language as there were only 4 monks of Sera Monastery sent to manage this temple.
The God of Wealth of Zaki Temple is named Zaki Lhamo who is said to be the embodiment of Protective God of Lhasa City Palden Lhamo. Actually the god is in the female image There is an interesting legend about this Zaki Lhamo. Long long ago, a female Buddha believer named Zaki Lhamo from inland came to Lhasa followed by a master of Sera Monastery. Her unparalleled beauty incurred jealousy from many local goddesses who poisoned her and cut her feet cruelly. Zaki Lhamo used her remarkable ability to push the all poison onto her tongue and replace chicken claws with the cut feet. Those goddesses were helpless to smash the girl completely and gave up then. Due to this legend, the Buddha image of Zaki Lhamo has been featured in the widely open eyes, black face, black poisoning tongue out of her mouth and a pair of chicken claws.
In the fact, Zaki Temple was not originally worshiped for wealth but earned its fame for praying safety by outsiders at the beginning. Most outsiders were businessmen who came here mainly to mainly ask for wealth, and found it was efficacious finally. Gradually, Zaki Temple had become a Temple of the Goddess of Wealth. As the Zaki Goddess worshiped here came from the inland and had been holding a quite magic ability, Zaki Temple has ushered lots of inland people or Han people which is a little different from other Tibetan monasteries or temples.
According to the worshiping custom of Tibetan people, Monday is for praying wealth, Wednesday for safety and Friday for health. It is said the Goddess of Zaki Temple is an alcoholic so people come here could buy some alcoholic drink, wormwood, hada and buttered tea to the Goddess.
Open Time: 07:00-18:00
Entrance Charges: free
Travel Tips:
According to the local custom, visitors could buy some wine, wormwood and buttered tea for the Goddess of Wealth in Zaki Temple.
Visitors should exchange some cash when you come here. If you don't have the small change, you can get change by your selves from the table of donation box when you put big cash into it.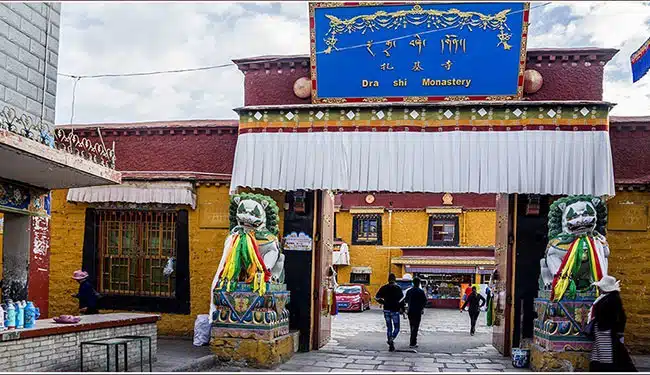 More Information
Booking Method
Step 1: You can directly book online or please feel free to share your tour plans or thoughts at

[email protected]

, our travel consultant will contact you within 12 hours.
Step 2: A small amount deposit will be required to book a tour. After deposit received, a detailed service voucher will be sent to you to confirm the booking.
Step 3: Balance due will be required 7-15 days ahead of your travel date.
If you have any further question, please feel free to contact us!
Email: [email protected]
Cellphone number: +86 15129005119
WhatsApp / Wechat ID: 008615129005119
Facebook: @xianholidaystravelagency
Our Tour Guide
The core of our service is excellent travel guides. Over 20 years, we have built up a considerable professional guide team that is knowledgeable, attentive and flexible. The most experienced and reliable guides will be arranged for your unique China tour. Our passionate guide team is full of contagious enthusiasm and keen interest to share culture and history in a pleasant manner. We are always glad at your service to lead you to explore a real China and experience authentic local life in China.
Our Driver and Vehicle
The first mission of our service is to ensure you feel safe and comfortable during your travel. The vehicles we use are air-conditioned, clean and well-maintained. Our drivers are all licensed drivers with many years of driving experience. Moreover, we offer free baby seats for families with little kids.
Meals
Food is a very important part of Chinese culture. You won't want to miss the opportunity to taste the real local Chinese food!
Buffet breakfast will be included in the hotel if you would like accommodation to be arranged by us. Having lunch at local restaurants close and convenient to the attractions you will visit, you would enjoy the local dishes in each city. Chinese style, Vegetarian or Muslim meals are all available. If you have any other diet requirements or allergies, please feel free to let us know, we will try our best to organize it.
For daily dinner, you are suggested to have it on your own when you are exploring each city in your own time, this way would be more flexible for you to choose food as per your interest and preference.
Free Inquiry: