10 Classic Travel Destinations in Southern Xinjiang
Southern Xinjiang is an amazing place on many travelers' bucket list. Who wouldn't like it? It has stunning natural scenery to see and fascinating history and culture to explore. If you are planning a visit and want to know all the highlights, here are 10 classic destinations in Southern Xinjiang we picked specially for you based on our 20 years' experience.
Dushanzi-Kuqa Highway
The map of Southern Xinjiang usually starts from Dushanzi-Kuqa Highway, one of the most beautiful roads in Xinjiang. The highway crosses the eastern Tianshan Mountain and connects Southern Xinjiang and Northern Xinjiang. It makes deep chasms turn into a thoroughfare. It's truly a marvelous engineering feat! If you visit Southern Xinjiang in summer, make sure to take this highway and cover the whole distance, 561 kilometers. You can see the famous snow wall shortly after you leave Dushanzi. Haxilegen Pass is also a unique landscape that you should not miss. Another must-see is Bayinbluk Grassland. It is a typical alpine pasture, completely different from valley grassland of the Yili River Valley.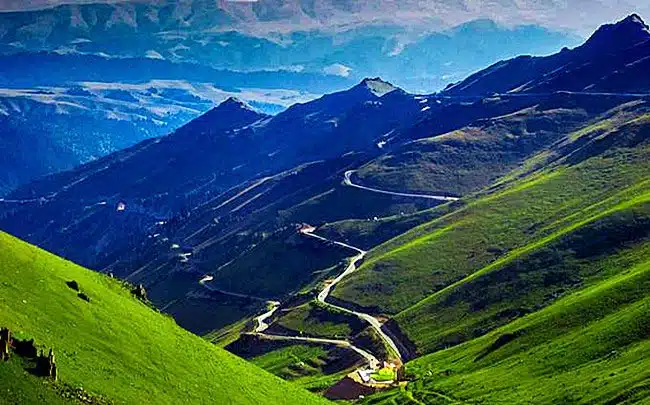 2. Kuqa
Kuqa, known as Qiuci Kingdom in ancient times, is full of history. Although the 260-year-old Kuqa Royal Palace is also very famous, we think the rare murals in Kizil Grottoes with more than 1,500 years of history is far more worthwhile. They are precious cultural relics of Qiuci Kingdom although there are not as many murals as there were after the visits of Western explorers in the late 19th and early 20th century. In Kuqa, you will also see a lot of lovely donkeys. Donkey is a traditional transportation tool among Uyghur people, especially for those living in Kuqa. Although Kuqa has a population of 100,000, there are 40,000 donkeys.
3. Wensu Grand Canyon in Aksu
Compared with Kuqa Grand Canyon with single landform, Wensu Grand Canyon combining Danxia Landform and karst landform looks more spectacular and miraculous. It used to be the only way to the Schaller Ancient Path. When you enter this scenic area, you will feel like being in a beautiful natural gallery with vigorous momentum and tragic beauty. Here you can have a glimpse of how difficult it was to cross the huge Tianshan Mountain and how strong-minded the ancient people were.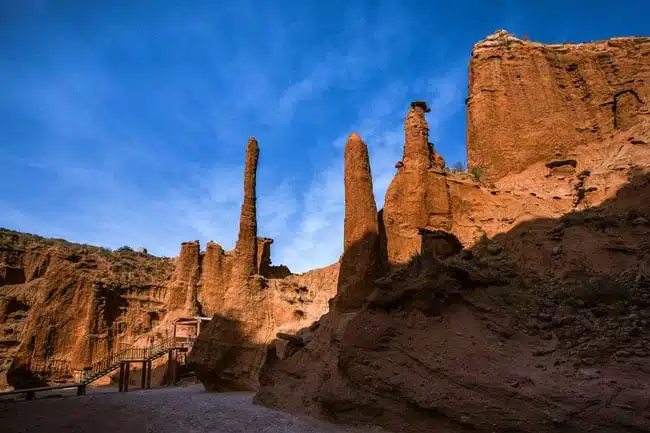 4. Taklimakan Desert Highway
Taklimakan Desert Highway is the longest classified highway running through a drifting desert in the world and also the earliest desert highway in China. The two sides of the highway are paved with straw checkerboard barriers to check the wind and fix the shifting sand. There is a road maintenance station and 1 to 2 road maintenance staff every 5 kilometers or so. They work very hard to clean up the yellow sand on the road every day.
When you get to the middle section of the desert highway, two rows of big Chinese characters will suddenly come into your view. If translated into English, the sentence goes like "There is only a desolate desert, no desolate life." It encourages all those diligent workers in the endless desert and welcomes all visitors to the desert.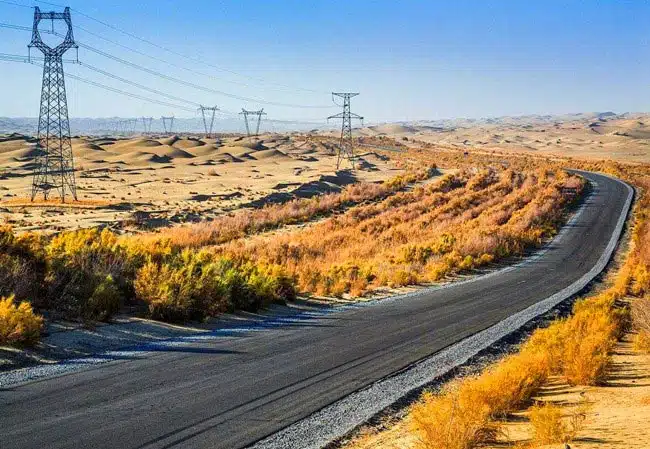 5. Hotan
In Southern Xinjiang, the Uyghur people in Hotan are known for their stubbornness. It is said that this has something to do with the black storm that comes in the first half of each year.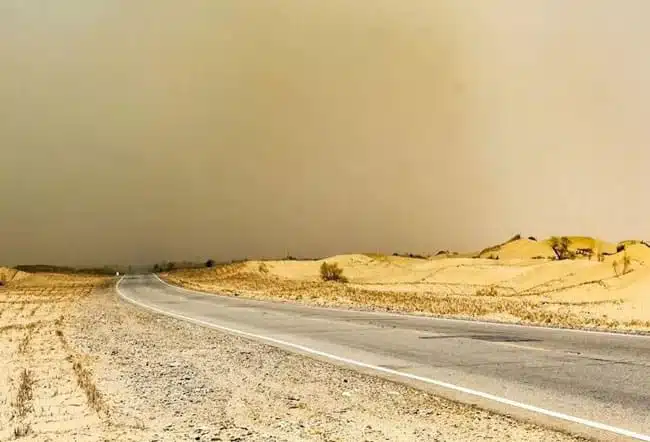 The area is constantly hit by black storm, while at the same time located in a fertile oasis. It is the largest gourmet destination in Southern Xinjiang. Its night market is famous throughout the entire Xinjiang. The people invented a variety of strange but very delicious food. For example, they roast various eggs in the cinders, from the smallest pigeon eggs to the biggest ostrich eggs. When you watch the owner make it for you, be careful not to drool all over. No problem if you want it medium-done. Added with honey and all kinds of spices, it just tastes incredible.
Charcoal roasted pumpkin is also a mouthwatering treat. The pumpkin produced in Hotan's oasis is really sweet, and the sweetness is more intense after roasting. There is also the well-known homemade ice cream. If you have a sweet tooth, you simply can't control yourself after trying it. You will definitely ask for more.
In Hotan, you not only can have yummy food but also can explore historical site in the desert, Damago Buddhist Temple Ruins. It was accidentally discovered by a Uyghur shepherd in March, 2000. Many documents of the Tang Dynasty and murals were uncovered at the site. They are memory fragments of ancient Yutian Kingdom.
6. Makit County on Yarkant Oasis
This county has a place in history as the first choice for Sven Hedin and Stein to start their Xinjiang exploration 100 years ago. It is famous for being the birthplace of Dulan Muqam (a large-scale comprehensive art incorporating song, dance and music). Here you have chance to see the most original Muqam Maxirap (Maxirap means a kind of collective recreational activity like party in Uygur language) and visit Daolang Painting Township which is a great place for Daolang people to show their talents in artistic creation and also perfect for travelers to shoot beautiful photos. Some of the best works are now kept in the Louvre Museum in Paris.
8. Datong Township Hidden Deep in the Karakorum Mountains
Nestled in a valley of the Karakorum Mountains, Datong Township is a secret idyllic world of the Tajik people, full of birds' twitter and fragrance of flowers. The thin-skinned walnuts and apricots here can be called the best of their kind. And the road to Datong Township is Tasha Ancient Path which is very famous in the history of the Silk Road. What made this ancient path well-known was the eminent monk Xuan Zang, the author of The Great Tang Dynasty Record of the Western Regions. When he returned to Chang'an (now called Xian) after finishing his studying in India, he chose to embark on this path and then go straight down the Pamirs. If possible, you can try to stay one night with a local family to feel the Tajik people's life.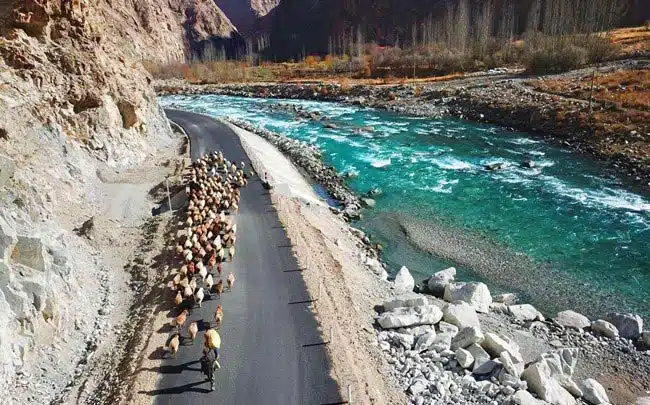 9. Tashkurgan County
Tashkurgan County is home to the unique Stone Fortress, once the capital of Puli Kingdom which had a history of more than 2,000 years. There is also the picturesque Taheman Wetland at the foot of snow mountains. The most important place here must be Khunjerab Pass.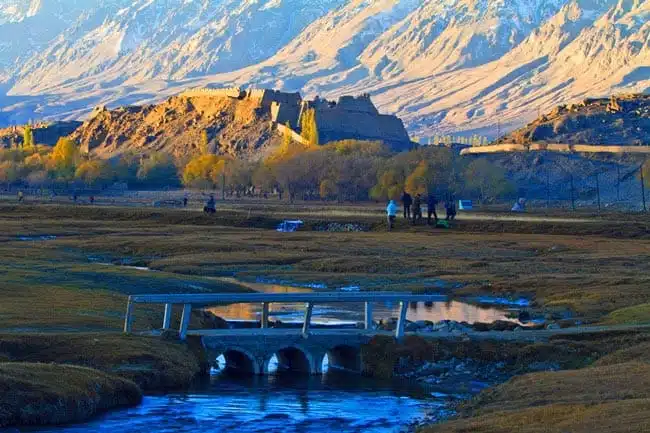 Khunjerab Pass is located on the snow-capped border of Pakistan with China at an altitude of 4733 meters. The imposing Chinese army guarding the pass is indeed a great sight. Despite the high elevation, most people don't have altitude sickness compared with the Tibetan area at the same altitude probably because there are more green plants in the Pamirs than in the Tibetan area.
9. Muztag Ata and Karakul Lake
Muztag Ata and Karakul Lake are two must-visit scenic spots on the way from Tashkurgan County to Kashgar. Karakul means "black lake" in Kirgiz language. The lake is clear as a mirror at normal times, but when the sky is overcast with dark clouds, the lake water indeed looks black. If you visit the lake on a sunny day, you can just look at the towering Muztag Ata, "the father of ice mountains", being reflected in the crystal clear water and flocks of cattle and sheep grazing by the lake. You will never forget the magnificence of the mountain and the beauty of the lake.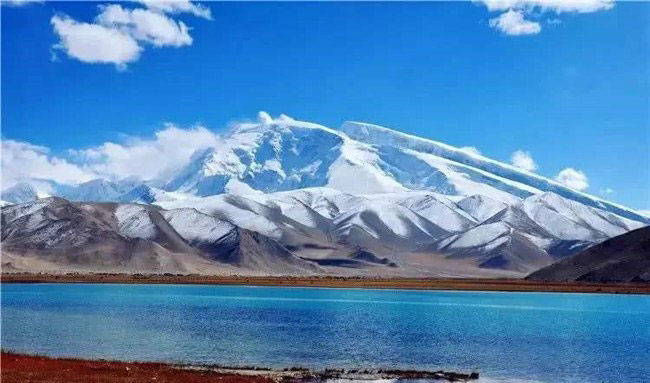 10. Kashgar
At the beginning of the 20th century, Kashgar was the most prosperous and lively city in the entire Central Asia. It was the place European explorers, historians, and archaeologists dreamed of. Today's Kashgar is silently waiting for you to feel its history and culture. We recommend Id Kah Mosque (although there are not many areas open to travelers), Handicraft Street (the most original Kashgar Old City), and the century-old tea house. You will fall in love with this city full of exotic charm.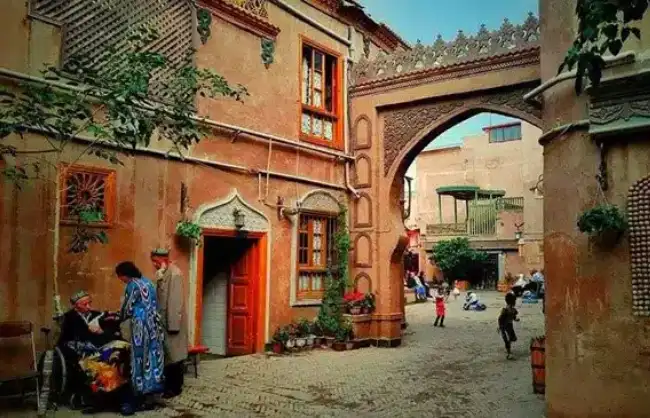 If you want more information about travel to Southern Xinjiang, please feel free to contact us. If you really want to skip the hassle of planning a tour, you are in the right place. We can help you arrange a Southern Xinjiang tour according to your needs. From spectacular scenery to unique culture, from reality to history, from valley to snow mountain, just name it. We will make it come true.