The Olympic park of Beijing is located in the North 4th Ring Road, Chaoyang district. It covers a total area of 1,135 hectares (2,864 acres), and it is divided into three sections. The northern section is the Olympic Forest Park covering 680 hectares (1,680 acres), which is a near-natural and biodiverse forest system composed of more than 200 species of plants. The central section is the primary site designed for hosting the Beijing 2008 Olympic Games, so there are various main venues such as the Bird's Nest (Beijing National Stadium), the Water Cube( Beijing National Aquatics Center), Beijing National Indoor Stadium, the Beijing Olympic Village and so on. There is no denying that the most renowned venue for tourists is the Bird's Nest and the Water Cube, which are the notable landmarks of 2008 Beijing Olympics. The southern section is the Olympic Sports Center Stadium where many important sports events held, such as the 11th Asian games, the 7th National Games of the People's Republic of China the 7th national games, the 21st Universiade, the 2008 Olympic Games.
Basic Facts about the Bird's Nest (Beijing National Stadium):
The Bird's nest, also known as the Beijing National Stadium, is located in the south of the central area of the Beijing Olympic park, which is the main stadium for the 2008 Beijing Olympic It has become a large professional place for citizens to participate in sports activities and enjoy sports entertainment and a landmark sports building since 2008.
The stadium was designed by Jacques Herzog &Pierrede Meuron who were awarded the distinguished Pritzker Architecture Prize in 2001, famous Chinese architect Li Xinggang etc. It covers an area of 21 hectares and seats for about 91,000 spectators. The stadium, like a nest and cradle of life, represents the hope of mankind for the future. The Olympic Games, the opening and closing ceremonies of Paralympic Games, Track and Field Athletics and football finals were held there.
The stadium is made ofunique and advanced sound-absorbing material to make audience sitting in any position can clearly hear the broadcast, and the designers also used hydrodynamics to simulate the natural ventilation of 91,000 people at the same time, which can let all spectators enjoy the natural light and fresh air.
From the perspectives of many architectural experts, the National Stadium not only is a unique and historic landmark of the 2008 Olympic Games, but also be of groundbreaking significance in the history of world architecture and a historical witness for the development of Chinese and world architecture in the 21st century.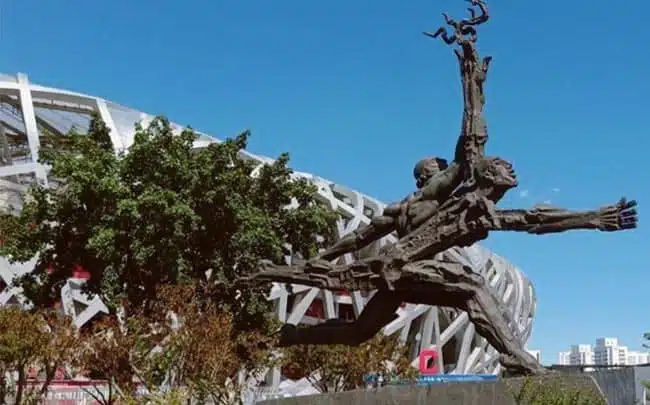 How to Buy Entrance Tickets:
Price of Entrance Tickets: The Olympic park is free for entrance, but entrance tickets are required for each venue.
Admission Fee: CNY 50
Opening Time:
| | |
| --- | --- |
| Apr. – Oct. | 09:00 – 19:00 |
| Nov. – Mar. | 09:00 – 17:00 |
When is the Best Time for Bird's Nest (Beijing National Stadium) Tour?
We highly recommend that the best time to visit National Stadium is from April to October in the evening. As the decorated brilliant light with the breathtaking night view is quite unique.
Tips: Visitors had better avoid the official holidays in China, because many Chinese citizens choose to travel on official holidays. As a result, most Chinese tourist attractions are overcrowded and traffic jams are quite common.
Official Holidays in China
| | |
| --- | --- |
| Chinese New Year | Around January or February |
| Winter vacation | January-February |
| Labor Day | May1st -3rd |
| Summer vacation(for students) | July-August31st |
| Mid-Autumn Festival | Around mid-September |
| National Day | October 1st-7th |
How to get to the Bird's Nest (Beijing National Stadium) Tour ?
The Olympic park is adjacent to the North 4th Ring road where the public transportation is highly convenient., and there are many buses, sightseeing line and subway line come from all the directions. Tourists can depend on their own preference to take any appropriate public transportation for them.
Visitors can take Bus No.82, No.419, No.538 and No.648 and get off at the"East of National Stadium (Bird's Nest) Station.
Visitors can also take Bus No.328, No.379, No.419, No.425, No.484, No.518, No.628, No.751, No.836, No.851, No.913, No.949, No.963 and Yutong110 and get offat the Walinankou Station, and then walk to the National Stadium.
It is convenient for tourists to take Subway line 8 and get off at the National Olympic Sports Center Station, or take Subway line 8 or line 15 and get off at the Olympic Park Station.
More Information
Booking Method
Step 1: You can directly book online or please feel free to share your tour plans or thoughts at

[email protected]

, our travel consultant will contact you within 12 hours.
Step 2: A small amount deposit will be required to book a tour. After deposit received, a detailed service voucher will be sent to you to confirm the booking.
Step 3: Balance due will be required 7-15 days ahead of your travel date.
If you have any further question, please feel free to contact us!
Email: [email protected]
Cellphone number: +86 15129005119
WhatsApp / Wechat ID: 008615129005119
Facebook: @xianholidaystravelagency
Our Tour Guide
The core of our service is excellent travel guides. Over 20 years, we have built up a considerable professional guide team that is knowledgeable, attentive and flexible. The most experienced and reliable guides will be arranged for your unique China tour. Our passionate guide team is full of contagious enthusiasm and keen interest to share culture and history in a pleasant manner. We are always glad at your service to lead you to explore a real China and experience authentic local life in China.
Our Driver and Vehicle
The first mission of our service is to ensure you feel safe and comfortable during your travel. The vehicles we use are air-conditioned, clean and well-maintained. Our drivers are all licensed drivers with many years of driving experience. Moreover, we offer free baby seats for families with little kids.
Meals
Food is a very important part of Chinese culture. You won't want to miss the opportunity to taste the real local Chinese food!
Buffet breakfast will be included in the hotel if you would like accommodation to be arranged by us. Having lunch at local restaurants close and convenient to the attractions you will visit, you would enjoy the local dishes in each city. Chinese style, Vegetarian or Muslim meals are all available. If you have any other diet requirements or allergies, please feel free to let us know, we will try our best to organize it.
For daily dinner, you are suggested to have it on your own when you are exploring each city in your own time, this way would be more flexible for you to choose food as per your interest and preference.
Free Inquiry: