The central street is a prosperous commercial pedestrian street in Harbin, Heilongjiang province. It starts from the flood prevention memorial tower square by the river in the north and connects to Xinyang square in the south with a length of 1400 meters. The long street was built in 1900, including 71 buildings of Renaissance, baroque and other styles, where people can not only taste delicious Russian food and modern popsicles, but also enjoy elaborate European-style architecture and romantic night scenery.
Basic Facts about Central Street:
Thecentral street, formerly known as China street, is the place where it is filled with thewestern style of Harbin. The formation of this street dates back to 1898 when Harbin started construction on Harbin railway and urban construction. The area along the river was an ancient river at that time, and the Middle East of Harbin railway engineering bureau allocated the wasteland along the river to the Chinese people in Harbin. And until 1900, it became the "China Street",which means a street for Chinese people to live.
In July 1928, China street was officially renamed "central street". From then on, Central street has become a famous commercial street in Harbin. With so many foreigners doing business, trade here boomed quickly. The rapid development of the economy has stimulated these businessmen to settle in this area. Thecentral street is the epitome of Harbin, where the unique architectural culture of Harbin and the European life of Harbin people are clearly reflected here, and it is called "the first street in Asia".
Thecentral street is located in the heart of Harbin, with atotal length of 1450 meters long and 21.34 meters wide. The walking block of central street covers an area of 94.05 hectares, about 1 square kilometer. The most distinctive feature is that the whole street is paved with square stones. There are 17 leisure areas in the block, 18 parking lots, 152 European classical street lamps, 14 lawns and green Spaces, about 2600 square meters, 5 sculptures and 3 fountains.
The architecture of central street gathers the most influential architectural style in the history of western architecture, such as the Renaissance style of the 15th to 16th centuries, the baroque style of the 17th century, the eclectic style of the 18th century and the art Nouveau movement style of the 19th century, which cover the centennial essence of western architectural art. There are 71 European-style and imitation European-style buildings ina central street, which is a precious architectural art corridor in China.
The various large department stores on thecentral street always attract countless people who love shopping. There are many famous western Russian restaurants such as Massey restaurant and Portman restaurant, as well as the delicious modern popsicles and so on. In addition, there are Russian handicraft shops, Qiulin food and other specialty stores for visitors to choose from.
The north end of thecentral street is the flood prevention memorial tower. In summer,it is suitable for people to walk along the Songhua river, while in winter, there are many ice activities such as carriage riding, playing snow circles and skating on the frozen river surface. In the middle of the central street, you can go east to Zhaolin Park, where the winter ice lantern garden party is held, and from the south section of the central street, you can go east to Sophia Cathedral.
How to Buy Entrance Tickets:
Price of Entrance Tickets:Free
Opening Time: whole day
When is the best time to visit?
Central Street is a prosperous commercial street for people to visit all year round. And in summer, walking along the Songhua River is a popular activity, while in winter, visitors can try different ice activities on the frozen river surface to experience the snow and ice culture in northeastern China.
Tips: Visitors had better avoid the official holiday in China, because many Chinese citizens choose to travel on official holidays to ease the pressure of their work. As a result, many Chinese tourist attractions are overcrowded and traffic jams are common. Therefore, visiting China at this time will bring tourists a less pleasant travel experience.
Official Holidays in China
| | |
| --- | --- |
| Chinese New Year | Around January or February |
| Winter vacation | January-February |
| Labor Day | May1st -3rd |
| Summer vacation(for students) | July-August31st |
| Mid-Autumn Festival | Around mid-September |
| National Day | October 1st-7th |
How to get to Central Street?
It is convenient for visitors to take Bus No.2, 53, 126, 132 or 136 and get off at the Zhongyang Dajie Station.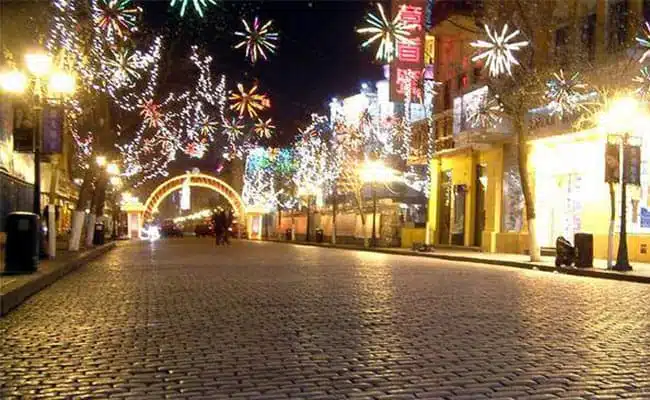 More Information
Booking Method
Step 1: You can directly book online or please feel free to share your tour plans or thoughts at

[email protected]

, our travel consultant will contact you within 12 hours.
Step 2: A small amount deposit will be required to book a tour. After deposit received, a detailed service voucher will be sent to you to confirm the booking.
Step 3: Balance due will be required 7-15 days ahead of your travel date.
If you have any further question, please feel free to contact us!
Email: [email protected]
Cellphone number: +86 15129005119
WhatsApp / Wechat ID: 008615129005119
Facebook: @xianholidaystravelagency
Our Tour Guide
The core of our service is excellent travel guides. Over 20 years, we have built up a considerable professional guide team that is knowledgeable, attentive and flexible. The most experienced and reliable guides will be arranged for your unique China tour. Our passionate guide team is full of contagious enthusiasm and keen interest to share culture and history in a pleasant manner. We are always glad at your service to lead you to explore a real China and experience authentic local life in China.
Our Driver and Vehicle
The first mission of our service is to ensure you feel safe and comfortable during your travel. The vehicles we use are air-conditioned, clean and well-maintained. Our drivers are all licensed drivers with many years of driving experience. Moreover, we offer free baby seats for families with little kids.
Meals
Food is a very important part of Chinese culture. You won't want to miss the opportunity to taste the real local Chinese food!
Buffet breakfast will be included in the hotel if you would like accommodation to be arranged by us. Having lunch at local restaurants close and convenient to the attractions you will visit, you would enjoy the local dishes in each city. Chinese style, Vegetarian or Muslim meals are all available. If you have any other diet requirements or allergies, please feel free to let us know, we will try our best to organize it.
For daily dinner, you are suggested to have it on your own when you are exploring each city in your own time, this way would be more flexible for you to choose food as per your interest and preference.
Free Inquiry: