Harbin ice and snow world, founded in 1999, is a millennium celebration organized by Harbin municipal government and national tourism administration of Heilongjiang province to welcome the year of 2000. Relying on the advantages of Harbin's ice and snow in winter, the large-scale ice and snow art boutique project was launched to show the ice and snow culture and charm of Harbin that is a renowned tourism city in northeast China. Nowadays, it is a must-visit place in Harbin in winter. There are various kinds of ice sculptures, exciting snow entertainment projects and interesting themed performances.
Basic Facts about the Harbin Ice and Snow World:
Harbin Ice and Snow World isan annual ice and snow-themedcarnival that runs from Christmas to early March. Here you can enjoy the beautiful ice sculptures, snow sculptures and ice and snow castle. At night, with the decoration of neon lights, the ice and snow world is even more charming.
There are so many entertainment projects in Ice and Snow World.Visitorscan try to climb the ice and snow castle, have an exciting time on the longest ice slide of China, take the forest little train, ice motorcycles or snowmobile or venture the ice maze with your And there are also many competition activities for visitors such as snow CS, snow football or tug-of-war on the ice, which are very interesting and the majority of them are not needed to pay extra fees.
Therealsohas a parade of staff dressed up as cartoon characters and ice crystal wedding shows of princes and princesses. If you are tired, you can also enjoy acrobatic ice dancing, a large-scale live performance of "tracks in the snowy forest" and a wonderful singing and dancing event performed by foreign actors. Each year the ice world will have a different theme, and it will refresh its performances and ice sculptures.
In addition to the ice and snow world theme carnival in winter,it has also built an ice and snow world theme parkfor people to visit in summer, where it is available for visitors to experience the ice and snow world indoors even in hot summer.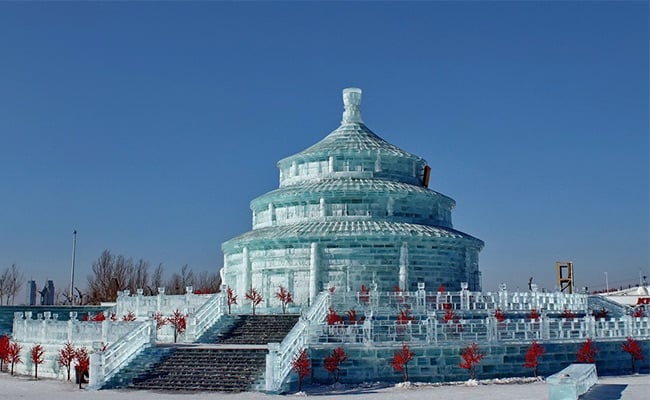 Travel tips:
Generally speaking, visitors often get to the Ice and Snow World at three or four o'clock in the afternoon, and then stay here until the evening to see the unique ice lanterns.
It is wise for visitors to avoid Spring Festival and weekends, when crowds are likely to take hours to queue for some projects.
Usually three or four o 'clock in the afternoon to the ice and snow world to play, play until the evening to see the ice lanterns which arevery beautiful. But try to avoid Spring Festival and weekends, when crowds are likely to take hours to queue for some projects. It can be very cold after a long time in the snow and ice world, so be sure to wear warm clothes and bring a thermos cup filled with hot water.
The scenic area has many restaurants for visitors to choosefrom, including KFC, UBC Coffee, Oriental dumpling king and other restaurants, but the price is more expensive than outside the scenic area.
Many buses in Harbin stop operations at 6or 7 pm, so it is necessary for you to know the time of the last return bus. If you come back too late at night, it may even be difficult to get a regular taxi, but do not easily believe those unlicensed cars at the gate of the scenic area, they, which are usually overcharged.
Because the battery is easy todeplete in low temperature and the electrical appliances are easy to fail, tourists who love taking photos must pay attention to the warmth of the camera and take more spare batteries.
Don't throw away the ticket after entering the scenic spot, because almost all the projects in it need ticketsand
How to Buy Entrance Tickets:
| | |
| --- | --- |
| Only for one day | CNY 330 |
| Two days with unlimited entry times | CNY 520 |
Opening time: 11:00-21:30 (From Dec 24th,2019- Mar,2020)
When is the best time to visit?
There is no denying that the best time to visit the Ice and Snow World is winter (December – February in the next time). Visitors can fully enjoy the beautiful snow scene with the city covered with the white snow.
Tips: Visitors had better avoid the official holiday in China because many Chinese citizens choose to travel on official holidays to ease the pressure of their work. As a result, many Chinese tourist attractions are overcrowded and traffic jams are common. Therefore, visiting China at this time will bring tourists a less pleasant travel experience.
Official Holidays in China
| | |
| --- | --- |
| Chinese New Year | Around January or February |
| Winter vacation | January-February |
| Labor Day | May1st -3rd |
| Summer vacation(for students) | July-August31st |
| Mid-Autumn Festival | Around mid-September |
| National Day | October 1st-7th |
How to get to the Ice and Snow World?
Visitors can take Bus No.29, 47, 80, 119, 125, 126, 211, 213 or 551, and get off at the Ice and Snow World Station.
More Information
Booking Method
Step 1: You can directly book online or please feel free to share your tour plans or thoughts at servic

[email protected]

, our travel consultant will contact you within 12 hours.
Step 2: A small amount deposit will be required to book a tour. After deposit received, a detailed service voucher will be sent to you to confirm the booking.
Step 3: Balance due will be required 7-15 days ahead of your travel date.
If you have any further question, please feel free to contact us!
Email: [email protected]
Cellphone number: +86 15129005119
WhatsApp / Wechat ID: 008615129005119
Facebook: @xianholidaystravelagency
Our Tour Guide
The core of our service is excellent travel guides. Over 20 years, we have built up a considerable professional guide team that is knowledgeable, attentive and flexible. The most experienced and reliable guides will be arranged for your unique China tour. Our passionate guide team is full of contagious enthusiasm and keen interest to share culture and history in a pleasant manner. We are always glad at your service to lead you to explore a real China and experience authentic local life in China.
Our Driver and Vehicle
The first mission of our service is to ensure you feel safe and comfortable during your travel. The vehicles we use are air-conditioned, clean and well-maintained. Our drivers are all licensed drivers with many years of driving experience. Moreover, we offer free baby seats for families with little kids.
Meals
Food is a very important part of Chinese culture. You won't want to miss the opportunity to taste the real local Chinese food!
Buffet breakfast will be included in the hotel if you would like accommodation to be arranged by us. Having lunch at local restaurants close and convenient to the attractions you will visit, you would enjoy the local dishes in each city. Chinese style, Vegetarian or Muslim meals are all available. If you have any other diet requirements or allergies, please feel free to let us know, we will try our best to organize it.
For daily dinner, you are suggested to have it on your own when you are exploring each city in your own time, this way would be more flexible for you to choose food as per your interest and preference.
Free Inquiry: