Located on the north bank of Songhua River, Harbin city, the sun island scenic spot covers a total area of 88 square kilometers, of which 38 square kilometers are planning area and 50 square kilometers are conservation areas. As an island in the Songhua river of Harbin city, it is located between the new and old city of Harbin and is divided into eastern district, central district and western district. With the rapid development of tourism, it has become a multi-functional scenic area composed of ice and snow culture, folk culture and other natural resources, which is also a renowned summer resort and an ecological area along the Songhua river in China.
Basic Facts about the Sun Island Scenic Area:
Historical records show that as early as 300 years ago, the Qingdynasty exploited the sun island scenic areaas a naval camp. In the 1920s, with the completion of the Middle East Railway, Harbin developed into a commercial town with convenient land and water transportation system, and the Sun island became a summer resort for foreigners at that time, and many exotic and unique European buildings were left from then on. During the Anti-Japanese War, many revolutionary activities were held on the island.
Sun island is covered withbeautiful, natural and charming scenery. The view of four seasons here is quite distinct but all attracting. In Spring, the flowers here are bloom and the leaves and trees turnto be green and density, where everything is filled with vitality. In Summer, with cool weather and beautiful natural scenery, many people regard it as a popular summer resort and come here for relaxation. During the Autumn, it looks like a vivid oil-painting with the charming golden natural scenery, which looks like a fairy land. And in Winter, with the coverage of white snow, people can walk in the snow or visit the famous Snow Sculpture Exposition in Sun Island, where people can enjoy the fun of the snow and ice world in northeast China.
There are many interesting scenic spots in the area, such as Flower Garden, Ice Sculpture Garden, Deer Garden & Swan Lake & Squirrel Island, Exotic Russian area, Cloud-water Gloriette, Sun Island Art museum, Sun gate and Sun Stone that is the symbol of the Sun Island.
How to Buy Entrance Tickets:
| | |
| --- | --- |
| Admission Fee | CNY 30 |
| Snow Sculpture Exposition | CNY 330 |
Opening time: 08:00-17:00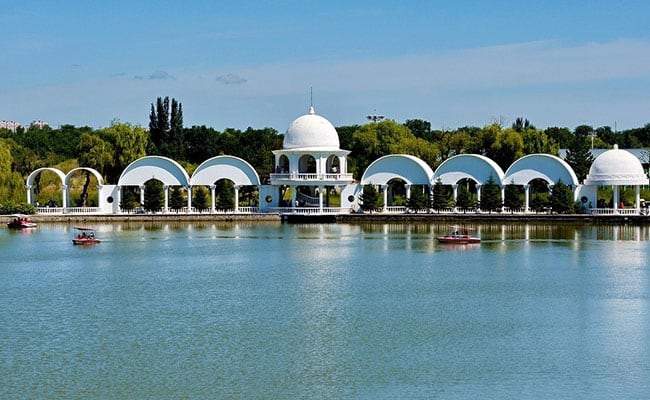 When is the best time to visit?
Honestly speaking, with the quite distinct but all attracting scenery in four seasons, the sun island is a desirable tourist destination all year round, where people can appreciate different natural landscapes at different times. And if you come here in winter, you can also have a chance to visit the famous Snow Sculpture Exposition here to enjoy the fun and charm of the dreamy snow and ice world.
Tips: Visitors had better avoid the official holiday in China, because many Chinese citizens choose to travel on official holidays to ease the pressure of their work. As a result, many Chinese tourist attractions are overcrowded and traffic jams are common. Therefore, visiting China at this time will bring tourists a less pleasant travel experience.
Official Holidays in China
| | |
| --- | --- |
| Chinese New Year | Around January or February |
| Winter vacation | January-February |
| Labor Day | May1st -3rd |
| Summer vacation(for students) | July-August31st |
| Mid-Autumn Festival | Around mid-September |
| National Day | October 1st-7th |
How to get to the Sun Island Scenic Area?
It is convenient for visitors to take Bus No. 29, 47, 80, 125, 126, 127, 212, 213 or 215 and get off at the Taiyangdao Daokou Station.
Visitors can take a boat at the flood prevention monument, Jiuzhan or Daowai qidaojie dock to get to the Sun island park directly.
Visitors can also take a cable car over the Songhua river at Tongjia Street to get to the Sun island scenic area.