Harbin is the cradle of Chinese ice and snow art. Harbin ice lanterns garden party, founded in 1963, was held in Zhaolin park every winter, which covers an area of 6.5 hectares and uses ice about 2000 cubic meters to make ice artworks more than 1500 or so. Nowadays, it is the earliest and largest ice lantern exhibition in the world, which has become a local traditional project and a renowned tourist spot attracting visitors home and abroad every year.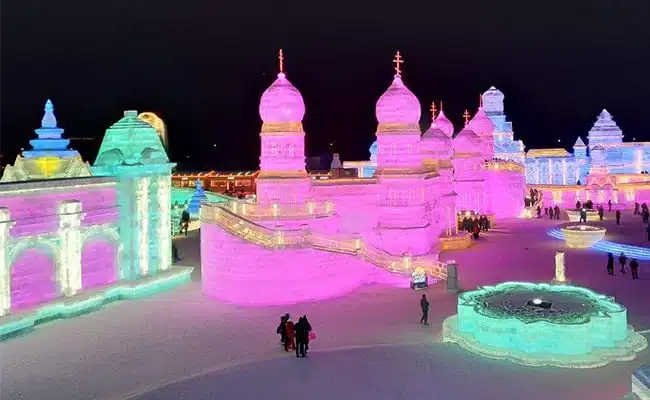 Basic Facts about the Ice Lantern Garden Party:
The annual ice Lantern Festival in Zhaolin Parkin Harbin starts on January 5 and lasts until the earlyof March. Harbin artists use the local ice of the Songhua river to create ice sculptures in various shapes, such as ice castles, ice city walls, ice houses, ice bridges and cartoons, then use modern scientific and technological means to form an ice lantern art with unique northern characteristics. On the site covering an area of more than 60,000 square meters, there are more than 1,000 scenic spots are exhibited. With the skillful techniques of artists and craftsmen, the natural ice from the Songhua River has become vivid and exquisite artwork, a world of ice and a sea of ice lanterns, which is known as the "never repeated fairy tale."
Visitors here can not only enjoy various kinds of ice sculpture art, but also participate in ice slides, ice bumper cars, ice bikes, andeven other interesting activities like guessing lantern riddles, where visitors can feel deep fun of the snow and ice in northern China.
Travel tips: A.It will be cold if you stay in the ice lantern garden party, so it is necessary for visitors to keep warm.
B.There are few tourists in the park during the day time. But it is recommended to go there after 3 or 4 p.m., because the ice lanterns at night are the most worth seeing.
How to Buy Entrance Tickets:
Price of Entrance Tickets: CNY 150
Opening Time:
| | |
| --- | --- |
| Opening Time | 09:00-17:00 |
| Beluga Whale Show | 10:00, 12:00, 14:00, 16:00 |
| Sea Lion and Seal Show | 11:00, 13:00, 15:00 |
When is the best time to visit?
There is no denying that the best time to visit the Ice Lantern Garden Party is winter. When Harbin is covered with white snow and ice, and visitors can enjoy the snow and ice world and feel the unique fun in northern China.
Tips: Visitors had better avoid the official holiday in China, because many Chinese citizens choose to travel on official holidays to ease the pressure of their work. As a result, many Chinese tourist attractions are overcrowded and traffic jams are common. Therefore, visiting China at this time will bring tourists a less pleasant travel experience.
Official Holidays in China
| | |
| --- | --- |
| Chinese New Year | Around January or February |
| Winter vacation | January-February |
| Labor Day | May1st -3rd |
| Summer vacation(for students) | July-August31st |
| Mid-Autumn Festival | Around mid-September |
| National Day | October 1st-7th |
How to get to the Ice Lantern Garden Party?
Visitors can take Bus No.8, 23, 29, 53, 83, 114, 132, 201 or 206 and get off at the Zhaolin Park Station.