The Luoyang National Peony Garden in China's ancient capital city is a mesmerizing destination. Spanning 700 mu (about 46 hectares) and divided into the North and South Gardens, it showcases over 1 million peony plants of 1,200 varieties. This scenic spot captivates visitors with its vibrant peonies, extravagant colors, and cultural significance. It hosts the renowned Luoyang Peony Festival and offers areas dedicated to peony culture, leisure, and viewing, where visitors can immerse themselves in captivating performances and cultural activities. The garden is a testament to the enduring beauty and rich heritage of peonies, creating a memorable experience for all who visit.
Location: Luoyang City, Luoshan Zhonggouxi, Henan Province, China
Opening time: 9:00 – 18:00
Ticket price: 40 yuan (free for children under 1.2 meters)
Time needed: About 2 hours
Best time to visit: April to early May, when the peonies are in full bloom
Suited to: Anyone, especially those who love flowers
The Peony Festival: Celebrating Nature's Masterpiece
The Luoyang Peony Festival is a significant cultural extravaganza that honors the peony, China's national flower, in the historic city of Luoyang. Taking place annually from April to early May, the festival coincides with the peak blooming season of the peonies, transforming the city into a vibrant and aromatic paradise. Drawing millions of visitors from across the globe, the festival offers a multitude of enchanting activities, including peony viewing, a captivating peony painting exhibition, the whimsical peony fairy parade, and engaging folk performances. The Luoyang National Peony Garden serves as the festival's main venue, boasting an impressive collection of over 1 million peony plants encompassing 1,200 distinct varieties. Additionally, other peony gardens throughout Luoyang provide equally breathtaking floral displays. The Luoyang Peony Festival stands as a priceless cultural heritage, showcasing the mesmerizing beauty and enduring charm of both peonies and the city of Luoyang.
What to See and Do in Luoyang National Peony Garden
1. Appreciate the peonies of different colors
Immerse yourself in the captivating world of peonies at the Luoyang National Peony Garden, where a kaleidoscope of colors, sizes, and species awaits. Marvel at the rare black peony and the ancient peony king, among other varieties, as they bloom in full splendor from April to early May, transforming the garden into a breathtaking sea of flowers.
2. Enjoy the archaistic architectures
As you explore, be enchanted by the archaistic architecture inspired by the Sui and Tang dynasties, featuring pavilions, cloisters, and sculptures that exude timeless charm. The garden's allure is further enhanced by an artificial lake, a cascading waterfall, and a captivating landscape water system, infusing the park with dynamic beauty.
3. Learn about the peony culture of Luoyang and China
Delve into the rich peony culture of Luoyang and China, with a history spanning over 1,000 years. Visit the peony culture area, where you can witness a myriad of folk performances and cultural activities that revolve around peonies, including the vibrant peony fairy parade, the exquisite peony painting exhibition, and the enchanting peony lantern show. Prepare to be captivated by the beauty, history, and cultural significance that intertwine within the Luoyang National Peony Garden.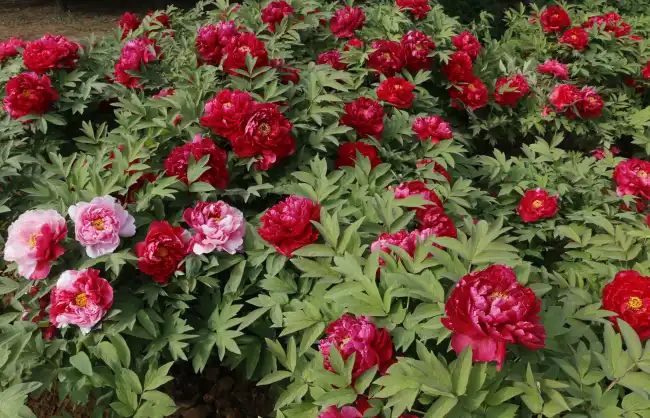 Best Time to Visit Luoyang National Peony Garden
The Luoyang National Peony Garden is a kaleidoscope of colors throughout the year, but the best time to witness its full glory is during spring. From late April to early June, the garden comes alive with a riot of vibrant peonies in full bloom. The delicate petals, ranging from soft pastels to bold and bright hues, create a breathtaking sight. Visitors can stroll through the garden, taking in the fragrant air and marveling at the sheer beauty that surrounds them.
How to Get to Luoyang National Peony Garden
The Luoyang National Peony Garden is conveniently located in Luoyang City, accessible from major cities in China. Visitors can reach Luoyang by air, train, or road. Luoyang is well-connected with direct flights from major cities like Beijing, Shanghai, and Guangzhou. The city also has an efficient railway network, making it easily accessible for travelers. Upon arrival in Luoyang, the garden is just a short distance away and can be reached by taxi or public transportation.
Planning Your Visit: Tips and Recommendations
To make the most of your visit to the Luoyang National Peony Garden, here are some helpful tips and recommendations:
Plan your visit during the peak blooming season, typically from late April to early June.
Check the weather forecast and dress accordingly. Comfortable walking shoes are essential for exploring the expansive garden.
Consider purchasing tickets in advance to avoid long queues during peak hours.
Bring a camera to capture the stunning beauty of the peonies and create lasting memories.
Take your time to wander through the garden and appreciate the intricate details of each flower.
Attractions nearby Luoyang National Peony Garden
White Horse Temple: Discover the cradle of Chinese Buddhism with its ancient halls, pagodas, and statues. Located 3 km away, take bus 56 or 58.
Longmen Grottoes: Marvel at the UNESCO-listed grottoes showcasing over 100,000 Buddhist statues, inscriptions, and stunning cliff carvings. Reachable by bus 81 or 99, located 15 km away.
Luoyang Museum: Immerse yourself in Luoyang's rich history through its vast collection of cultural relics, including bronze wares, jade, paintings, and more. Take bus 6 or 41, situated 5 km away.