Located in the southwest of Panjiayuan bridge, East-three Ring Road Beijing, Panjiayuan antique market covers an area of 48,500 square meters. The market is divided into six business areas, including the stalls area, the ancient building area, the classical furniture area, the modern collection area, the stone carving area and the catering service area. The current market formed in 1992. With the rapid development of the folk antique art trade, it has become a large antique art market spreading traditional folk culture of China.
Basic Facts about the Panjiayuan Antique Market:
The main goods sold here are jewelry, jade, arts and crafts, carved furniture, collectibles, ornaments, calligraphy and paintings. The market with the annual turnover of billions of yuan has more than 4,000 businesses and nearly 10,000 traders.
Here is also the center of famous folk arts and crafts with differentregional characteristics goods, such as Hengshui snuff bottle of Hengshui (Hebei Province), new year picture of Yangliuqing (Tianjin), embroidery of Jiangsu Province, wood carving of Dongyang (Zhejiang Province), stone-carving sculpture of Quyang (Hebei Province), shadowpuppets of Shandong Province, porcelain and crystal ornaments of Jiangxi Province, purple clay teapots of Yixing (Jiangsu Province), bronze ware of Shaanxi Province, Minority costumes of Yunnan Province, Buddhism items of Tibet and jade of Xinjiang, etc.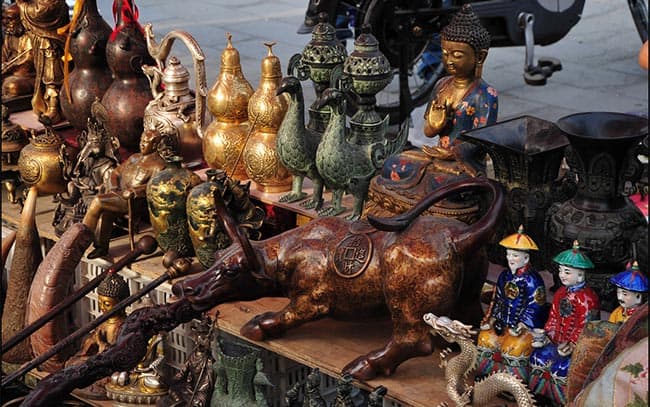 Opening time:
| | |
| --- | --- |
| Mon – Fri | 8:30 – 18:00 |
| Weekends | 4:30 – 18:00 |
Notes: The stores of the Panjiayuan Antique Market open every day, but the street stalls only open on weekends.
Tipsfor visitors who want to buy something at the Panjiayuan Antique Market:
Although nearly 85 percent of the goods sold in the Panjiayuan antique market are counterfeits, don't say it directly ifyou recognize it. Because of the particularity and specialtyof antique trade and antique appraisal, even experts may make a wrong authentication. So, if you directly say it, the sellers may think you want to ruin his business deliberately, which may cause some unnecessary troubles.
No matter what you want to buy, please be sure to have a certain understanding about the goods before bargaining. Don't bargain casually so that the seller will know that you are layman and give you a whopping price than its real price.
It is necessary to be careful and cautious whileshopping or walking. Please pay attention to any fragile goods in case you break somethinginadvertently, because the compensation of many antiques can be very expensive.
If you really want to buy some treasures here, it is wise for you to shop here on the weekend, becausethere are more stalls and goods with the earlier opening time for you to choose on the weekends.
How to get to the Panjiayuan Antique Market?
Visitors can take Bus No.34, No.36, No.51, No.99, No.300 and No.674 and get off at the Huangweixili Station or Panjiayuan Station.
Visitors can also take Bus No.28, No.99, No.368, No.627, No.638, No.974, Night Bus 214 Yutong 107 and Airport Line 1 and get off at Panjiayuan Bridge(Panjiayuan Qiao) Station.
Visitors can take Subway Line 10 and get off at the Panjiayuan Station (Exit B), and then walk toward west about 100 meters.