Located on the north bank of the Songhua river, the Siberian Tiger Park covers an area of 1.44 million square meters and has more than 700 Siberian tigers, which is built to save and protect the world's endangered Siberian tiger. Since its opening to the outside world in 1996, the Siberian Tiger Park has attracted tourists from home and abroad for its wildness and charming charm. Today, Siberian tiger park is the largest breeding base for the Siberian tiger in the world, and after the years of development, it has become a comprehensive park integrating protection, scientific research, breeding, tourism and vacation.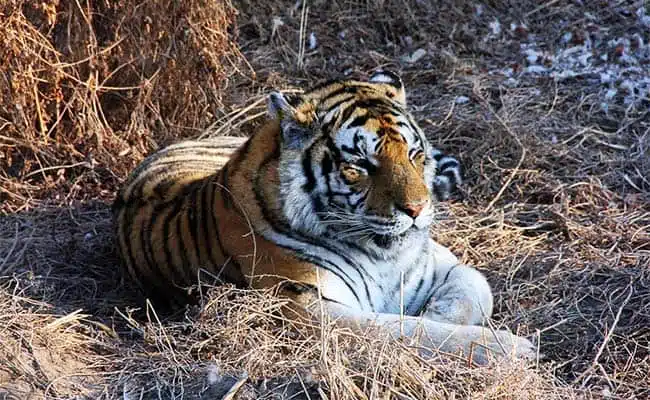 Basic Facts about the Siberian Tiger Park:
There are wild stocking area, full-grown tigers area, tiger cubs area, lion and tiger area, tiger king area, breeding area, pedestrian zone, view platform and other scenic spots in the tiger park, where people can see more than 100 Siberian tigers and the white tiger, Snow White tiger, lion, lynx, liger, cheetahs, leopards, black leopard, Bengal tigers, jaguars and other rare animals. The whole trip may take about 2The mostimportant is that the scenic spots in the tiger park need to take the specified sightseeing bus to travel except the pedestrian area and view platform.
The Siberian tiger is the largest cat in existencewith an average body length of about 2.8 meters, a tail length of about 1 meterand a weight of more than 350 kilograms. The largest record is 780 kilograms and 4 meters long, which was found in Russia. The feather is yellowish-brown in summer, and turn to pale yellow in winter. The dorsal and body sides have multiple black narrow stripes, and usually two stripes close to each other in the shape of willow leaves. The head of Siberian tiger is large and round with several black stripes that often looks like the word "wang" in Chinese (which means king in English) on the forehead, so it is also known as the "king of the jungle". It lives in forests, shrubs and weeds With the sharp senses and strong and vigorous body, it usually preys on large and medium-sized mammals and occasionally small mammals and birds. The Siberian tiger is mainly distributed in the lesser khingan mountains and changbai mountains of northeast China and in Siberia area.
In order to further enrich the tourism resources of Harbin, the Siberiantiger park built the first international circus city of Harbin in early 2015, and introduced thefamous performance of Oriental international circus from the Suzhou, Anhui province–the hometown of the Chinese Therefore, visitors here can not only learn about the life and knowledge of the Siberian tiger, but also enjoy the wonderful circus performance.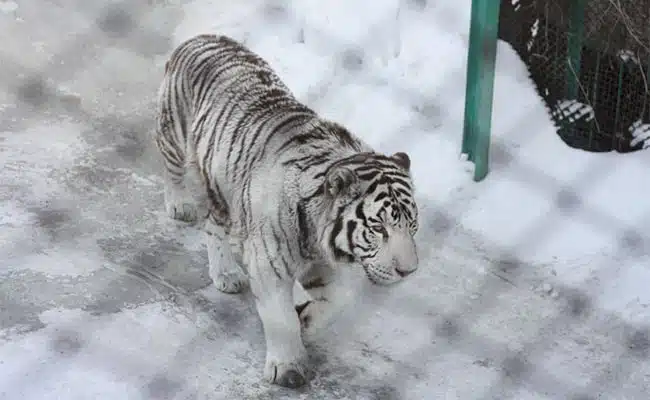 How to Buy Entrance Tickets:
| | |
| --- | --- |
| Admission Fee+ Sightseeing Bus | CNY 130 |
| Admission Fee+Battery Car | CNY 110 |
| Admission Fee of the International Circus City | CNY 78 |
| Combo ticket (Admission Fee+Battery Car+International Circus City) | CNY 180 |
| | |
| --- | --- |
| March to November | 08:00 – 17:00 |
| December to February | 08:30 – 16:30 |
When is the best time to visit?
The Siberian tiger park is a tourist destination where it's suitable for traveling all year around. But in some heavy snow or cold weather in winter, the animals may choose to stay inside instead of staying outside, so it is possible for you not to see a great number of animals.
Tips: Visitors had better avoid the official holiday in China, because many Chinese citizens choose to travel on official holidays to ease the pressure of their work. As a result, many Chinese tourist attractions are overcrowded and traffic jams are common. Therefore, visiting China at this time will bring tourists a less pleasant travel experience.
Official Holidays in China
| | |
| --- | --- |
| Chinese New Year | Around January or February |
| Winter vacation | January-February |
| Labor Day | May1st -3rd |
| Summer vacation(for students) | July-August31st |
| Mid-Autumn Festival | Around mid-September |
| National Day | October 1st-7th |
How to get to the Siberian Tiger Park?
It is convenient for visitors to take Bus No. 35, 122, 123 and 145 and get off at the Hulinyuan (Siberian Tiger Park) Station.