Silk Street, also known as Silk Market or Xiushui Street in Chinese, is located in the extended line of Chang'an Street, Chaoyang District, and close to the international Central Business District of Beijing which dominates a prominent location with convenient traffic. Nowadays, it is not only the most influential international shopping market in China, but also the most famous street of China that can definitely reflect the profound Chinese culture. As a tourist destination, it enjoys the same reputation with the Great Wall and the Forbidden City.
Basic Facts about the Silk Street:
Founded in 1978, the Silk Street was an outdoor market with a small number of shops at that time. The government had approved itsestablishment by the end of 1985. At the same time, some merchants began to sell silk clothes and handicrafts with Chinese characteristics, and it became popular as "China's silk street" very soon. Nowadays, the Silk Street is a modern shopping mall with eight floor, which is a must-visit spot formany foreign tourists.
There are nearly 1000 retailers and more than 20 kinds of commodities such as clothing, shoes, bags, jewelry, porcelain, glasses in Silk Street. The most distinctive goods are silk, porcelain and handicrafts with unique charm of Chinese traditional culture.With the settlement of many time-honored brands such as Wu yutai, Tongren Tang and the various kinds of cost-effective products.
As the designated reception unit for various foreign affairs activities and the featured commercial street in Beijing, Silk Street has received many national leaders and celebrities all over the world, such as the former U. S. president George Herbert Walker Bush, famous swimmer Michael Phelps, football coach José Mourinho. It is also the main shopping center for foreign guests of Forum on China-Africa Cooperation in 2006, 2008 Beijing Olympic, One Belt and One Road summit in 2017.
Silk Street not only includes a wide variety of traditional Chinese products, but also equipped with tea houses, coffee shops and restaurants on the fifth and sixth floors for tourists to have a rest.
Opening time: 09:30-21:00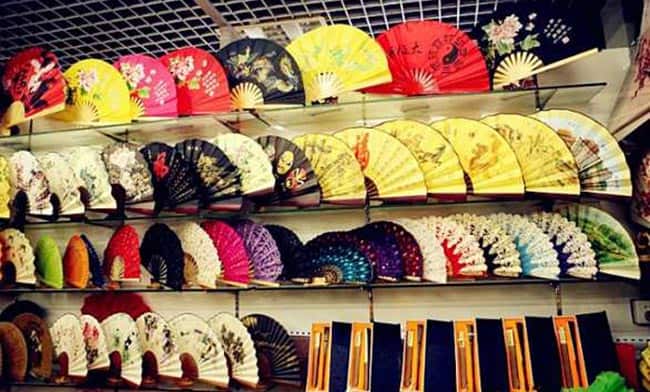 Tipsfor visitors who want to buy something at the Silk Street:
What is the most important and useful skill for visitors who want to buy something at Silk Street is bargain. Visitors can usually buy what they want at 20% or 30% price offor even cheaper through bargaining with the retailers. What's more, many salespeople here are good at speaking English, so please don't be shy or embarrassed about bargaining as it is a common phenomenon in Silk Street.
If you want to buy something, it is necessary for you to shop around and compare different price and quality of the same itemto get the most cost-effective price.
Tip: some items withinternational brands sold here may be fake, be careful to distinguish the fakes.
How to get to the Silk Street?
Visitors can take Bus No.28, No.43, No.120, No.126, No.403, No.639 and No.673 and get off at the Yonganli Lukou Bei Station, and then walk toward south to get to the Silk Street.
Visitors can also take Bus No.1, No.9, No.619 and No.688 and Night Bus 1 and get off at the Yonganli Lukou Xi, then walk toward east to get to the Silk Street.
 Visitors can take Subway Line 1 and get off at the Yonganli Station (Exit A).