What Kind of Experience Can Be Called a Life-time Journey? The Northwestern China Circuit
The famed Silk Road stretched for more than 7,000 kilometers from Xian (known as Chang'an in ancient times) to Rome. Over 2,000 years have passed since Zhang Qian, an envoy of Emperor Wu of the Western Han Dynasty (202 BC — 8 BC), pioneered this ancient route. Now the Silk Road attracts countless people that have itchy feet.
We've planned a 7-day classic Silk Road tour, covering mind-blowing experiences like biking around the gorgeous Qinghai Lake, enjoying an indulgent hot spring spa at the foot of a snow mountain, visiting rare and magical Yadan Landform in water, driving through the bleak Qaidam Basin, appreciating the delicate murals at Mogao Grottoes, and much more. If you are looking for some new adventures, do yourself a favor and read on. You are so very close to a once-in-a-lifetime traveling experience. Now, let's have a look at the itinerary.
Day 1: Arrival in Xining
Get picked up at Xining airport, check into the hotel, and do whatever you like the rest of the day. If you get to Xining early, you will have plenty of time at your own disposal. You probably can go to explore People's Park, Qinghai Provincial Museum, Ma Bufang Mansion, and Dongguan Mosque. If you are interested in local snacks, there are some nice places to eat, such as Mojia Street, Shuijing Lane, and Koufu Street.
Day 2: Xining — Ta'er Monastery — Heimahe Township
Today's first stop is the famous Ta'er Monastery. You will marvel at the amazing complex, a mixture of Tibetan and Han Chinese architectural styles, feel the power of faith in the serene monastery, and admire the exquisite butter sculptures, mural paintings, and barbolas which are called the "Three Wonders in Ta'er Monastery".
Then you will head to China's largest inland lake, Qinghai Lake. You will be fascinated by the stunning scenery and take your camera out. Beautiful yellow flowers are blooming everywhere, and yaks and sheep are grazing across the grasslands. You will have a bike ride around the lake to fully appreciate the beauty of the lake.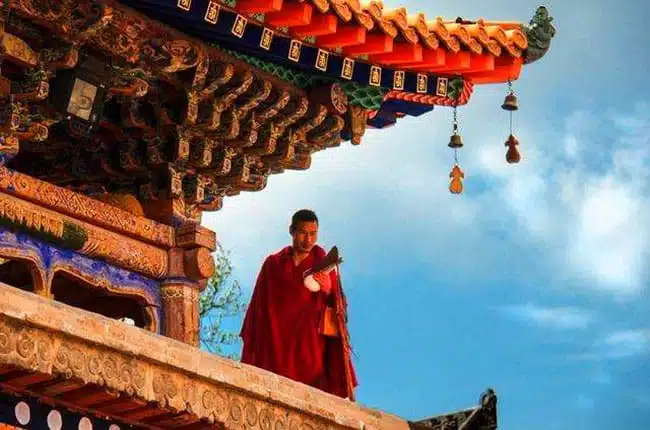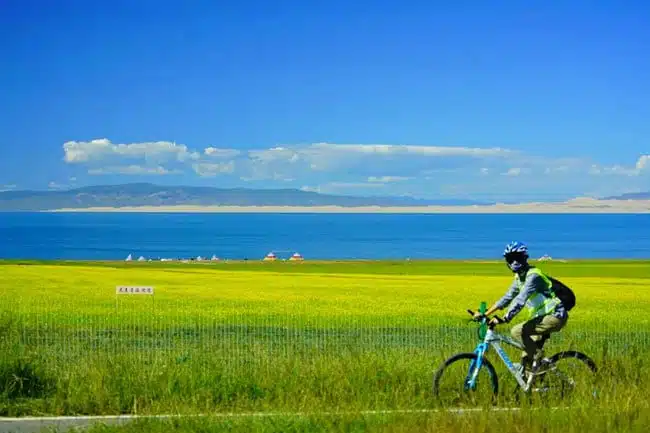 Day 3: Heimahe Township — Chaka Salt Lake — Da Qaidam
If you would like to see the sunrise at Qinghai Lake, you need to get up early. You can take some great photos. When your memory of it loses its vividness in the future, the awesome moment will live forever through the photographs.
Next, you will go to Chaka Salt Lake which has the reputation of "Mirror of the Sky in China". Standing in the lake is like being in a fairy-tale world. Highly recommend you bring a pair of slippers. You can wear colorful clothes that contrast pleasantly with the lake.
In the evening, a hot spring spa will be waiting for you at the only hot spring spot in Qaidam area. People call it holy hot spring closest to the sun, moon, and stars. Please take your swimsuit.
Day 4: Da Qaidam — Nanbaxian — Yadan Landform in Water —Qaidam Basin — Akesai — Dunhuang
You will begin today's exploration with a special landform which is very rare in the world and still not over-exploited. It's the extraordinary Yadan Landform in water. Theoretically speaking, Yadan Landform and water can not coexist. It's truly a masterpiece of nature like a huge fleet sailing on the ocean.
Then it's time to drive through Qaidam Basin, the throat of Qinghai-Tibet railway. You will sit through the drive with spectacular scenery outside the window. It's a great opportunity to see the vast and sparsely populated northwest of China.
Next, you will visit Akesai Oil Town. It was once a dynamic and prosperous small town but was abandoned after the oil was gone. In recent years, the town grabbed people's attention again as the filming place of a Chinese film Chronicles of the Ghostly Tribe. You still can see the run-down government building, school, auditorium, gas station, hospital, shops, etc.
After exploring the town, you will hit the road again. When you arrive in Dunhuang, you can grab a bite at the bustling Shazhou Night Market.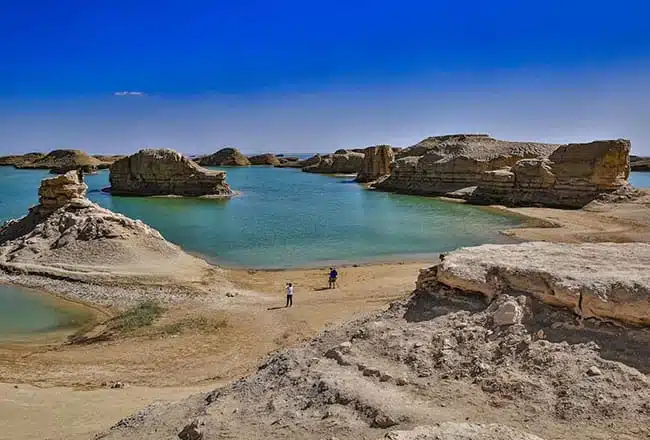 Day 5: Dunhuang — Mogao Grottoes — Echoing-sand Mountain & Crescent Spring
Mogao Grottoes, a UNESCO World Heritage site, is known as the "treasure house of oriental art". It has a history of twists and turns. It houses an excellent collection of precious sculptures and murals. Upon walking into the caves, you will feel like stepping back in time. Please note that no photos are allowed inside the caves.
In the afternoon, you are going to visit the fascinating Echoing-sand Mountain & Crescent Spring. Camel riding is a must thing to do there. You will have lots of fun. You also can walk up the giant sand dune hill at dusk to get a perfect location to shoot a breathtaking desert sunset.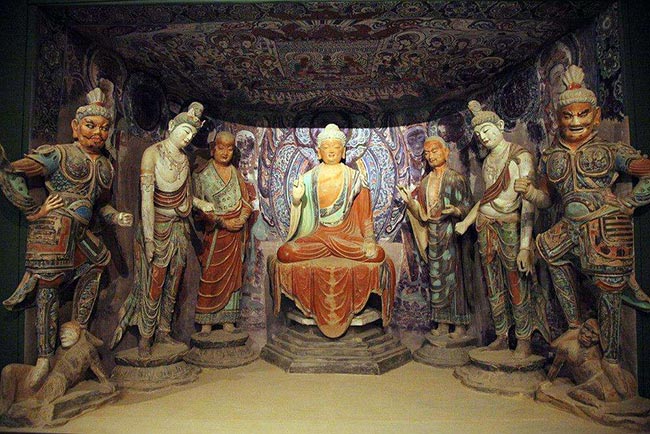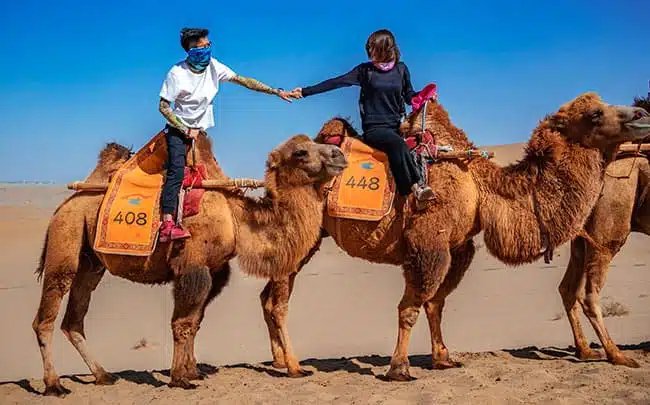 Day 6: Dunhuang — Guazhou — Jiayuguan
The magnificent Jiayuguan Pass is situated at the western end of the Great Wall. This ancient fortress was built in 1372 during the Ming Dynasty (1368 — 1644) to safeguard the Hexi area. You can walk on the fortress walls and look as far as your eyes can see. With the endless Gobi desert and rolling Qilian Mountains in the background, it looks amazing.
Overhanging Great Wall is also well worth a visit. It was once an important part of Jiayuguan's military defense system. Standing on the walls, you can imagine what it was like before.
BTW, if you visit Guazhou in summer, don't miss the famous sweet melon.
Day 7: Jiayuguan — Zhangye Danxia Landform — Departure
Zhangye Danxia Landform is so colorful and picturesque that it was selected by Chinese National Geography as one of the Top Seven Most Beautiful Danxia Landforms in China. The colors change with different sunlight. You will be amazed by how gorgeous this natural wonder is.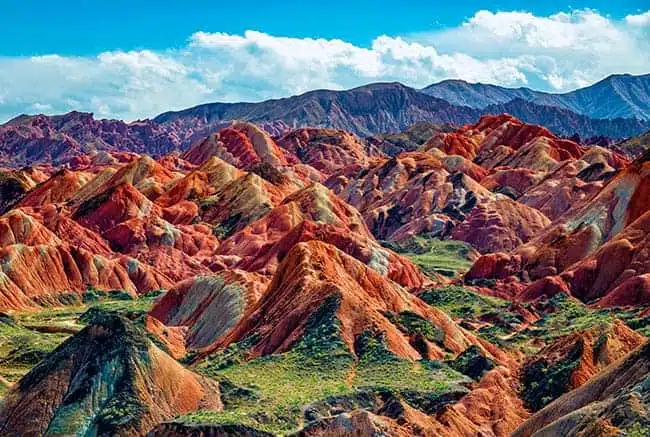 After bidding goodbye to the spectacular site, you will leave for your next destination. All in all, to understand the culture and history of the Silk Road and see the superb scenery, you have got to see it for yourself. The ancient Silk Road proves to be an unforgettable getaway for all visitors. If you want to see more of it or make some adjustments to the tour, you are most welcome to contact us.