Bai Luyuan Skiing Resort
It has the largest artificial snow facilities among the cities in the western area of China and it also outfits special skiing equipment for children of 2 to 12 years old. This ski field operates from the middle December to the end of February and its working duration is 8:30-23:00.
Booking Hot-line: 029-82615133/ 82615366
Add: 86 Shui An Rd, Ba Qiao district, Xian, China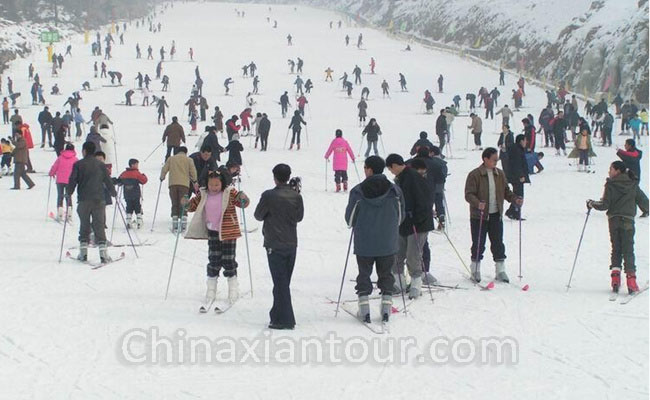 Ski Trails
The Bai Luyuan Skiing Resort occupies an area of 20000 square meters. Its main trail is 300 meters in length and 60 meters in width. And the slope angle of the trail is 7. Exercisers can ski the "S" route without holding snow battle.
Ski Rack Rate
Items
Rates
Notes
Skiing
Weekday
Weekend
National Holiday

1. The rates include a set of skis, ski trail transportation.

2. RMB400 for skis deposit.

3. Entrance fee: RMB30/pp (children under 1.5 meters or students with Student's Identity Card enjoy half price)

Day Ski: RMB80/Hr/pp
Day Ski: RMB180/2Hrs/pp
Day Ski: RMB220/2Hrs/pp
Day Ski: RMB150/Whole Day/pp
Day Ski: RMB220/3Hrs/pp
Day Ski: RMB280/3Hrs/pp
Night Ski: RMB100/PP
Night Ski: RMB100/PP
Night Ski: RMB150/PP
Ski Clothes Rental
RMB30/set (excludes deposit RMB300/set)
Snow Tube Rental
Single Ski Circle: RMB80/30minutes/one

Double Ski Circle: RMB120/30minutes/one

Triple Ski Circle: RMB160/30minutes/one

(Deposit for Ski Circle: RMB500/one)

Closet Rental
RMB100/one

Opening hours:

Day Ski: 08:30-17:00; Night Ski: 16:30-23:00

National Holiday: Spring Festival
Ski School
There are several rich-experienced ski instructors who are always ready to help you in case of need and the skis learning fees are as follow:
Skis Learning Fees:
| Time duration | 1 person | 2 people | 3-5 people |
| --- | --- | --- | --- |
| 1 hour  | RMB160/pp | RMB200/pp | RMB240/pp |
| 2 Hours | RMB280/pp | RMB320/pp | RMB360/pp |
Ski Resort Other Activities:
It is only one ski filed in Xian which has outfits the special skiing equipment for children of 2 to 12 years old.
Non-Skiers:
For little kids or adult non-skiers, just buy the entrance ticket and see or take part in the snow activities in the skiing resort.
Notes:
1. Before skiing, it is better for you to spend 10 minutes to take some warm-up exercises.
2. Please don't exceed the skiing time duration. If you exceed 1 minute, one hour's fee will be charged.
3. The ski filed begin to count the time after the skiing ticket is print for you but they will leave 10 minutes for you to change clothes.
Transfer fee
We will be very glad to arrange the car with driver for you to transfer you to Bai Luyuan Skiing Resort as the public transportation from Xian downtown area to the ski field is not so convenient. The transfer fees are as follows:
Tour Price Per Person
Book the tour with $50 deposit. ($=USD)
| Num of Person | 1 | 2 | 3 | 4 | 5 |
| --- | --- | --- | --- | --- | --- |
| Tour Price | $120 | $67 | $45 | $34 | $27 |
| Num of Person | 6 | 7 | 8 | 9 | 10+ |
| Tour Price | $24 | $22 | $22 | $21 | Contact Us |