Yousufu Dumpling Eatery in Alleyway of Muslim Quarter
During one's Xian Tour he will meet lots of food and snacks. Beside the well known cold noodles and Paomo (Pita Bread Soaked in Lamb or Beef Soup), dumplings is also food lovers' favorite food. Boiling, steaming and frying are the tree common dumpling cooking methods. In Muslim Quarter, the most welcomed dumpling is the dumpling in sour soup.  In main street of Moslim Quarter you could meet several well decorated dumpling restaurants. They are for tourists. If you walk further to narrow alleys you will reach the living community of local Muslim people and meet lots of eateries open for local people.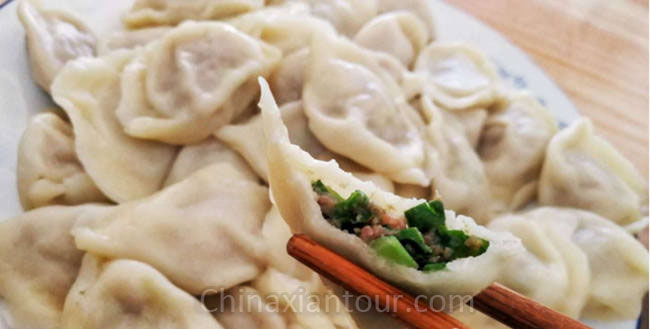 In Dogjuyuan Alleyway there is a dumpling eatery which is loved by local food lovers. The eatery is small. It covers less than 20 m2 and is run by the husband-and-wife. The wife is responsible for making dumplings and the husband is often busy with boiling dumplings. The wife is talkative and she is always ready to introduce features of their dumplings to their clients. And the cool husband is relatively silent. Their dumpling eatery has been there for 14 years. Though this eatery's age is nothing compared with the century-old restaurants in Muslim Quarter, it commits to dumpling for over ten years and wins good fame among local people with its own unique feature.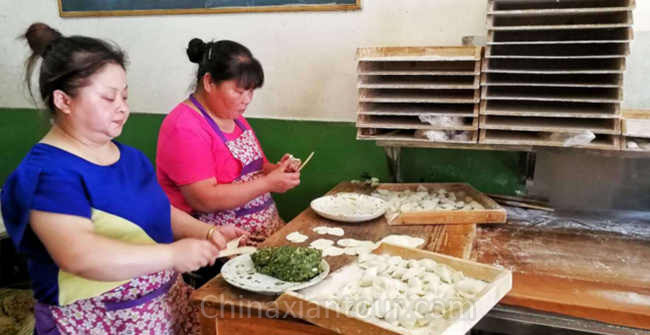 Different from other dumpling restaurants, when you come there you do not to order filling of the dumplings. As long you has no special requirement on filling, the master will offer a dish of dumplings with different flavor. You may meet six different fillings in one dish. Dumpling in sour soup in the eatery is especially worthy of trying.
Thant layered dumpling stands is a "creation"  of the eatery. The dumplings with same fillings are kept on the same layer.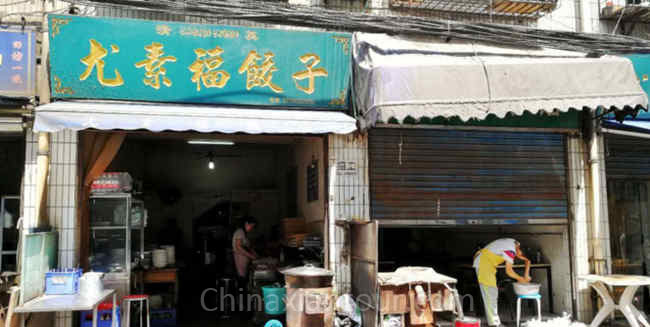 It is a much typical local eatery loved by normal Xian native. In a less bustling alleyway the husband and the wife earn their life by this small but attractive eatery.