Xian Shopping–The Muslim Street
With its rapid economic development, Xian is regarded as one of the most important cities in northwestern China. There are many big shopping centers, department stores and supermarkets in and around the city. Nowadays tourists in Xian can also enjoy shopping in Xian shops and stores, as they scatter in every corner of Xian. There are several famous shopping centers which mainly locate along Dong Dajie, Nandajie and Jiefang Road. Tourists even can shopping in some international famous band stores, such as Prada, LV, Bally, Burberry, Dior, Givenchy, Lancome, Estee Lauder etc.
Muslim Street
Although Xian is much smaller than Beijing or Shanghai, it is known as a great city for you to buy fantastic Chinese souvenir, especially for cultural items and antiques and the most important is the goods are generally cheaper and more varied than any other cities.
One of the most famous shopping place in all of Xian is the Muslim market, located right next to the Drum tower in central Xian. The Muslim market is also been seen as one of the most popular shopping places in all of China by foreign tourists. Thanks to its convenience location in the center of Xian City, the Muslim Street is a fantastic place to wander. At the Muslim quarter, you could find anything you want, whether it is clothes, jewellery, food or decorations. All shops and restaurants in the street are operated by Muslims descendants. The stalls flanking the narrow alleys sell almost everything you can imagine. There are even a number of stalls selling parts of aircraft. At Muslim Street, you can taste various kinds of Muslim food and local snacks, which is tasty and very cheap, including the locals' favorites, roasted beef, roasted fish, and Chinese pancakes. Hence the title "a street for gourmet" is deserved.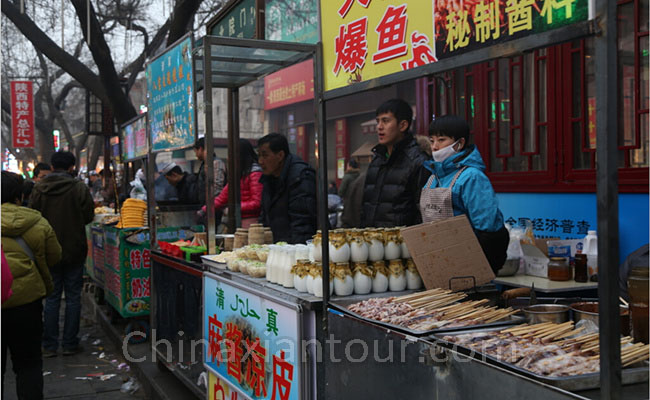 Muslim Street
Muslim Street boasts a long history. It is said that in old days, foreign diplomatic envoys and merchants used to live here. A few years later, they got married and had children. From then on, the population increased gradually. Today, most of the shops and stores on Muslim Market are opened by the descendants of those immigrants. All the Muslims here are the pious and devout followers of Islam so they united as a tight knit community, which keeps its own culture and traditions to this day even in such a modern society. People here are very familiar with each other because when they were young, they study in same school and then they grew to adults together on the Muslim street and still then one after another they got married and form a new family. The market is arranged in a large triangle by three long narrow streets, looking like alleyways. Only pedestrians are allowed in those streets. It becomes alive especially at night – very lively and noisy!
Besides the Muslim market, there is a modern shopping center, named Kai Yuan Shopping Mall. It is one of the biggest department stores in Xian. Both the price and the quality of the goods and the sales service are often praised by people who are shopping there. It is also known as one of the most popular shopping places in Xian.