Thatched Cottage of Du fu, located at Qinghua Road, Qingyang district, was the former residence of the famous poet Dufu in the Tang dynasty when he was living in Chengdu. He lived here for nearly four years and wrote more than 240 poems. Thus, this building is regarded as a "holy land" in the history of Chinese literature. The current thatched cottage of Dufu covering an area of 200,000 square meters and it was restored many times in the Song, Yuan, Ming and Qing dynasties. It is the largest, best-preserved, most famous and most distinctive place that Dufu lived. As a renowned cultural landscape,it is visited by many people all over the world every year.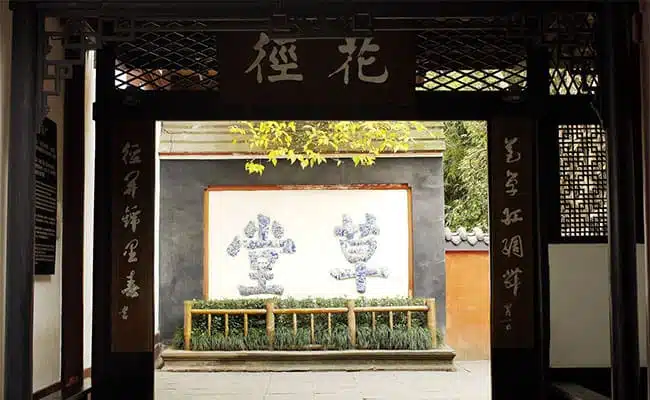 Basic Facts about the Thatched Cottage of Du Fu:
Dufu (712 — 770), a great realistic poet of the Tang dynasty, enjoys a great reputation "the poem saint". Although he didn't realize his own ambition throughouthis lifetime, he always concerned people and national affairs no matter where he was. With faithful thought of Confucianism, he created many famous works. Although Dufu was not famous at his time, his fame spread far and wide after his death. About 1,500 poems of du fu have been preserved, which had an eminent and profound influence on Chinese classical poetry and a profound effect on both Chinese and Japanese literature.So his poems are called as "the history of poetry".
In the winter of 759AD, Dufu came to Chengdu from southern Gansu province with his family to avoid wars. In the spring of 760 AD, with the help of a friend, he built a cottageto live by the picturesque Huanhua river in the western suburb of C In the spring of AD 761, the thatched cottage was completed and called "Chengdu cottage". In 765, Yanwu who is the only person that Dufu can rely on died of illness, so Dufu left Chengdu. And then he went to Hubei, Hunan and other province in next two years. In the winter of 770 AD, Du fu died at the age of 59. In fact, after Dufu leaving Chengdu, the cottage was destroyed. In the end of the Tang dynasty, the poet Weizhuang found the ruins of thatched cottage and rebuilt it, and it was also restored in the Song, Yuan, Ming and Qing dynasties.
Afterthe reconstruction and extension in the Song, Yuan, Ming and Qing dynasties,  Thatched Cottage of Du Fu has becomeinto a place integrating the memorial ancestral hall and the residence of the poem as one. The architectures are simple and elegant with beautiful garden and fresh air, which is a famous"holy land"in Chinese literature history. The thatched cottage with a total area of nearly 200,000 square meters, still retains the pattern of reconstruction of Jiaqing period in the Qing dynasty and features a classical Chinese gardens in a unique mixed-style.
It can be divided into cultural relics scenic spots tourist area (the old site of thatched cottage), garden scenic spots tourist area (plum garden) and service area (Caotang Temple). At the old site of thatched cottage, the screen wall, the main gate, the lobby, the History in Verse Hall, the Faggot Gate and the Gong Bu Temple are arranged on a central axis, with symmetrical cloisters and other buildings on both sides. On the east side of the Gong Bu temple isthe table pavilionwhich has become the landmark attraction of Thatched Cottage of Dufu and the famous tourist attraction of Chengdu.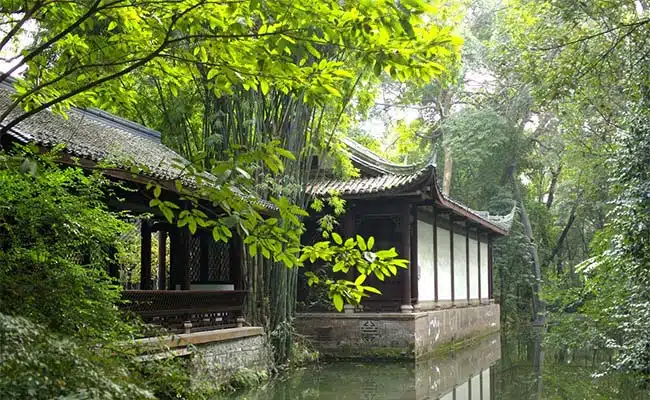 How to Buy Entrance Tickets:
Price of Entrance Tickets:
| | |
| --- | --- |
| May 1st to October 31st | 08:00-19:00(tickets stop selling at 18:00) |
| November 1st to April 30th | 08:00-18:30(tickets stop selling at 17:30) |
When is the best time to visit?
The best time to visit the Thatched Cottage of Dufu is Spring. During the April, May and June, the weather is pleasant and the scenery is charming. It is very comfortable for people to stroll around the bamboo forest and feel the profound history in the warm breezing.
Tips: Visitors had better avoid the official holiday in China, because many Chinese citizens choose to travel on official holidays to ease the pressure of their work. As a result, many Chinese tourist attractions are overcrowded and traffic jams are common. Therefore, visiting China at this time will bring tourists a less pleasant travel experience.
Official Holidays in China
| | |
| --- | --- |
| Chinese New Year | Around January or February |
| Winter vacation | January-February |
| Labor Day | May1st -3rd |
| Summer vacation(for students) | July-August31st |
| Mid-Autumn Festival | Around mid-September |
| National Day | October 1st-7th |
How to get to the Thatched Cottage of Du Fu?
Bus
It is convenient for visitors to take Bus No.19,35, 58, 82, 151, 165, 170, 1024 or 1031 and get off at Thatched Cottage of Dufu (Dufu Cao Tang) Station.
Subway
Visitors can take Subway Line 4 and get off at the Caotang Bei Lu Station, then walk to the Thatched Cottage of Dufu.