Tianshui Travel Guide
Tianshui, situated in Gansu Province, China, is the second-largest city in the region. Its location along the upper stretches of the Wei River, at the convergence of the Loess Plateau and the Qinling Mountains, makes it a geographically diverse and historically significant destination.
With a remarkable history spanning over 2,000 years, Tianshui played a vital role as a prominent stop on the ancient Silk Road.
This city boasts a wealth of cultural and natural attractions, including the renowned Fuxi Temple, the awe-inspiring Maijishan Grottoes, the captivating Tiantishan Grottoes, and the majestic Tianzhu Mountain. Moreover, Tianshui's culinary scene is equally impressive, particularly its wide variety of flavorful noodles that cater to different tastes and preferences.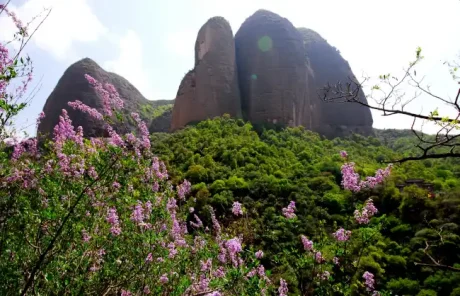 Chinese: 天水 tiān shuǐ
Location: Southeast Gansu
Population (urban area): 2,954,000
Why Visit Tianshui
Tianshui holds a wealth of historic and cultural treasures, tracing its roots back to the Neolithic era and the Qin dynasty. Immerse yourself in the city's rich heritage as you visit iconic sites like the revered Fuxi Temple, the captivating Maijishan Grottoes, and the enchanting Tiantishan Grottoes.
Indulge in the natural splendor that surrounds Tianshui, where picturesque mountains, meandering rivers, and lush forests create a breathtaking backdrop. Embark on memorable adventures with opportunities for hiking, biking, and photography, allowing you to fully appreciate the region's scenic beauty.
No visit to Tianshui is complete without savoring the diverse and delectable noodles that have become synonymous with the city. Renowned as the most famous snack food in Tianshui, these noodles come in a myriad of shapes, sizes, and flavors, offering a delightful culinary experience for every palate.
Top Attractions in Tianshui
Top Things to Do in Tianshui
Explore the Maijishan Grottoes: Marvel at the stunning Buddhist grottoes carved into the mountainside at Maijishan. Admire the intricate statues, vibrant murals, and peaceful atmosphere as you delve into the ancient art and spirituality.
Visit Fuxi Temple: Discover the birthplace of Fuxi, a legendary figure in Chinese mythology. Explore the temple complex, learn about Fuxi's significant contributions to Chinese culture, and immerse yourself in the spiritual ambiance.
Hike Mount Qilian: Lace up your hiking boots and embark on an adventure in the picturesque Mount Qilian. Experience breathtaking vistas, lush forests, and serene landscapes as you traverse the mountain's trails and soak in the natural beauty.
Wander through Wuquan Mountain: Take a leisurely stroll through Wuquan Mountain, a serene oasis offering tranquil temples, scenic views, and serene nature walks. Embrace the peaceful ambiance and immerse yourself in the local culture.
Indulge in Tianshui Noodles: Treat your taste buds to the renowned Tianshui noodles. Sample the diverse flavors and styles of these delicious noodles, which are a local specialty and a must-try culinary delight.
Visit Water Curtain Caves: Escape to the idyllic Water Curtain Caves, where cascading waterfalls, lush greenery, and pristine natural beauty await. Experience the tranquility of this hidden gem and find solace in its picturesque surroundings.
Discover Qincheng Tower: Climb to the top of Qincheng Tower for panoramic views of Tianshui. Capture stunning photos of the cityscape and enjoy the refreshing breeze as you appreciate the architectural marvel.
Tianshui Weather & Best Time to Visit
Tianshui experiences a continental arid climate characterized by four distinct seasons and an average annual temperature of 11.5°C (52.7°F). July stands as the hottest month, with an average temperature of 29.1°C (84.4°F), while January marks the coldest month, with an average temperature of -0.4°C (31.3°F). Throughout the year, the city receives an average annual precipitation of 574 mm (22.6 in), primarily concentrated during the summer months.
For an optimal visit to Tianshui, it is recommended to plan your trip during the delightful seasons of spring and autumn. During these times, the weather is mild and comfortable, and the natural landscapes adorn themselves with breathtaking beauty. By avoiding the scorching heat of summer and the cold temperatures of winter, as well as the rainy season spanning from June to September, you can ensure a more pleasant and enjoyable experience in Tianshui.
Tianshui Transportation
How to Get to Tianshui
By Air:
Tianshui Maijishan Airport is conveniently located 14 kilometers (8.7 miles) from downtown Tianshui and 50 kilometers (31 miles) from Maiji Mountain. The airport offers air routes to various destinations including Tianjin, Nanjing, Hangzhou, Chongqing, and Xi'an. To travel from the airport to downtown, you can choose between the airport shuttle bus or city buses numbered 1, 5, 8, 16, 35, 58, and 59, which provide convenient transportation options.
By Train:
Tianshui is well-connected by rail with two main railway stations: Tianshui Railway Station and Tianshui South Railway Station. These stations link Tianshui to major cities across China, including Beijing, Shanghai, Xi'an, Lanzhou, Chengdu, and Chongqing. Upon arriving at either of these stations, you can easily reach your destination by taking a taxi or a city bus.
By Bus:
If you prefer traveling by bus, Tianshui Long-distance Bus Station, situated at No. 1 Xinhua Road in Qinzhou District, operates buses to nearby cities and counties such as Lanzhou, Pingliang, Wushan, and Qingshui. From the bus station, you can conveniently continue your journey by taking a taxi or a city bus to your desired location.
City Bus:
Tianshui boasts a well-established and affordable city bus system that efficiently covers most urban areas as well as some suburban regions. With fares typically ranging from 1 to 2 yuan RMB per ride, the city buses offer a budget-friendly mode of transportation. Payment can be made in cash or by using a transportation card. You can hop on a city bus to reach various attractions, including Fuxi Temple, Tianshui Railway Station, and Tianshui South Railway Station, making it a convenient option for exploring the city's notable sites.
Taxi:
For a quick and comfortable mode of transportation, especially during nighttime or when buses are less available, taxis are readily accessible in Tianshui. The initial fare for flagging down a taxi in Tianshui is 5 yuan RMB, with an additional charge of 1 yuan RMB per kilometer. As an example, a taxi ride from Beidao Railway Station to the Qincheng downtown area would cost approximately 20 yuan RMB. Taxis provide a convenient and efficient way to travel around the city, ensuring a hassle-free experience.