Appreciating Peony in Xian
Each year from Mid April to Early May Luoyang holds Peony Festival. Peonies in Luoyang are indeed much attractive. While for visitors from other cities the cost for peony appreciating in Luoyang can be a little high because the hotel rate will be higher than normal days.
If you have limited time and plan to see peony with lower cost, then welcome to Xian! And no need to pay extra entrance fee for peony appreciating, because in many scenic areas there are peony garden open to public for free. Either traveling on your own or with travel company, you will certainly have chance to witness elegance of the Chinese national flower.
No 1 Qinglong Temple (Blue Dragon Temple) 
Blue Dragon Temple is one of the popular attractions among Japanese tourists and tourists who are Chinese by ancestor. The temple was built in 582 in the Sui Dynasty. In the following Tang Dynasty eight great Japanese monks further studied Buddhism in Chang and six of them stayed in Blue Dragon Temple. It is the sacred Buddhist temple in Japanese mind. In 1986, the temple brought in thousands of cherry trees from Japan. And nowadays these cherry trees become a big attraction of the temple in April. When it turns to mid April, peony begins to present her elegant beauty.
No 2 Banpo Museum 
Banpo Museum at east skirt of Xian city is one of the most visited museums by domestic and international tourists. People who have been there in recent days may have already noticed the peonies in the museum courtyard. Banpo Museum brought in over 500 kinds of peonies from Luoyang. After visiting Neolithic village ruins in the museum hall, visitors could take a walk in the yard to appreciate peonies. By doing the Terracotta Warriors and Banpo Museum Bus Tour you will appreciate both the world eighth wonder and peony with only USD50.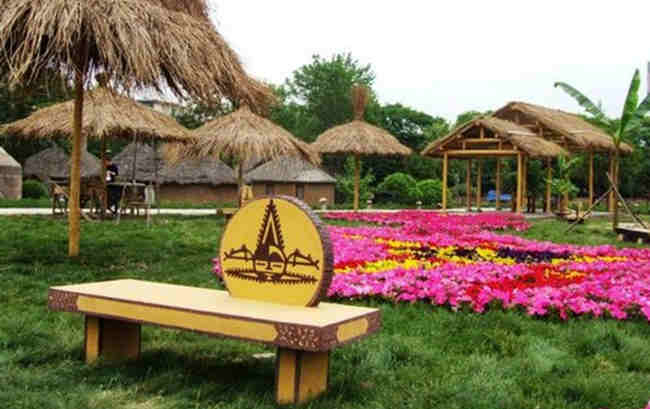 No 3 Big Wild Goose Pagoda Peony Garden 
Big Wild Goose Pagoda is one of the most visited sites in downtown Xian for anyone's Xian tour. Daci'en Temple which houses the Pagoda was the imperial temple in the Tang Dynasty. Surrounding Big Wild Goose Pagoda there are over 70 kinds of peonies planted. With peony garden as background, the thousands of years old pagoda became more attractive.