Experience Chinese New Year in Xi'an
About the Chinese New Year flavor, the memory is still be remembered in people's childhood: pasting couplets, pasting gate keepers, cutting paper window decorations, setting off firecrackers, watching the Spring Festival Gala… The flavor of Chinese New Year is actually always in our hearts which is just a little bit of arousal.
With the approaching of 2018 Chinese Spring Festival, Xian treats citizens and visitors with increasing beauty each day. Many public parks were already decorated by the government. Maybe you'll find nothing special in day time because the decoration were mainly done for night. When its getting dark, we strongly recommend you step out the hotel to enjoy some special night view.
City Wall
Each native of Xian has some special affection to City Wall. When mentioning City Wall during Chinese Spring Festival, the lantern exhibition is definitely a highlight that should not be missed. The lantern exhibition on City Wall is held yearly since 1984 and it is the most classic lantern exhibition in the city.
Great Tang All Day Mall
dragons and phoenixes play an important role in traditional Chinese culture. The images of dragons and phoenixes on the 8 LED pillars perfectly represent the grandness of the Tang Dynasty. 0.3km2 of the Tang Paradise All Day Mall is lit with red as its keynote and other ministrant colors: yellow, green, blue, etc. The blooming lit, beautiful night view, and the rows of Tang Dynasty style buildings explain the city's grand beauty in ancient time and that attracts lots of citizens and tourists enjoy their evening time.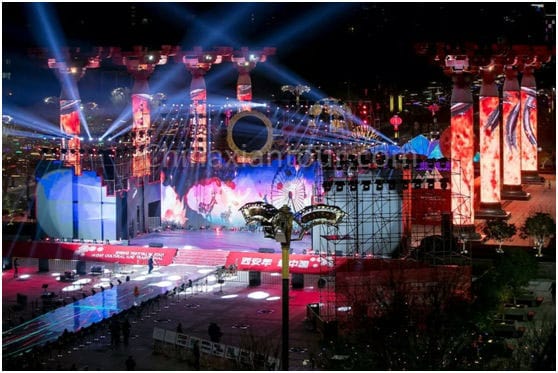 Tang Paradise
Lotus Flower Lake in Tang Paradise is already decorated with various shaped lanterns. The Tang Dynasty imperial architecture are spread in the heritage garden here and there. And they are usually accompanied by waterscape. In the coming 2018 Spring Festival, Tang Paradise would treat visitors with stately beauty of the imperial garden heritage park.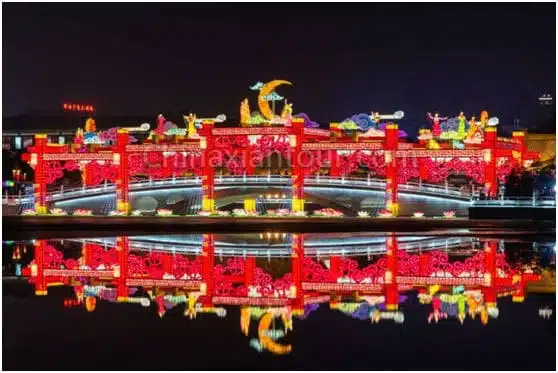 Daming Palace Heritage Park
Daming Palace Park  is the relics of Tang Dynasty imperial palace. With the 3D light shadow played in the park, visitors would find surprise in each corner of Daming Palace. You will find both the serious and pretty things here.
Have time for travel in February? Just come to Xian to experience Chinese Spring Festival!