Ski Resorts in Xian
Once winter comes outdoor activity lovers will miss skiing. Especially for people who are from tropical area where receive no snow throughout the year. Spending one day to get lost in the world of snow is dream for many people who seldom see snows.
If you travel to Xian in the recent months and want to try ski, the following ski resorts may be ideal destination for you.
Bailuyuan Ski Resort
It is the ski resort closest to Xian downtown area. Driving a car it will spend 30 minutes from city center. In this ski resort people could enjoy the snow skiing, appreciate snow scenery, and participate in many snow activities. Due to the short distance, Bailuyuan Shi Resort is the most welcomed skiing destination among Xian people.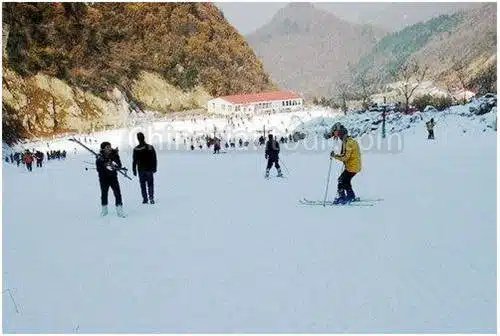 Cuihua Mountian Ski Resort
Cuihua Mountain Ski Resort locates between Tianchi Lake and Ganqiuchi Lake in the Cuihua Mountain Scenic Area. It is the most spacious ski resort in Shaanxi. Most equipment here were imported from Austria: ski board, ski stick, ski loop, ski bob, and snowmaker, etc. Since this ski resort has a 200 meters long slide rail especially for ski loop, most family with children and elder people will prefer this ski resort.
Yuhuagong Ski Resort
Yuhuagong Ski Resort locates in Yuhuagong Palace Scenic Area. It locates 37km from Tongchuan City and used to be the summer resort in the early Tang Dynasty. And till today it is the holy place for Buddhism. This ski resort is well known because it combines sightseeing and skiing into one place.
Fengyu Manor Ski Resort
This ski resort is ideal for both holiday and skiing. The ski resort has 2 trails that suites green-hand and middle-level skiers. The maximum capacity of the ski resort is 500 people. To meet the needs of family with children, the ski resort especially prepares trail for kid.
The ski resort here has very nice dinning room. Coffee, tea, Western food, local farmer food, buffet BBQ, and authentic local food are all available. And there are three customer accommodation buildings in the manor. Besides, 4 luxurious villas are also prepared for customers.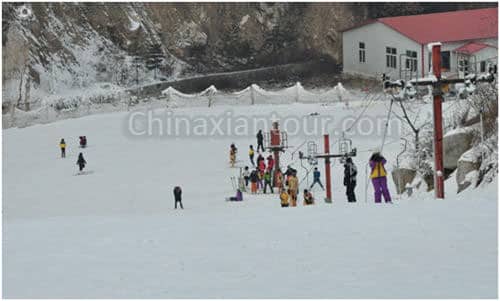 Taibai Mountain Ski Resort
The ski resort locates in the national AAAAA scenic area: Taibai Mountain Scenic Area. The ski resort here has the maximum width of 100 meters and covers an area of 80 hectare. Among all ski resorts nearby Xian, Taibai Mountain Ski Resort has the longest natural snow period. It lies 110km from Xian. People who are looking for an much exciting skiing experience usually come here.